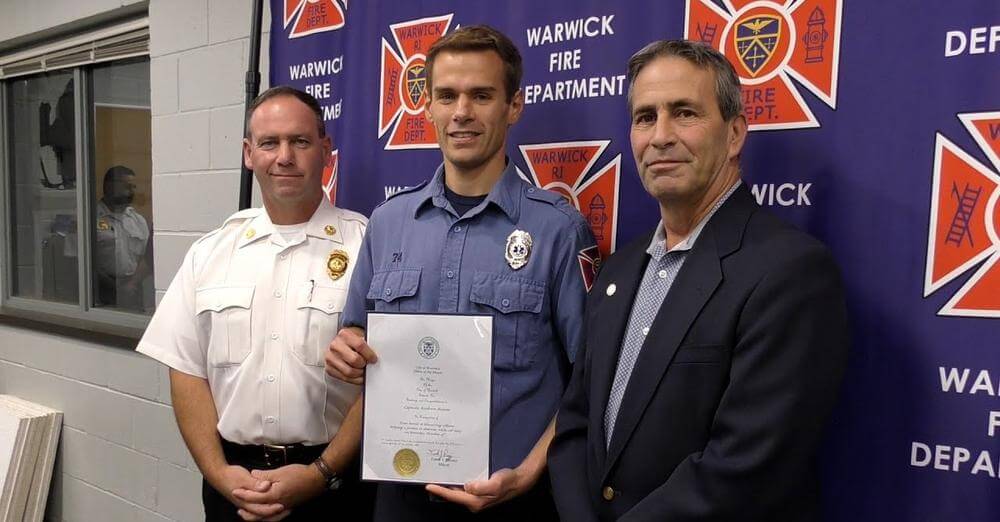 WARWICK, RI — On Oct. 15, WFD Captain Andrew Sisson, off-duty, was surfing in Tiverton when beach-goers alerted him to a paddle boarder in distress, prompting the firefighter to retrieve and perform CPR on the person, saving their life.
"If this friend wasn't there, it would have been a totally different situation. Nobody probably would've known that there was an issue for a long time, you know, it's probably too late at that point," Sisson said.
'So if you find yourself in a situation like that, I think it's best to help in any way you can.' — WFD Capt. Andrew Sisson
He also praised the two bystanders who helped carry the paddle boarder. "I think in situations a lot of people, they wait, and think somebody else will help, and that's not usually the case, so if you find yourself in a situation like that, I think it's best to help in any way you can."
"On behalf of all the residents of the City of Warwick, I want to tell you that we're very proud of you," said Mayor Frank Picozzi during a ceremony honoring Sisson Monday morning at at WFD headquarters, 111 Veterans Memorial Drive.
Sisson was able to move the paddle-boarder more than 30-feet to shore. Once there, he performed CPR on the person until rescue crews arrived. The paddle boarder was awake and alert by the time they arrived at the hospital.
 "This just shows that Warwick Firefighters are firefighters 24/7, not just when they're on duty and in uniform, but off-duty as well. Always ready to jump in, do what's needed. And in this case, Capt. Sisson certainly used all of his training and experience to save another life," said WFD Chief Peter McMichael.
During the ceremony, Picozzi presented Sisson with a citation reading, "The Mayor of the City of Warwick extends its greetings and congratulation to Captain Andrew Sisson in recognition of your heroic and life-saving efforts helping a person in distress, while off-duty on Saturday, Oct. 15.