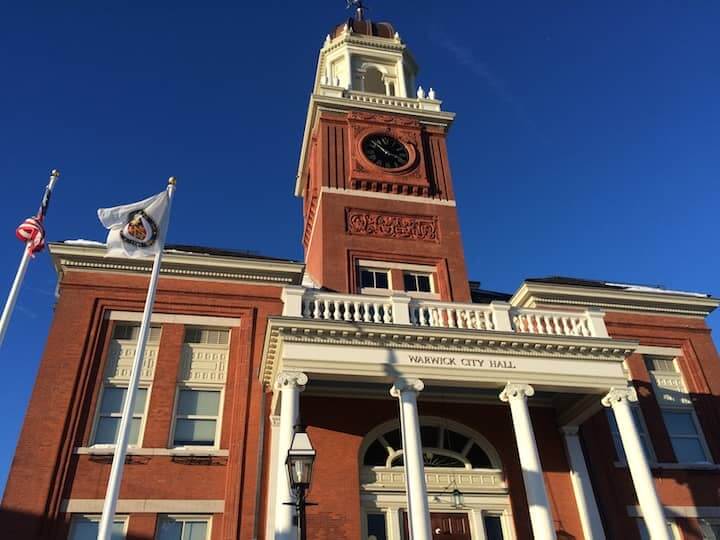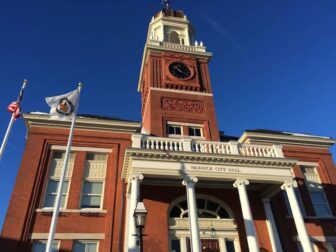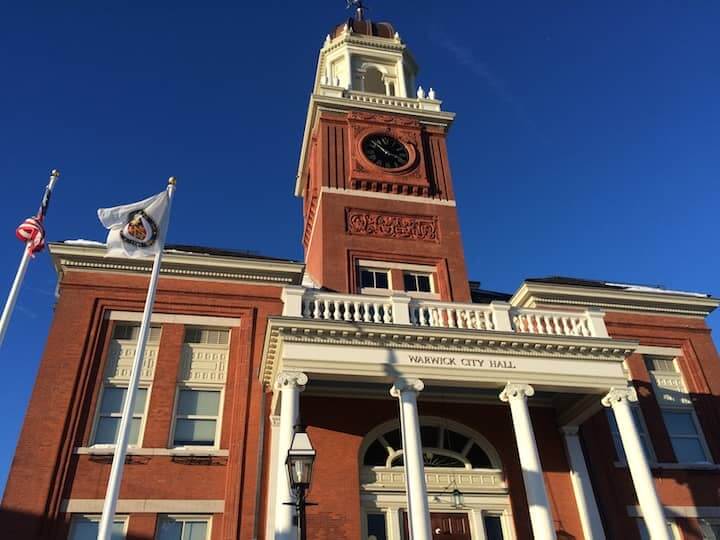 WARWICK, RI – Following Gov. Gina M. Raimondo's announced new COVID-19 measures for the state, Mayor Joseph J. Solomon has announced Warwick's COVID-19 control plan, limiting public access to city buildings to an appointment-only basis, effective Monday, Nov. 30.
The City will continue to provide essential services, including public safety; sanitation, including trash, recycling, and yard waste pickup; wastewater treatment; the limited senior grab-and-go lunch program, and other critical City functions, Solomon said in an announcement Thursday.
All offices located in City Hall, the Buttonwoods Municipal Annex, Pilgrim Senior Center, and Randall Holden will remain closed to the public, except by appointment, until further notice, Solomon announced. Residents wishing to make appointments with a City department should visit warwickri.gov for additional contact information. Many City departments have online resources and services, so it is highly recommended that residents conduct as much business as possible online or over the phone. Residents are encouraged to use online resources at warwickri.gov. When calling City offices, if you are not able to get through to the person you are trying to reach, please leave a detailed message.
With increased safety protocols, staffing may be reduced or staggered in some departments and many employees will be working remotely. Social distancing measures remain in place and residents are asked to wear a face mask at all times in City buildings.
"Today, the Governor informed us that Rhode Island is facing a statewide 'pause' of activities for two weeks, beginning November 30. We're seeing a drastic increase in cases of COVID-19 in Warwick and across the state, and that means we need to step up our protocols," said Solomon. "An uptick in cases means that we have increased staff shortages: one positive or potential COVID-19 case causes a ripple effect of other employees quarantined in accordance with our safety protocols. These increased absences reduce our available workforce. As such, we are proactively advising residents that although municipal services will continue without interruption, there will be delays in response times, particularly in departments like DPW and Sanitation. Please be patient, but be assured that we are working through all requests in the order they are received and someone will get back to you as quickly as possible. I appreciate the public's continued cooperation and understanding as we work through this crisis."
Additionally:
The Building Department remains open by appointment and the e-permitting system is available.
The City Clerk's Office is available by appointment and has a lockbox for mail outside the City Hall entrance (3275 Post Road).
Tax payments may be made online, via mail (addressed to City of Warwick – Tax, P.O. Box 981027, Boston MA 02298-1027), or via lockbox (located at the Buttonwoods Municipal Annex, 3027 West Shore Road).
Utility payments may be made online, via mail (addressed to City of Warwick – Utility, P.O. Box 981076, Boston MA 02298-1076), or via lockbox (located at the Buttonwoods Municipal Annex, 3027 West Shore Road).
Below is a list of City departments that remain operational:
Below is a list of City departments that are available by appointment only:
Warwick City Hall, which includes:
o   City Clerk's Office, which is available at (401) 738-2006 or by email at [email protected]
o   Probate and Municipal Courts
o   Department of Tourism, Culture and Development
Buttonwoods Municipal Annex and Community Center, which includes:
o   Tax Collector's Office; please note that tax payments may be made online, via mail, or via dropbox located at 3027 West Shore Road; more information is online
o   Building and Zoning Department, which can be reached at (401) 738-2007 or via email at [email protected]
Randal Holden, which includes:
o   Management Information Services
o   Office of Community Development
In accordance with the Governor's order, the Warburton and Thayer ice rinks will be closed from November 30, 2020 through December 13, 2020. McDermott Pool remains closed. Municipal board and commission meetings, including the City Council, Zoning Board, and Planning Board, will continue to meet virtually.
The Pilgrim Senior Center remains closed; however, the Department of Senior Services is ensuring the continuity of meal services for the residents who depend upon them. Any senior residents with questions should contact the Department of Senior Services at (401) 468-4070. The Transwick Senior Transportation Service remains cancelled until further notice.
Mayor Solomon has compiled a list of resources available for residents, including contact information and online resources for the City of Warwick, aid for businesses, financial assistance, mental health support, food services, and more. He encourages residents to visit warwickri.gov often for updates and information. Additionally, Mayor Solomon will continue providing updates on warwickri.gov, Facebook and Twitter.