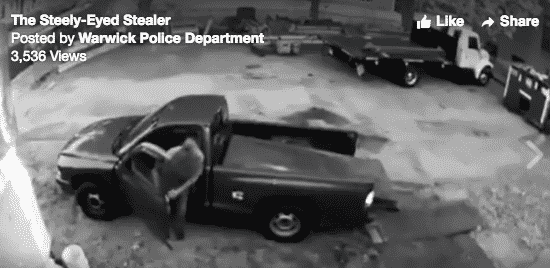 WARWICK, RI —Facebook fans of the Warwick Police Department, video surveillance and tech savvy police work caught up with West Shore Road man Aug. 10 when he admitted to stealing a truck load of steel plates from an Elm Street art studio.
Warwick Police Sgt. Andy Sullivan learned of the theft Aug. 6, also learning of surveillance video the owner of the plates had posted to Facebook that clearly showed the man carefully checking a load of the steel plates, heavy enough to make the rear of his truck sit low to the street, before driving away, the Sgt. reported.
Not long after, an anonymous caller identified the thief in the video as Jason Carter, 36, of 1161 West Shore Road, Apt. 7, according to Sullivan's report.
When Carter showed up at Warwick Police Headquarters, 99 Veterans Memorial Drive for questioning, he admitted to the theft, though he contended he'd only stolen four of the 30 sheets of steel reported missing, Sullivan reported.
Sullivan charged Carter with larceny less than $1,500, and was arraigned at Kent County Courthouse. He was scheduled for a court screening on Oct. 17 in Third District Court.
"Thanks FB friends," Hopkins wrote in an update on the case to the orignal Facebook post.