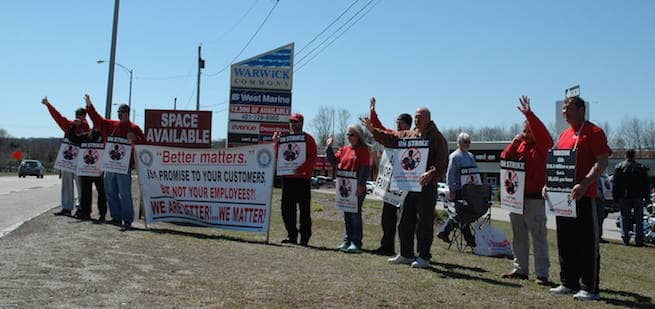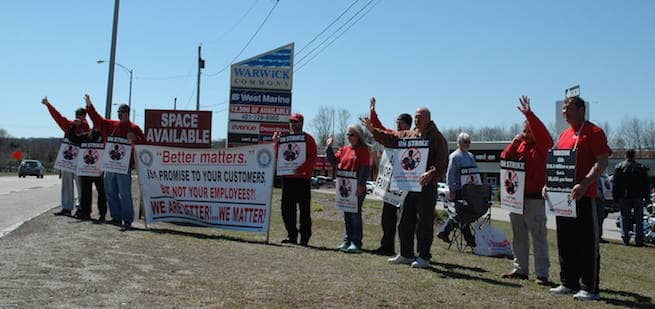 Warwick, R.I. — About 15 Verizon workers striking outside the company's Warwick Commons store on Bald Hill Road Wednesday were among 39,000 members of Local UBEW and CWA protesting call center outsourcing and mandated work two months away from their homes Wednesday.
The issues are the center of a 10-month long stalemate in contract negotiations between the International Brotherhood of Electrical Workers, the Communications Workers of America, and the communications company for an agreement to replace the contract that expired in August 2015. The impasse is the same one that drew about 70 union members to picket the location Dec. 13, an informational protest, said Christopher Buffery, assistant business manager for IBEW 2323.
"This is the largest work stoppage in the country since 2011," Buffery said, the last time the UBEW went on strike. During that strike, workers protested  over Verizon's intent to outsource at will and end job security, according to the New York Times.
This time, Buffery said, despite healthcare concessions saving hundreds of thousands of dollars, Verizon is insisting on taking protections out of the new contract that would allow the company to outsource jobs to to Mexico and the Philippines and require RI technicians to spend as much as two months working in mid-Atlantic states.
That last point jeopardizes people's ability to lead a stable life working for Verizon according to Buffery. "It would just make their lives a disaster without rhyme or reason," he said.
Verizon's 500-word release on the strike does not address the disagreements on outsourcing or requiring work far away from workers' homes. The release does claim the company has deployed non-union workers to fill in for the thousands of striking union employees.
"Over the past year, Verizon took extensive measures to ensure its customers would be minimally impacted by any potential work stoppage. Thousands of non-union Verizon employees and business partners have undergone extensive training in various network and customer service functions, including FiOS and copper repair and network maintenance and general customer service functions," according to the company's statement.
Buffery said he toured the state Wednesday and has not seen the workers mentioned. "We have not seen one person performing Verizon related services today," he said.
Verizon CEO Lowell McAdam did briefly address the points of the stalemate in an LinkedIn essay directed at Democratic presidential candidate Bernie Sanders, who joined a Verizon picket line in Brooklyn Wednesday, according to an ABCnews.go.com report.
"Contrary to Sen. Sanders's contention, our proposals do not call for mass layoffs or shipping jobs overseas. Rather, we've asked for more flexibility in routing calls and consolidating some of our call centers, some of which employ a handful of people," McAdams wrote in the essay.
"It's a very profitable company and the workers there are just looking for their fair share," Buffery said.
Verizon's media office did not immediately return a request for comment on the specific issues of the stalemate.