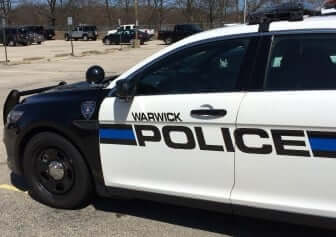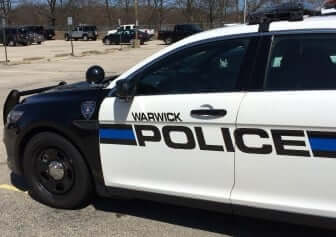 WARWICK, RI — On Sept. 19 at 9:56 p.m., Warwick officers were called to Post Road near Airport Road for a report of a blue van driving on a flat tire, finding and arresting the driver for DUI while getting gas.
Officer Keara Enos reported dispatch relayed the caller's account that the van continued heading toward Airport Road after hitting a curb and flattening a tire. Enos found a blue 2018 Hyundai Santa Fe parked at a gas pump at the Neon Gas Station, 1776 Post Road. As she circled the vehicle, its flattened front driver's side tire, shredded, was visible, according to the officer's report. She noted the van was essentially resting on its rim in the lot.
As she took in the scene, Enos also saw a woman walking away from the driver's side of the van, and called to her. The woman approached Enos's cruiser and the two spoke. Enos noted she could immediately smell an "overwhelming" odor of alcohol on the woman's breath. The woman, later identified as Meghan Quinlan, 24, of 40 Mead St., Apt. B, Coventry, RI, spoke with a heavily slurred voice that was sometimes barely understandable, Enos reported. Quinlan also had bloodshot, glossy eyes and exhbited unsteady movements and mannerisms, according to the report.
When asked what happened to the vehicle, Quinlan said, " 'Right after Grid Iron…I had three drinks, I swear to God. I had three drinks … I hit my tire.' " according to the officer's report. Quiinlan confirmed she had been driving the van when she hit the tire, which she said happened not far from Grid Iron. She agreed to take sobriety tests.
During the tests, Quinlan spoke throughout instructions for the vision test, and Enos abandoned the attempt. Similarly, Quinlan had difficulty paying attention to instructions for the Walk and Turn test, ultimately telling Enos, "Honest to God, I cannot walk in a straight line," and Enos ended that test as well. During a one-leg stand test, Quinlan only managed to keep her foot raised for five seconds and used her arms for balance.
Quinlan consented to a preliminary breath test at the scene, registering a .233 blood alcohol level reading. Enos arrested her on suspicion of driving under the influence of alcohol, and transported her to Warwick Police Headquarters, 99 Veterans Memorial Drive, where she registered a .192 and .199 on successive breath tests of her blood alcohol.
Enos transported Quinlan to Kent Hospital for detox treatment, and was released to the custody of hospital staff. Enos charged her with DUI, Blood Alcohol Content .15 or greater, first offense, and cited her for lane violations.