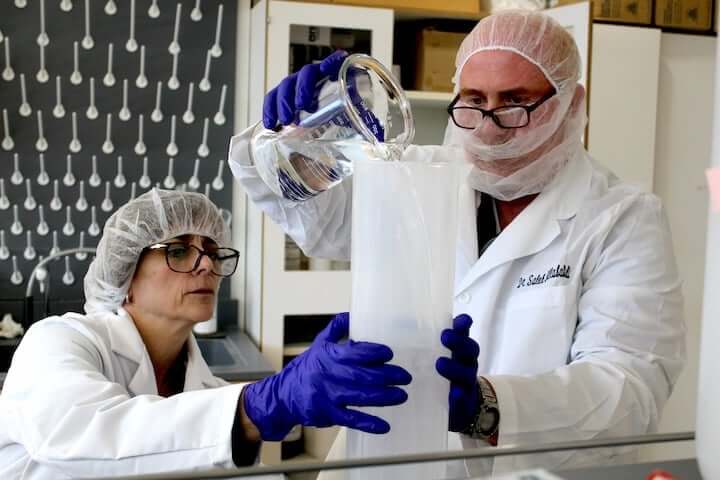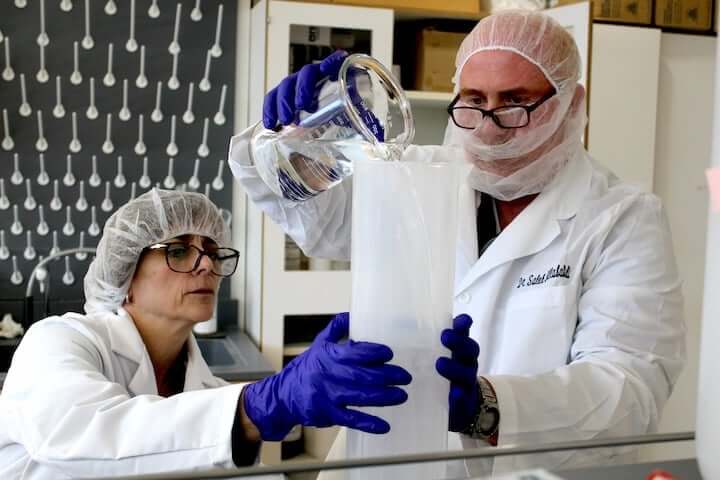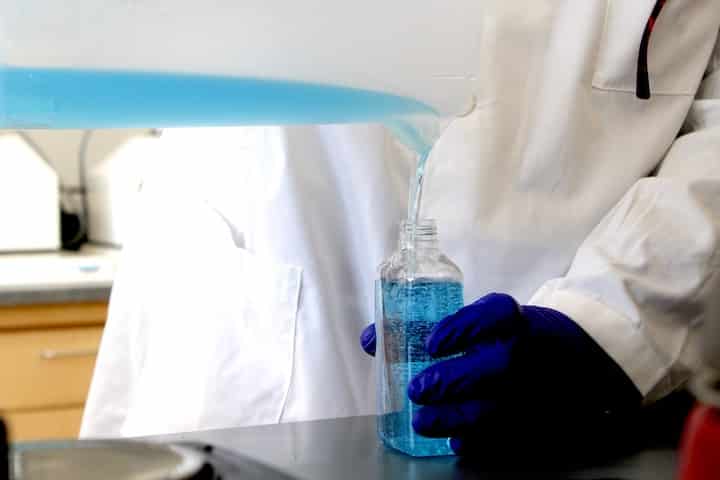 Editor's note: This article and most of our COVID-19 related news is free to the public to ensure people have access to life-saving information. If we've helped you, and you're able to help us, we would appreciate your subscription for either $1.50/month or $15 per year. 
KINGSTON — The University of Rhode Island Pharmaceutical Development Institute has the technology, expertise, and knowledge of the pressing need for sanitizer to slow spread of COVID-19, so they're making URI hand sanitizer.
The hand sanitizer, packaged as Rhody Clear 8-ounce bottles of gel sanitizer for use on campus and Rhody Blue liquid hand sanitizer in half-gallon bottles for the RI Department of Corrections facilities, is produced and bottled in the labs in Avedisian Hall, the College of Pharmacy home on URI's Kingston campus.
"Cooperation among agencies is critical to Rhode Island's response to the COVID-19 crisis, and we are very grateful to URI for their assistance to us as we work to keep our staff and inmates safe," said Department of Corrections Director Patricia A. Coyne-Fague.
URI's is also donating its sanitizer to first responders, especially police and medical clinics, like CODAC, according to the
"Like all health care professionals, we're deeply concerned about the virus and want to do everything we can to help slow it's spread," Pharmacy Dean Paul Larrat said. "We have the expertise and the labs here in the College to properly produce hand sanitizer to FDA (U.S. Food and Drug Administration) standards, so this is one small way we can help with the monumental, ongoing response to this pandemic."
Scientists at the Institute have begun producing Rhody Blue and Rhody Clear hand sanitizer, with 75 percent isopropyl alcohol. The Rhode Island Department of Health certified the Institute to produce the sanitizer as the growing coronavirus crisis has led to empty shelves in many stores.
URI Health Services is partnering in the effort.
Besides frequently washing hands, using hand sanitizer is among the best strategies to help prevent person-to-person transmission of COVID-19, the disease caused by the novel coronavirus.
"Washing your hands with soap and water for at least 20 seconds is essential and the best defense," said Charles McGovern, manager of the Institute. "If soap and water are not readily available, the Centers for Disease Control and Prevention recommends the use of alcohol-based hand sanitizers containing at least 60 percent alcohol. Given the shortages in stores throughout the region, PDI's goal is to supply the URI community with hand sanitizing agents."