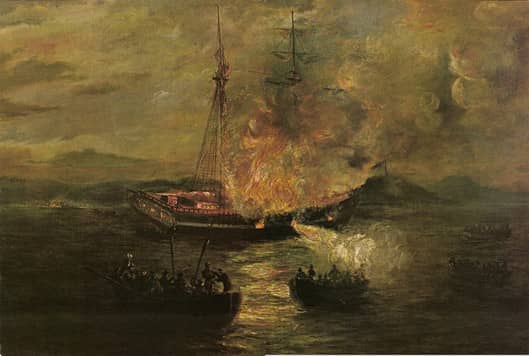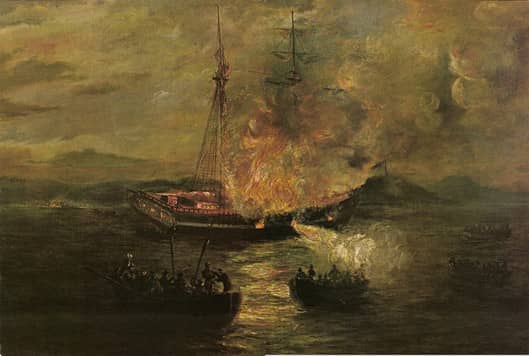 UPDATE: Due to Friday's weather forecast, the Gaspee Days fireworks display has been postponed to Saturday at dusk – about 9 p.m.
Fireworks can be viewed at Salter's Grove, off Narragansett Parkway.
The big weekend finale of Gaspee Days leads this week's list of upcoming events in Warwick, RI, which also includes Patsy Cline [a theatrical tribute to her, anyway] at Ocean State Theatre, Gardens in Bloom at the Clouds Hill Museum, and the Aldrich Mansion summer luncheon.
ICYMI:
Want a way to share the Gaspee spirit — in spirit? Make an online donation to the Gaspee Days Paint the Stripe fundraiser, which pays for the red-white-and-blue striping that lines the parade route. It's a great way to support the annual celebration in case you can't make it there yourself.
Friday, June 13, 2014:
Gaspee Days Events, 6 a.m. and 9 p.m.
Here's the first thing to know about Gaspee Days: It has roots in Colonial days — 1772, in fact. You'll get that lesson just by showing up at Pawtuxet Park on Friday for the start of the Colonial Encampment. It's a glimpse into what life was like for members of the American militia — and here's a hint: It ain't posh. The troops file in starting at 6 a.m.
Thanks to modern technology, Twitter users will also be able to relive the events of June 9, 1772 at #wfgaspee — several of the key figures in the burning of the Gaspee will be represented in "long-lost Twitter feeds" that start posting around noontime on Saturday.
Always… Patsy Cline, 7:30 p.m.
Ocean State Theatre continues its run of Always… Patsy Cline with a 7:30 p.m. performance. Also Saturday, June 14, at 2 and 7:30 p.m. and Sunday, June 15 at 2 p.m. $39/$49/$54. More info and online tickets available at the Ocean State Theatre website.
Improv Night, 7 p.m.
And if you're over Apponaug way, duck into the Museum of Art for its weekly improv night. Bring Your Own Improv kicks off the fun at 7 p.m. with Family-Friendly [PG-rated] improvisational performances and continuing at 9 p.m. with Adult-Themed [R-rated] acts. Audience participation is part of the show, so no two performances are the same.
Tickets are $7 for adults, $3 for kids under 13 and seniors. More information and tickets sales at bringyourownimprov.com
Saturday, June 14, 2014:
Gaspee Days Events, 8 a.m., 9:45 a.m., 10 a.m., dusk
The Gaspee Days celebration continues with a nondenominational service at Trinity Church, 139 Ocean Ave., Cranston [the other side of the bridge in Pawtuxet] at 8 a.m. Music by the West Bay Chorus.
Beginning at 9:45 a.m., the 49th Annual Gaspee Days Foot Race sets off from Broad Street at Chiswick Road in Cranston. Sign-ups at the Scottish Right Masonic Center from 8 to 9:15. $35 registration fee; all proceeds benefit the Gaspee Committee.
Some of the runners may be back in time to catch the start of the Gaspee Days Parade at 10 a.m. [Last year's winning time was 14:10, by the way]. Be sure to get into the area by 9 a.m., because a few streets will be closed to traffic — and it'll stay that way until 1 p.m.
This year's parade features 12 divisions, including groups representing the State of Rhode Island, Pawtuxet village, Colonial and Revolutionary periods, and modern displays.
Another major thing to know about Gaspee Days is that it's a celebration — one that wouldn't be complete without a Fireworks Extravaganza. Saturday at about 9 p.m., see the night sky blossom with light, say your "oohs" and "aahs."
If fireworks aren't your thing, head to downtown Providence — where Gaspee Days is the featured theme for Saturday night's Waterfire. Lighting starts near dusk, burning continues into the night. Also check out @ProjectGaspee on Twitter for up-to-the-minute info.
Sunday, June 15, 2014:
Gaspee Days Events, 12:30 and 4 p.m.
Bring a picnic lunch and settle in for Gaspee Days Sunday in the Park, starting at 12:30 p.m. Music, the Colonial Encampment, cooking demonstrations, military maneuvers, and a fashion show, all followed by the big event [keep reading, you're almost there].
The appearance of a bright red fire boat is the first hint that it's almost time for the Burning of the Gaspee. Promptly at 4 p.m. [preceded by an informative, if long-winded, recitation of the events of June 9, 1772], a ceremonial cannon is fired and a scale model of the HMS Gaspee erupts in flame, marking the end of the Gaspee Days festivities. It happens just off Pawtuxet Park, so be sure to get a good spot to see the main event.
Gardens in Bloom, 12 p.m.
Clouds Hill Victorian House Museum is sure to be awash in bright summer colors for the Gardens in Bloom event, until 2 p.m. Admission is $5 per person. While you're there, sign up for Clouds Hill's Gardens in Bloom Tea, scheduled for June 22. Tickets are $25.
Tuesday, June 17, 2014:
Oakland Beach Cruise Night, 4 p.m.
The bad weather on June 8 forced a cancellation for the Warwick Lions Club, but they're sure to roar back next week [weather permitting] for the weekly Cruise Night at Oakland Beach. [Link goes to their Facebook page, be sure to check for updates.]
If you have an event you'd like to promote on Warwick Post, send an email to [email protected] at least five business days in advance. If you'd like to get news like this delivered directly to your inbox every week, sign up for the Post's free newsletter.