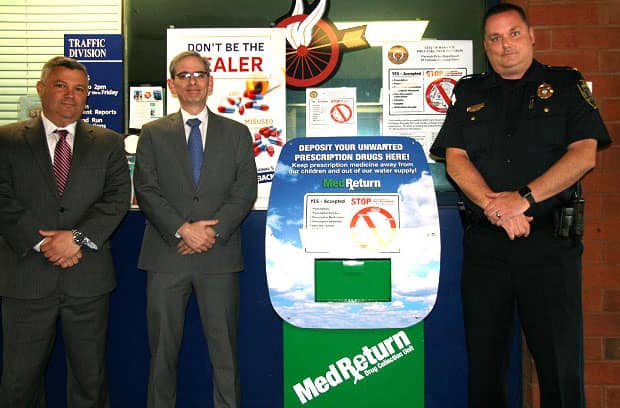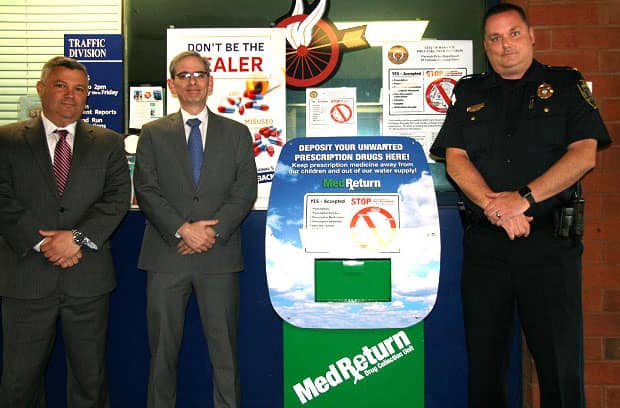 WARWICK, RI — On Monday, United States Attorney Aaron L. Weisman and DEA Providence Resident Agent in Charge Sam J. Masiello visited Warwick Police Headquarters at 99 Veterans Memorial Drive, where a secure collection box stands ready to collect unwanted and expired prescriptions 24 hours a day, to promote National Prescription Drug Take Back Day Saturday.
Saturday marks the 17th annual year of the event, the importance of which has grown more significant as the national opioid overdose epidemic continues, the officials said.
"Rates of prescription drug abuse in the United States are alarmingly high, as are the number of accidental poisonings and overdoses due to these drugs," said Weisman, "Studies show that a majority of abused prescription drugs are obtained from family and friends, including from the home medicine cabinet. This is a perfect opportunity to Spring clean your medicine cabinet and safely dispose of expired or unwanted prescriptions. It just might save a life."
The biannual event will be held from 10 a.m. to 2 p.m., at more than two-dozen safe and anonymous collection sites around Rhode Island and thousands of sites around the nation. The event is an opportunity to rid homes of potentially dangerous, expired, unused, and unwanted prescription drugs.
Last October Americans turned in 457 tons of unwanted prescription drugs at nearly 6,000 locations across the country. In Rhode Island, more than two tons (4,364 lbs.) of unwanted and expired prescriptions were collected and disposed of by DEA, according to Weisman's office. Overall, in its 16 previous Take back events, DEA and its partners have taken in over 11 million pounds – more than 5,400 tons – of pills. The disposal service is free and anonymous, no questions asked.
Warwick Police Chief Colonel Rick Rathbun added, "This program allows the public to safely dispose of unwanted and unused drugs that more often than not can wind up in the hands of someone at risk. Without the ability to safely dispose of drugs, to include opioids, our city would be adversely impacted."