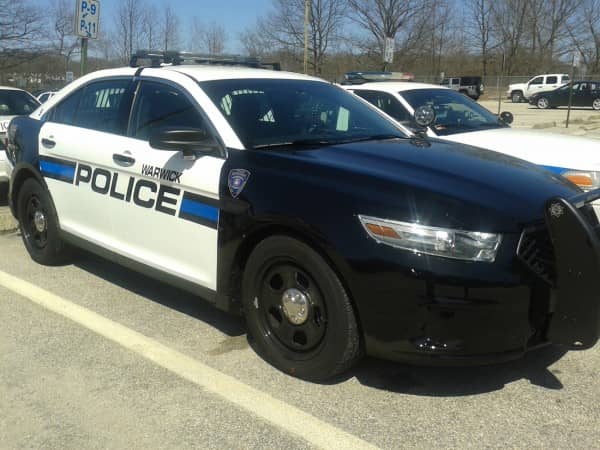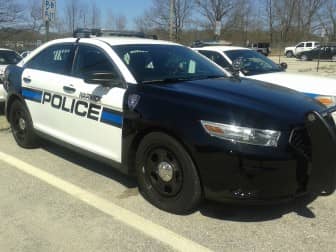 Warwick, RI – An off-duty policeman driving on East Avenue over Rte. 2  Dec. 6 at 11:55 p.m. noticed a tan 2002 Ford Escort facing west in the east lane, on fire, evidently moments after it hit a light pole, the two men inside seriously injured.
When Officer Jacob Elderkin saw the crashed car, he called Warwick Police dispatch to ask if they'd been alerted to it, which they had. Dispatch advised him that a rescue truck and police were on their way. Elderkin told them to hurry, according to the report, because the injuries to the people inside the Escort seemed severe.
As he was exiting his truck, Elderkin saw a nearby neighbor exit his house. The man said he'd just heard the crash.
"I observed there to be a small fire under the hood and the engine to still be running," Elderkin wrote in his report.  The officer reached into the car and shut off the engine, extinguishing the fire.
Inside, pinned behind the steering wheel, was Christian Bourdon, 27, of 6A Central St., West Warwick, passing in and out of consciousness.
At first look, it appeared as if Bourdon was the only person in the car, but Elderkin saw the passenger, Thomas Caparco, 39, of 184 Chapman's Ave., Warwick, in the back seat, unconscious. It appeared, Elderkin wrote, as if Caparco, who was not wearing a seatbelt, had struck his head on the windshield and then been flung into the the back seat during the crash.
Elderkin reached into the car to feel for Caparco's pulse, finding it faint.
On-duty officers and Warwick Rescue arrived at the scene of the crash, prying open the door to reach Carparco, who remained unresponsive. Rescue personnel transported him to Rhode Island Hospital, according to the report of officer Daniel Dimaio.
Bourdon was removed from the car moments later and placed on a stretcher, talking about his injuries using slurred speech, Dimaio wrote in his report. Dimaio conducted a vision sobriety test, noting a lack of smooth pursuit.
Bourdon complained of injuries to his wrist, head, chest, hip and leg during his transport to Rhode Island Hospital. Both he and Caparco were treated at Rhode Island Hospital's Trauma Center for severe injuries to their ribs, necks and backs, according to Dimaios' report.
After Bourdon received medical attention, Dimaio asked him to submit to a blood test.
Bourdon told Dimaio he was "…in no shape to give blood for this test," according to the officer's report. Bourdon also told Dimaio he and Caparco had left Prata Bar on Post Road(Prata was recently remodeled and renamed Grid Iron) and had only had one drink. He also claimed to have been the passenger and was unsure who was driving the Escort, until Dimaio informed him he'd been pinned behind the steering wheel.
Bourdon said Caparco had been too drunk to drive and that he was unsure what had happened leading up to the crash.
Bourdon was cited for driving after the suspension of his license, with a court date of Jan. 13, 2015. He was also charged with refusal to submit to a chemical test, first offense, and leaving the lane of travel, with a Traffic Tribunal Court date of Dec. 19.