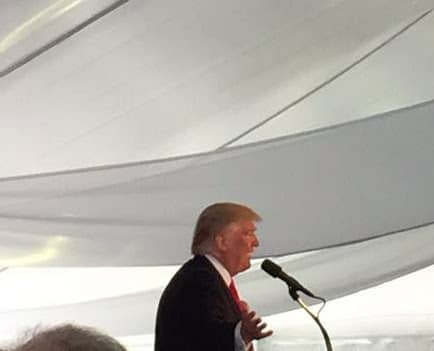 Warwick, RI — The US Secret Service kept most of the few hundred gathered to greet Republican presidential nominee candidate Donald Trump across the street, but when his motorcade drove up, the crowd rushed across the street and down the long drive toward Crowne Plaza Hotel on Greenwich Avenue at about 1 p.m. Monday.
Trump briefly greeted the crowd before he and his police escort turned onto the hotel's long access road.
Throngs cheered, chanted slogans and one man sang as they rushed down the long driveway toward the front of the hotel, where spectators had been turned away for the last hour after a line stretching around the building had already been admitted.
Cheers from the his rally inside could be heard a few blocks away on Greenwich Avenue.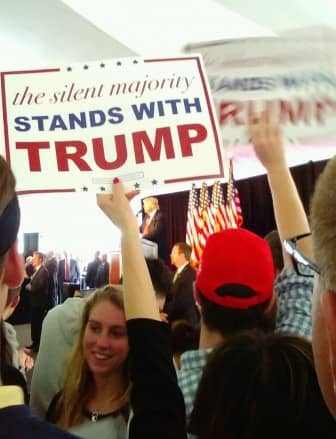 The Trump campaign did not grant Warwick Post press access to the rally itself. RINPR did report on Trumps speech from inside, however, as did WPRI.com's Ted Nesi, who reported the 50-minute speech touched on the damage trade negotiations had done to Rhode Island, and what the candidate characterized as the danger posed by Syrian refugees.
RIFuture.org's Steve Ahlquist also reported from inside the rally, where one assault occurred and protesters were peacefully escorted from the rally.
An estimated 800 – 1,000 people crowded into a tent set up behind the hotel, according to the reports, with more crowded outside. Prior to Trump's arrival, a line of spectators for the rally stretched from the front of the building south around to the back.
On the far side of Greenwich Avenue, where Warwick and State Police, under the direction of the Secret Service, ushered many spectators who were not allowed onto the grounds after 12 p.m., some protesters chanted "No room for hate."
A few bore signs reading "Trump is Racism" and "No room for hate in our small state."