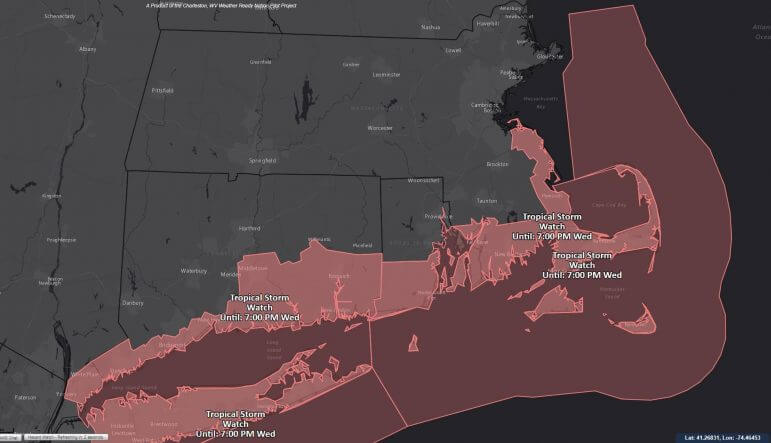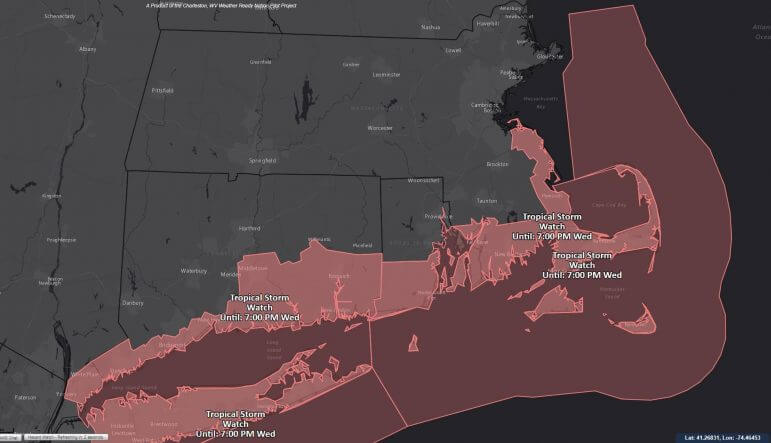 WARWICK, RI — The National Weather Service has issued a tropical storm watch – meaning tropical storm conditions are possible, with the possibility of 39 – 73 mph winds, during the next 48 hours – for New England coasts including Rhode Island.
The NWS reports Hurricane Jose, on a path that will take it past New England sometime between Tuesday and Wednesday,  will likely weaken to a tropical storm before nearing southern New England. The storm will still bring a variety of "significant hazards," however.
Among those hazards are tropical storm force winds along the Rhode Island coast including Block Island, and coastal portions of southeast Massachusetts including Cape Cod, Martha`s Vineyard, and Nantucket by sometime Tuesday afternoon, resulting in scattered power outages.
Other hazards include potential severe beach erosion, minor to moderate coastal flooding, and heavy rain, the NWS reports. There is a chance of severe beach erosion along ocean coastlines of Rhode Island and southeast Massachusetts.
Seas are expected to build to more than 20 feet, creating an extremely dangerous marine environment. The weather service advises mariners to be in port by Monday night.
Heavy rain with local street and poor drainage flooding, especially in some Rhode Island and southeast Massachusetts urban areas, is possible. There could be local areas of 3 to 5 inch storm total amounts in southeast New England.
If you live in a place that is particularly vulnerable to high wind such as a mobile home or on a boat, plan to move to safe shelter.
If you are a mariner, make sure that your boat is moored very securely or remove it from the water while there is still time.