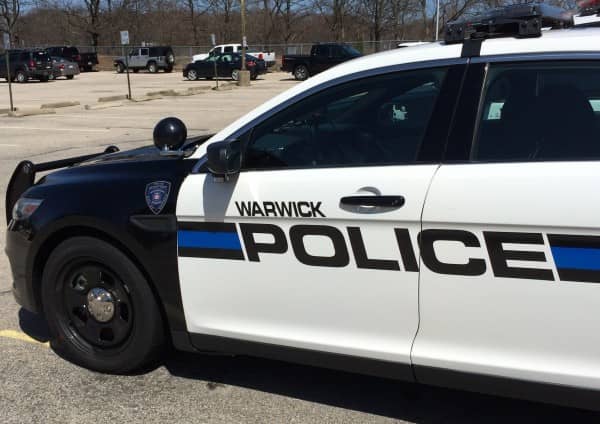 WARWICK, RI — On Feb. 11, RI State Police delivered a Coventry man for credit fraud after using a stolen credit card at  an Airport Road gas station and a Post Road McDonald's July 12, 2022, wearing a Mike's Landscaping T-shirt.
That July day, Officer Nia Pina was called to a Lansing Avenue home where a woman reported waking that morning to alerts from her credit card company that purchases totaling more than $500 had been made to her card. She subsequently realized she had not locked her car door overnight, and that her car had been rummaged through, and her wallet was missing, according to Pina's report.
Several retail-specific credit cards were in the wallet, including a Kohl's card and Amazon card, among others. Also in the wallet were her photo ID and military ID, and her insurance card and her children's insurance cards.
The woman reported that her main credit card had been used at the McDonald's on Post Road, to buy $18.99 worth of food. The card had also been used at a gas station on Airport Road, buying two 10 packs of Newport cigarettes worth $127.33 and a 10 pack of Marlboro cigarettes for $117.94, Pina reported.
In video footage of the purchases at the gas station, Pina observed the man using the card, wearing a bucket hat, backpack, glasses, and a Mike's Landscaping T-shirt, with the company's phone number printed on it, according to the officer's report.
Pina contacted the company, using the phone number, and spoke with the owner, according to her report.
The owner identified the man Pina described as John J. Stevens, 26, of 28 Maple St., Apt. #2, Coventry, RI. He later called Pina back and told her that Stevens had admitted to the theft, and that Stevens had dumped the credit cards and wallet in a nearby baseball field. He told Pina he had collected the stolen cards and wallet and returned them to the victim.
Pina contacted the woman and confirmed the items had been returned. She then drew a warrant for Steven's arrest, charging him with one count of credit fraud, Fraudulent Use of Credit Cards, and one count of Larceny, less than $1,500.
After arriving at Warwick Police Headquarters, 99 Veterans Memorial Drive, in the custody of RI State Police, Stevens was processed on the charges, issued a court date to answer the charges on Feb. 23, 2023. He was arraigned in Third District Court on that date, scheduled for a court screening on May 31, and released on $5,000 personal recognizance.