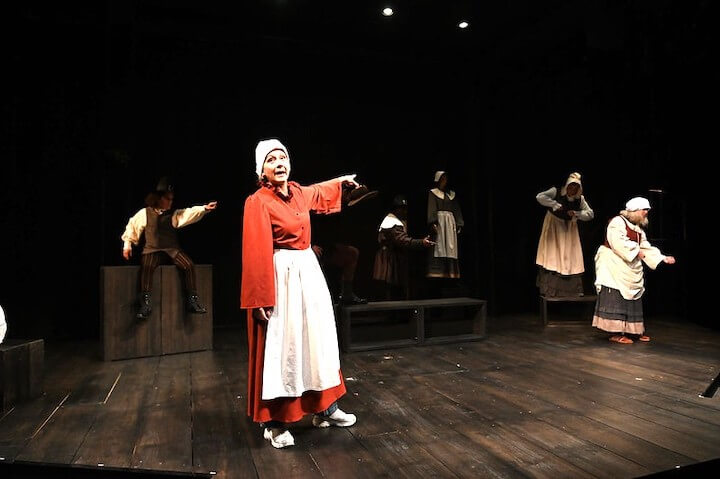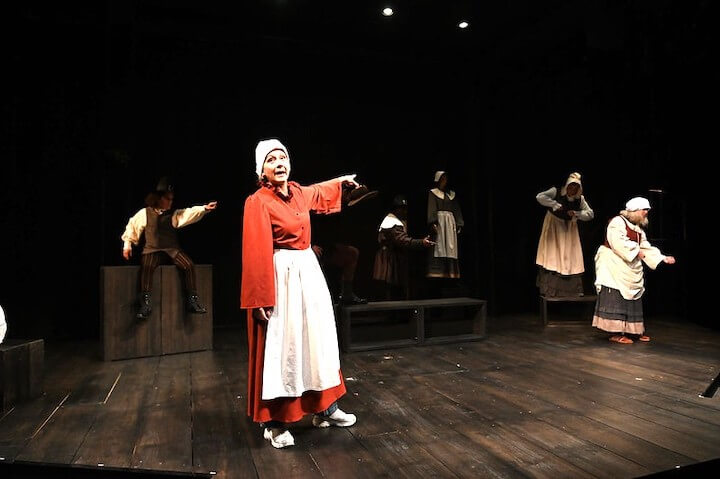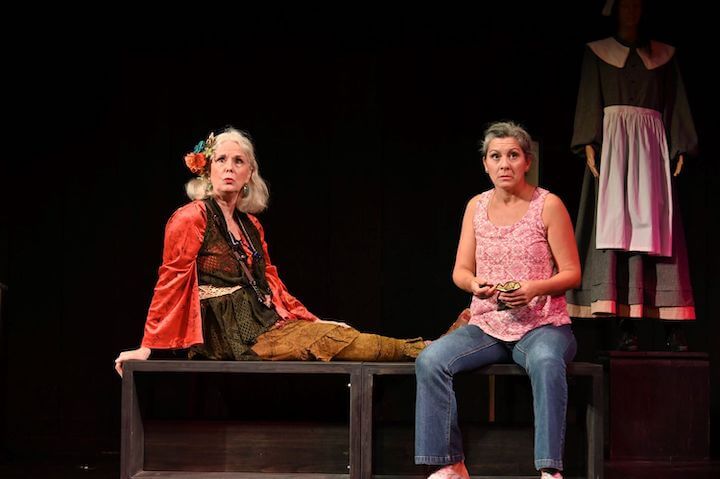 PROVIDENCE, RI — Trinity Repertory Company's "Becky Nurse of Salem," one of two plays opening its 2023-2024 season exploring elements of the  Salem witch trials, delivers humor, heartbreak and insight into the struggle of addiction.
The play runs in repertory (during the same time period) with "The Good John Proctor," telling Arthur Miller's "The Crucible" from the perspective of the young girls at its center.  "Becky Nurse of Salem" is alternately funny, heartbreaking, and surreal as it tells the story of Becky Nurse, a middle-aged woman who gets fired from her job at the Salem Witch Museum. 
Angela Brazil ("Othello") plays Becky, whose life is falling apart. Becky is the descendant of a woman who was hanged for being a witch. Besides her emotional baggage over that fact, she also has a teenage granddaughter who is struggling with mental issues. Becky has a crush on her bartender friend Bob (Dereks Thomas) and is fighting an addiction to pain medication.
In her desperation, Becky consults a witch (a hilarious Meg Thalken) who prescribes a potion which will make Bob fall in love with her. Becky also breaks into the museum to steal a wax statue and then things get crazy. I won't spoil anything, because the magic of the production is its ability to surprise and upend expectations.
'At one point in the play, Becky faces the prospect of salvation or damnation. Will she meet the same fate as the suspected witches of long ago?'
Brazil proves adept at making the transitions from comedy to drama as Becky navigates through the various crises in her life. It's a great performance, one of the year's best. Becky is a fascinating character and Brazil makes her relatable and human. The scenes where Becky has to go "cold turkey" and exhibits the signs of drug withdrawal are harrowing and powerfully rendered. 
Thomas ("Gem of the Ocean") is tremendously charming and likable as Bob, a kind-hearted man who serves as Becky's moral support. 
Jihan Haddad is also wonderfully poignant as Gail, Becky's granddaughter. Haddad and Brazil have an electric chemistry in their scenes together.
Alexander Crespo-Rosario ("Sweeney Todd") shines in the role of Stan, Gail's boyfriend who is also a Wiccan.  
Playwright Sarah Ruhl ("The Clean House") writes witty dialogue and infuses the story with incisive social commentary. For example, Becky comments on how money is made from exploiting atrocities. After getting fired, Becky lashes out at her boss Shelby (Rachel Dulude) for not doing more to support women. 
The legacy of the Salem Witch trials still manages to fascinate after all these years. Lives were destroyed based on hysteria and innuendo. It was a war on women. This part of history was depicted in Arthur Miller's "The Crucible" which revealed the darkest impulses of mankind. 
At one point in the play, Becky faces the prospect of salvation or damnation. Will she meet the same fate as the suspected witches of long ago?           
Director Curt Columbus ("Sweeney Todd") and set designer Michael McGarty have opted for minimalism in telling Becky's story. No elaborate sets, just a few pieces of furniture and some props. 
"Becky Nurse of Salem" is a hugely entertaining show. Columbus skillfully balances the comedic elements and the darker moments in Becky's journey. As a look at someone struggling with opioids, there are moments which will reverberate with anyone who has battled substance abuse or had a family member fall victim to the opioid epidemic. 
Brazil has a climactic monologue which serves as a brutal reminder of the tragedy of addiction. Becky makes the choice to live after so many others have fallen. As you leave the theater, you may find yourself thinking differently about people fighting addiction.
Becky Nurse of Salem runs in repertory with The Good John Proctor through Nov. 10. Tickets are on sale by phone at (401) 351-4242, online at www.trinityrep.com/becky, and in-person at the theater's ticket office at 201 Washington Street, Providence.