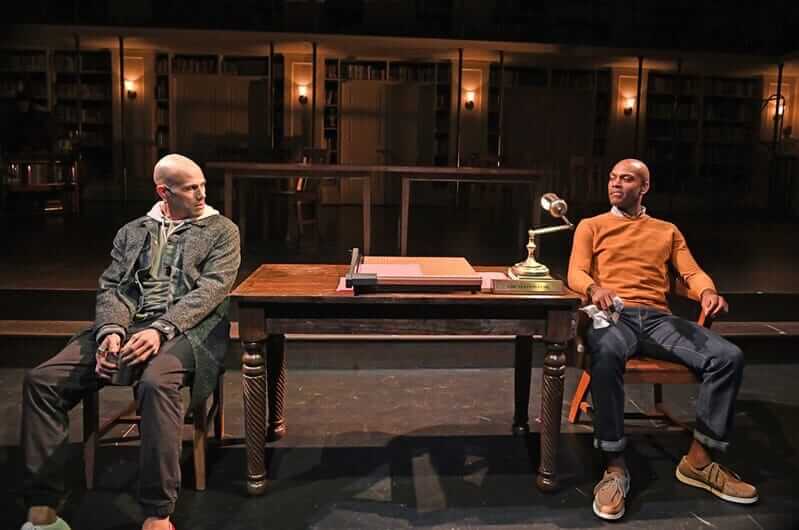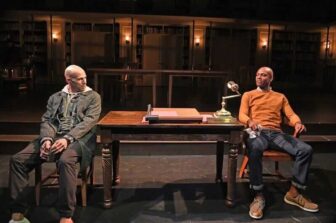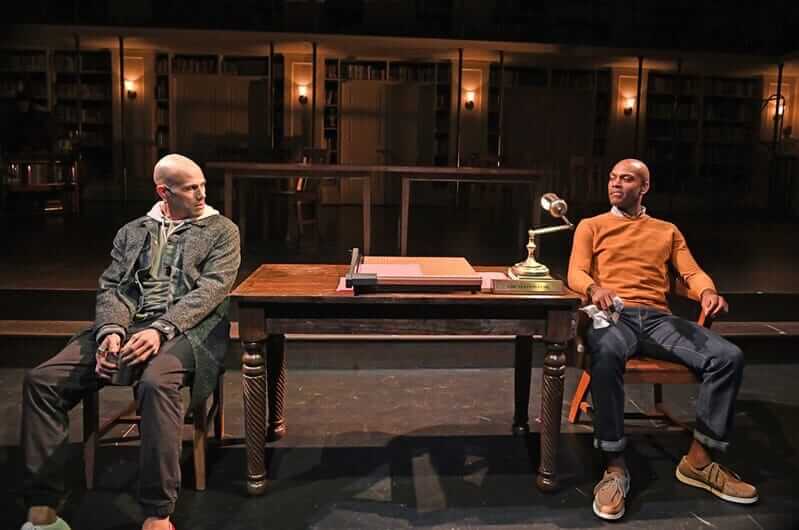 PROVIDENCE — Charles Dickens' classic novel "A Tale Of Two Cities" begins with perhaps the most brilliant opening sentences in literary history: "It was the best of times, it was the worst of times."
This story of love and political unrest has been given an electrifying treatment by Trinity Repertory Company. A first-rate cast, along with inspired direction and an infusion of music, results in a compelling theatrical experience.
Rebecca Gibel ("The Prince of Providence") plays Lucie Manette, who falls in love with Charles Darnay (Taavon Gamble), who stands trial for treason in London. Darnay is later acquitted and they move into a house with Lucie's doctor father (Brian McEleney) and the eccentric housekeeper Miss Pross (a delightful Rachel Dulude).
Darnay later goes to Paris after the evil Marquis is found murdered. Once again, his life is in danger due to a political revolution instigated by Madame and Monsieur Defarge.
McEleney, who adapted the novel for the stage, and director Tyler Dobrowsky have presented "A Tale of Two Cities" as an allegory for our current political climate.
When Matt Clevy walks out as the strutting, pompous Marquis sporting a wavy mass of blond hair, the resemblance to Donald Trump is undeniable.
And when Stephen Berenson's Monsieur Defarge lambasts immigrants by claiming they're a drain on France's economy, it's a stark reminder of Trump's repeated condemnation of people who seek a better life in the United States.
Dobrowsky's staging is imaginative and the climax of the first act, when the enraged citizens of France rise up in violent opposition to the greed and cruelty of their government, is powerfully effective.
Rachael Warren is outstanding as the vengeful Madame Defarge, who rages over the deaths of her family.
Another standout is Daniel Duque-Estrada as Sydney Carton, a self-pitying drinker who loves Lucie and makes a huge sacrifice to prove his devotion.
Jackie Davis, Rudy Cabrera, and David Rabinow also deliver superb performances in multiple roles.
Eugene Lee's set design is also spectacular. The backdrop for all of the action is an opulent library with seemingly endless stacks of books and winding staircases on the side of the stage.
There are frequent instrumentals performed by Christopher Sadlers and musical director Joel Thibodeau, which nicely complement the dark emotions of the characters.
Once again, Trinity Repertory Company has taken on a classic work of literature and put a unique spin on it. McEleney deserves a lot of credit for condensing Dickens' work while managing to retain the elements which made it a masterpiece.
"A Tale of Two Cities" is a magnificent showcase for a group of exuberant actors and a thought-provoking treatise on the plight of society's downtrodden. This is a show which should prompt serious discussion over the class divide and massive injustices plaguing our country today.
A Tale of Two Cities runs through March 22. Trinity Repertory Company. 201 Washington Street. Providence. For tickets, call 401-351-4242 or visit www.trinityrep.com.