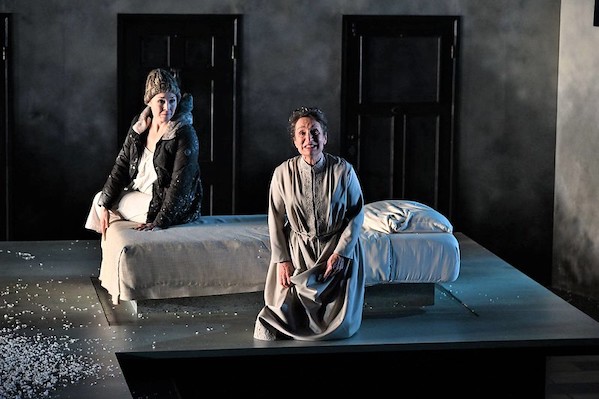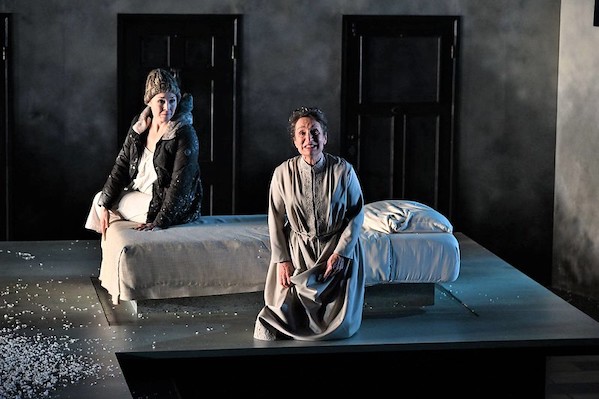 PROVIDENCE, RI —Trinity Repertory Company has put a fresh spin on their annual presentation of the Charles Dickens' classic "A Christmas Carol," with mixed results.
Ebenezer Scrooge is visited in the dead of night by his long-deceased business partner Jacob Marley. Scrooge has disassociated himself from the Christmas holiday ("Bah Humbug!") and wallows in a state of perpetual gloom.
The old miser is later visited by the Ghosts of Christmas Past, Present, and Future. Spoiler alert: Scrooge sees the error of his ways and finds the light in his soul, showering his friends and relatives with generosity and holiday joy.
Writer/Director Aileen Wen McGroddy's main diversion from the source material was to change the genders of Scrooge and Marley. Scrooge is being played by Phyllis Kay, a longtime Trinity Repertory company member.
Kay is a wonderful actress but her performance never quite gels.
It's hard to explain, but part of the reason for that may be McGroddy's semi-comedic approach to the material. Kay fires off humorous rejoinders to her nocturnal visitors, which tends to undermine the gravity of the story.
The supporting performances are effective, especially Rachael Warren ("Fairview") as the tormented Marley, who pulls a set of shopping carts chained together.
Angela Brazil ("Othello") is a comedic gem as the Ghost of Christmas Present, dressed in a glittery outfit draped with ornaments.
Luis Rivera Figueroa is appealing as Bob Cratchit, Scrooge's long suffering employee. The Cratchit family speak almost entirely in Spanish. In a cute touch, the English translation is projected on a giant screen.
Another innovation is in the portrayal of Scrooge's nephew, Fred (Gunnar Manchester), who turns out to be gay. In 1843 London, would it have been possible for anyone to be that open about their sexual orientation? I doubt it.
There is a lot of singing in this production, which is well executed by the performers, which include two groups of children – the Red Cast and the Green Cast.
Andrew Smithson's musical direction is top-notch and works beautifully, along with Shura Baryshnikov's choreography. Tatiana Kahvegian's minimalist set design features a bed which pops up from the stage. There is also a fiery pit, which hints at a doorway to Hell. Camilla Dely's gorgeous costumes are another highlight. They capture the period splendidly.
At the end of the show, Kay announced donations to the Rhode Island Community Food Bank will be matched by Trinity Repertory Company.
"A Christmas Carol" is an uplifting story about one man's spiritual redemption. It's the perfect play for the holiday season.
I understand the desire for directors to want to put their own stamp on the tale, but McGroddy tried too hard to modernize the story. You could almost refer to this as a "woke" Christmas Carol. The gender role reversals and contemporary sexual politics simply seem awkward in a Victorian setting. Perhaps if the action had been set in 21st century America, it would have been more convincing.
I will admit that the finale, which features the large ensemble singing and celebrating the love of the season, is exuberant. You will walk out of the theater with a warm feeling.
Maybe that's enough.
A Christmas Carol will be performed through January 3. Trinity Repertory Company. 201 Washington Street, Providence. For tickets, call 401-351-4242 or visit www.trinityrep.com.