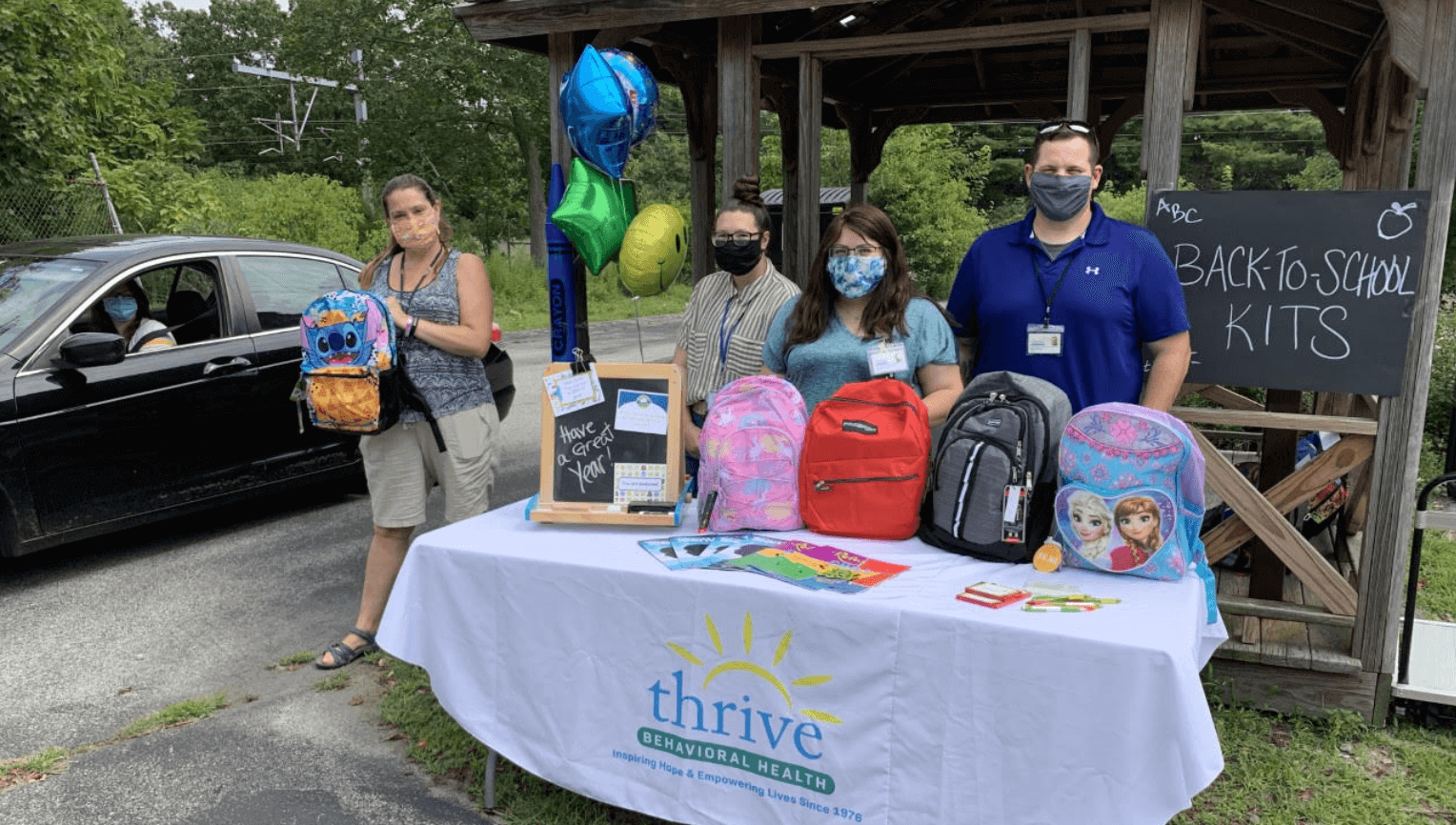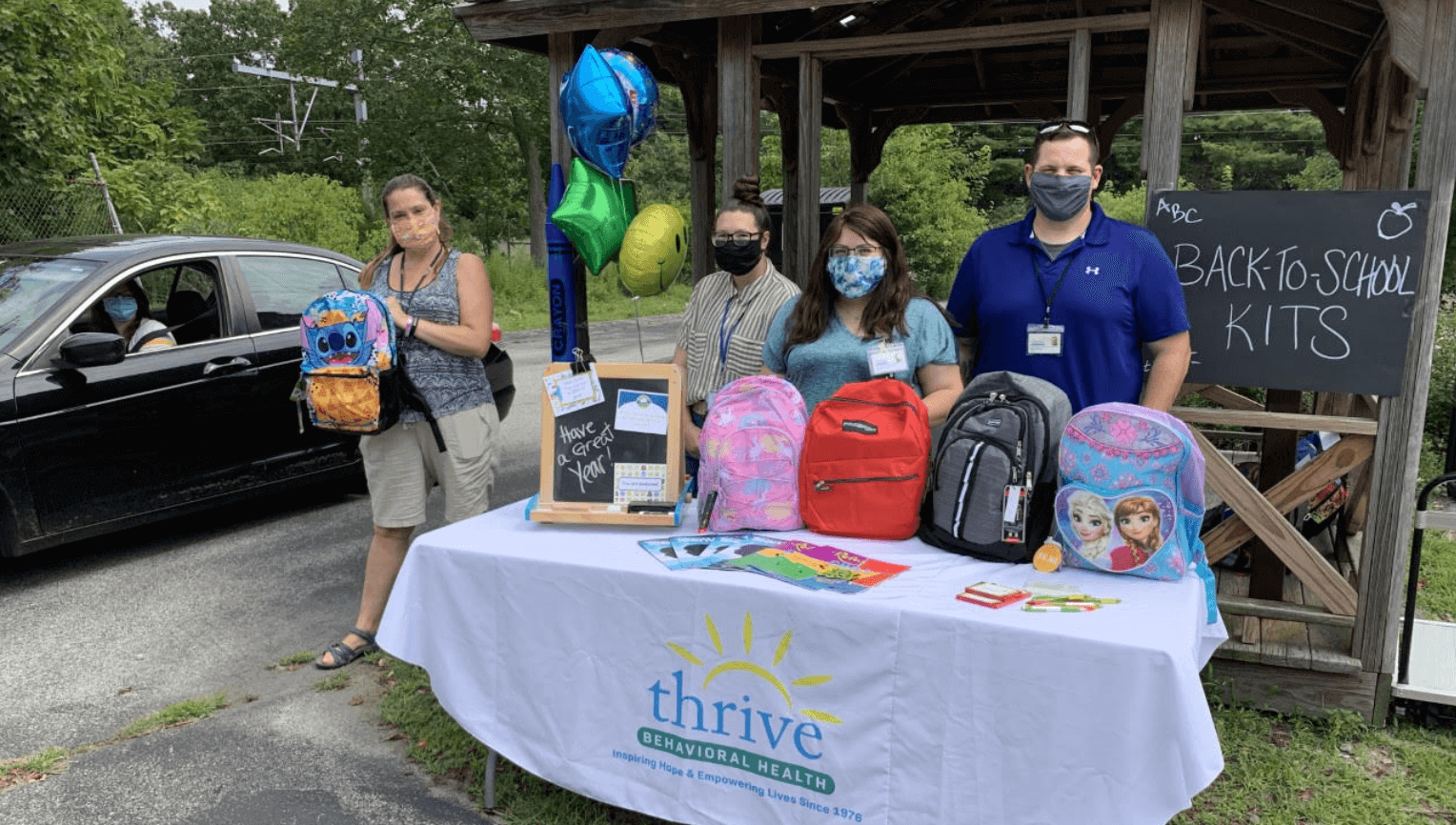 WARWICK, RI  — Last Friday, Thrive Behavioral Health, Inc. distributed backpacks and school supplies to the children, teens and adults in its Youth & Family, Eleanor Briggs School and Hillsgrove Clubhouse programs returning to school this fall.
During the COVID-safe drive-through event at Thrive's Post Road, Warwick headquarters, Thrive delivered 100 backpacks full of school supplies as well as $550 in Visa gift cards to its clients and their families.  Throughout the month of August, Thrive conducted a Back-To-School Supply Drive to collect the essentials needed for students in the new school year.  Backpacks, school supplies and monetary donations were provided by Thrive's staff as well as Greenwood Credit Union, Capital Wealth Management, and Ocean State Job Lot, who donated 200 backpacks through their Operation Backpack program.
Eighty-five backpacks were designated to the elementary, middle and high school students in our Youth & Family program and ten backpacks were given to adults in our Hillsgrove Clubhouse program who are returning to school this fall. The remaining school supplies and backpacks will be given to students enrolled in Eleanor Briggs School, Thrive's K-12 Special Education School, as well as to new families who join Thrive throughout the school year.
"Every fall we provide our clients who are returning to school with new school supplies by collecting donations from our employees, but this year we reached out to our local community for support as well and were amazed with the response we received.  A heartfelt thank you to everyone who donated to our Back-To-School Supply Drive.  Our students and families will truly appreciate all of these new items to get their year off to a good start!" said Barbara Lamoureux, Thrive's Vice President of Youth & Family Services.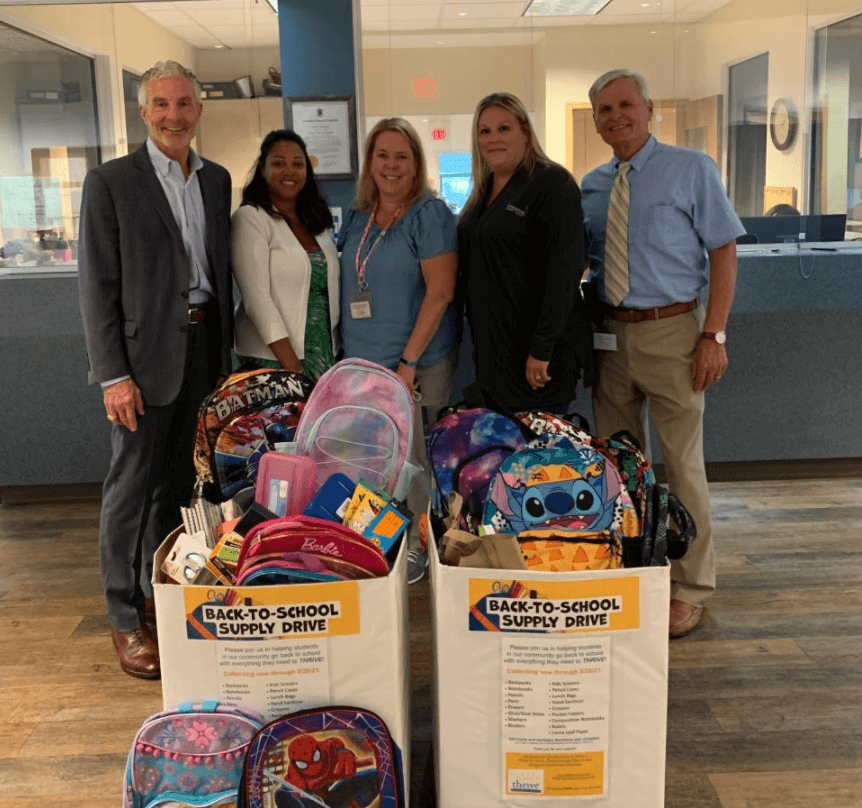 Thrive Youth & Family Program
Thrive Behavioral Health's Youth & Family Services provides behavioral health support to children, young adults and their families by delivering high-quality behavioral healthcare services that promote social-emotional health and academic success.  The specialized program operates under a family-centered approach to treatment which involves partnering with the entire family to develop goals and intervention strategies that improve the quality of life of the whole family.  Included in Thrive's Youth & Family Program are the Eleanor Briggs School, a certified special education program for grades K-12 located in Warwick, RI, and the Healthy Transitions Program, which empowers individuals aged 16 to 25 living with serious mental health concerns to improve their quality of life.
Hillsgrove Clubhouse
Thrive Behavioral Health's Hillsgrove Clubhouse program is Rhode Island's first accredited Clubhouse. It is a healthy and restorative community for adults living with mental illness to develop a fulfilling, rewarding, and productive lifestyle.  Through the clubhouse environment, individuals are helped to achieve or regain the confidence and skills necessary to lead vocationally productive and socially satisfying lives. Members are given opportunities to gain skills, grow confidence, and develop social abilities to function independently. Hillsgrove Clubhouse focuses on the strengths of each member, helping them realize their potential to be successful and confident members of the community. Hillsgrove Clubhouse is accredited by Clubhouse International.