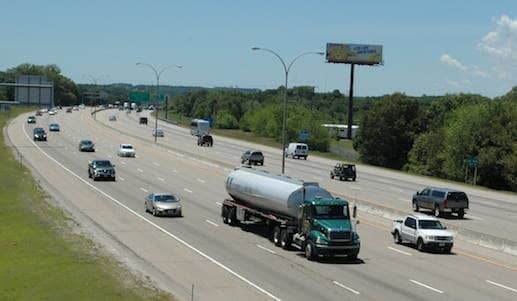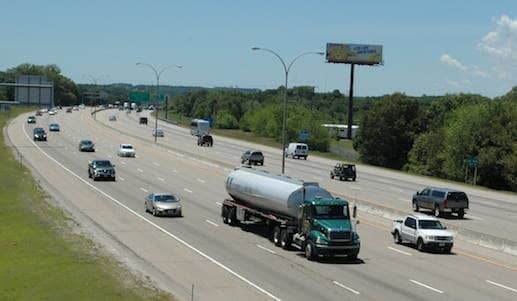 Warwick, RI – Local Thanksgiving travelers will see windy and rainy days, continuing construction and record low gas prices as they join the 46.3 million Americans AAA predicts will travel more than 50 miles from home this year.
Stormy weather
Wind and rain alternate throughout the Thanksgiving week, with a rain/snow mix predicted for Wednesday night. Thanksgiving will see high temperatures in the low 40s and light winds.
The stormy weather starts off today, with wind gusts at about 32 mph and rain, with a thunderstorm possible before noon. The gusts continue tomorrow and rain starts back up late Tuesday night.
Cheap gas, construction continues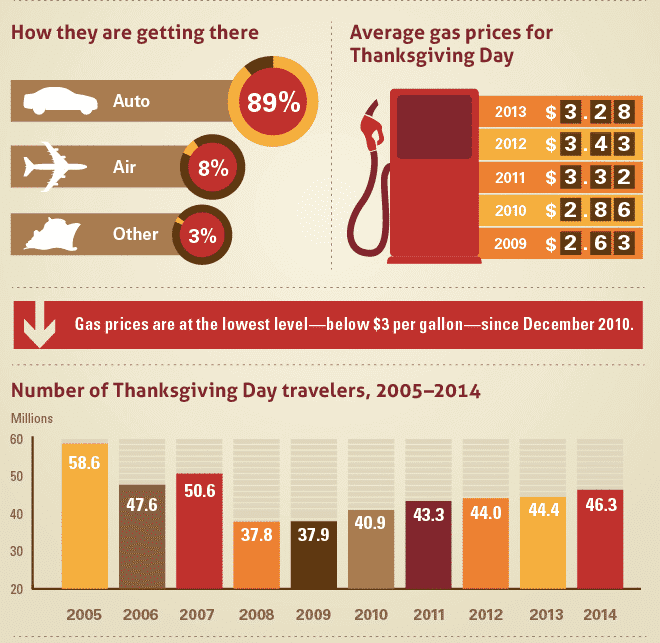 Even for those Rhode Islanders bucking the national trend by staying close to home, there are travel considerations. AAA reports the national average price of gas is $2.85 per gallon, 43 cents lower than the average price for Thanksgiving in 2013 ($3.28 per gallon), the lowest in the last five Thanksgivings.
AAA predicts more than 89 percent (41.3 million) of holiday travelers will drive to their destination, a 4.3 percent increase from 2013. Some of that hike may be experienced locally, and this year there're some complications to throw in to the mix:
Barton Corner Bridge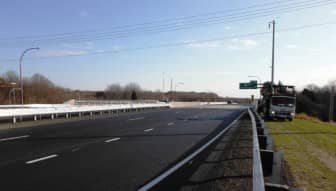 In Warwick, work continues early this week on the Barton Corner Bridge near Exit 8 on Rte. 95. Striping of the road surface began Sunday night and  the DOT will finish miscellaneous construction on Tuesday and Wednesday nights.
That will require alternating lane closures on I-95 North and South, from Exit 7 (New London Turnpike) to Exit 9 (Route 4), Monday andTuesday nights from 8 p.m. to 6 a.m. the following day.
 Apponaug
Construction will continue this week in Apponaug, according to the RIDOT.
Two lanes will be closed for utility work Monday–Wednesday from 6 a.m. to 4:30 p.m. on Route 1 (Post Road) North, from West Shore Road to Veterans Memorial Drive.
At the same time, RIDOT will close one lane along Route 1 (Veterans Memorial Drive) South, from Route 1 at the Post Road Extension to Route 5 (Greenwich Avenue) to focus on a new water main.
TF Green Airport
The Rhode Island Airport Corporation (RIAC) reports it's preparing for increased passenger traffic at T.F. Green Airport for the holiday. Air carriers are reporting busier than usual passenger levels starting Tuesday, Nov. 25 through Monday, Dec. 1.
Traveling into or out of T.F. Green Airport? Here are the links to find arrivals and departures.
In consideration of the anticipated increase, RIAC reminds air travelers:
Allow extra time to navigate from the parking areas to ticketing through the security checkpoint.
Park on-airport and receive low rates from $10 per day to $50 per week.  For information and discount coupons, visit www.parkpvdairport.com.
The InterLink, with its 20 daily (weekday) commuter trains between southern Rhode Island, the airport, Providence, Boston and points in between, is also a convenient travel option for the holidays. Visit www.mbta.com for a complete service schedule.
TSA Precheck has been in effect and allows for expedited screening benefits for eligible participants, who use dedicated lanes and are permitted to leave on shoes, light outerwear and belts.  They can also keep laptops and 3-1-1 compliant liquids in carry-on bags.  Please visit www.tsa.gov/tsa-precheck to learn more.