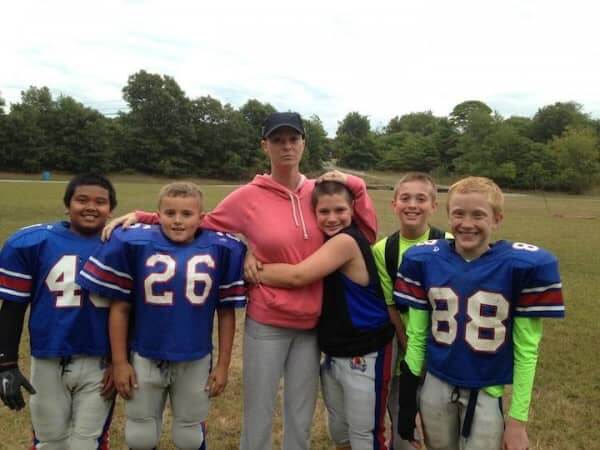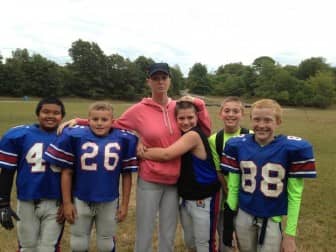 Warwick, RI -Tomorrow, Misty Lourenco, team mom and volunteer powerhouse, will get her leg amputated — the outcome she, friends and family had been hoping for.
Lourenco's doctors' commitment to the amputation is good news, because it means the osteosarcoma – bone cancer – that developed from a long-time pain in her leg to life-threatening disease hasn't spread so far that it's untreatable.
Lourenco, the "team mom" for Veterans Wrestling Club, Warwick PAL wrestling and Warwick PAL football, and the Chairperson of the Rhode Island Wrestling Association, discovered she had cancer July 8 after coming out of surgery for what she thought was nerve damage. The cancer  had spread to her lungs.
A body scan to see if chemotherapy was effective on the lung cancer was promising so doctors will amputate her leg, which is too cancer-ridden to save, and continue the chemotherapy to clear up her lungs.
The amputation is a hopeful sign.
"It's tough to hope for something like that, but when you consider the alternative, you take what you get," said Matt McGrew, a friend and organizer of both the Gofundme online fundraiser page and a recent walk at Warwick City Park to raise money to help pay for Lourenco's medical care.
"It was really successful. It was a big turnout. I was impressed," said McGrew of the fundraiser, which he said brought in about $18,000. Combined with the amount raised on the gofundme.com fundraiser page for Misty's medical expenses, he said they've collected $24,000.
The money won't cover all Lourenco's medical expenses, but "It will definitely help," she said.
McGrew said they know the fundraisers they've done so far are the beginning of a bigger effort on Lourenco's behalf. They'll raise the goal on the GoFundme page soon, he said.
Lourenco said she'll be in for the surgery Thursday, then it'll be about six weeks before she's fitted for a prosthetic leg.
Meanwhile, McGrew will organize more fundraisers, and people can still donate to Misty's fundraiser page.