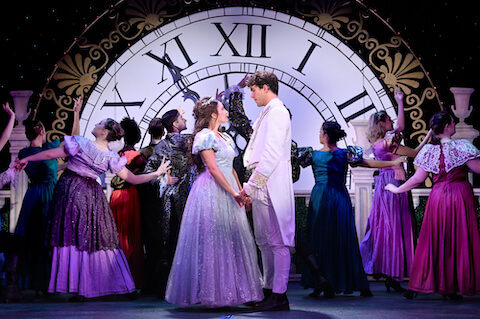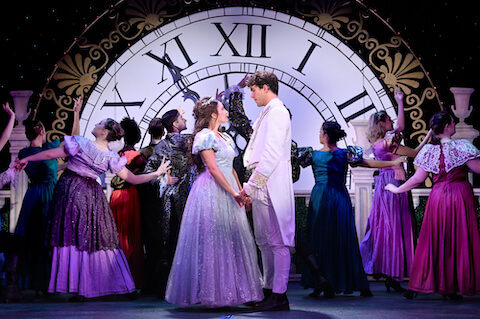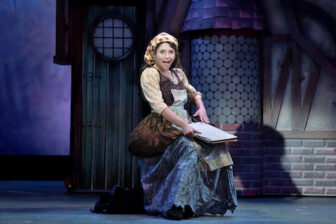 WAKEFIELD, RI — What surprised me most about the latest production of "Cinderella" was the level of complexity in the storytelling.
For this is more than just a fairy tale but a portrait of characters finding their own identities and being true to who they are. I believe it is the best show Theatre By the Sea has produced this year, maybe one of the best they have ever done.
This is a story about making your dreams come true.
Clad in tattered rags, Cinderella, known simply as Ella, exists only to obey the demands of her evil stepmother (Gay Willis) and two stepsisters Charlotte (Kat Cole) and Gabrielle (Kat Moser). It is an unfulfilling life. Dressed in rags, she is given guidance, and some fabulous clothes, by a fairy godmother.
Meanwhile, the handsome Prince Topher (Aidan Cole) is throwing a lavish ball in a quest to find a woman to marry. Sparks fly when the Prince and Cinderella share a dance. When the clock strikes midnight, Cinderella flees, leaving a glass slipper behind. How will the Prince find this mystery woman?
Director/choreographer Kenny Ingram, working from a book by Douglas Carter Beane ("Sister Act" among many others), combines humor, romance, and a little bit of sly political commentary into a satisfying whole.
this is more than just a fairy tale but a portrait of characters finding their own identities and being true to who they are.
Ophelia Rivera is likable and engaging in the lead role. Ella would never be mistaken for a feminist, but she shows some social consciousness by advocating for the plight of the poor people being evicted from their lands. Rivera also looks smashingly elegant in the gowns supplied by costume designer Janet Swenson.
Jean-Michel is a man leading a revolution against the Prince's heartless policies. Tony Harkin shows an offbeat charm in the role as Jean-Michel wins the support of Ella and falls for Gabrielle.
As the "bad guy", Willis is a campy blast as the cold-hearted stepmother who confesses she married for money, not love. Thoroughly miserable, she wonders aloud why she has no friends.
Sebastian (Russell Garrett, who has directed many shows at TBTS) is the Prince's scheming advisor, who has cared for the young man since the death of his parents. Garrett is a memorably nasty villain who is shocked when Ella suggests people be kind to each other.
Cole and Moser both display some sharp comic timing as Charlotte and Gabrielle scheme to win the Prince over and deal with the machinations of their mother.
Another terrific performance was by Laura Yen Solito as Marie, who brought the house down with an electrifying "There's Music in You."
The Rodgers and Hammerstein songs are complimented by Kyle Dixon's gorgeous set designs and Ingram's snazzy choreography. This is a great-looking show with high energy and a lot of heart.
Cinderella runs through Aug. 13. Theatre By the Sea. The theatre is located at 364 Cards Pond Road, Wakefield. Tickets are on sale at the box office Monday through Saturday from 11 a.m. – 5 p.m. and performance days from 11 a.m. until curtain, (performance Sundays 12 noon until curtain), online 24-hours-a-day at www.theatrebythesea.com and via telephone during normal box office hours by calling (401) 782-TKTS (8587).