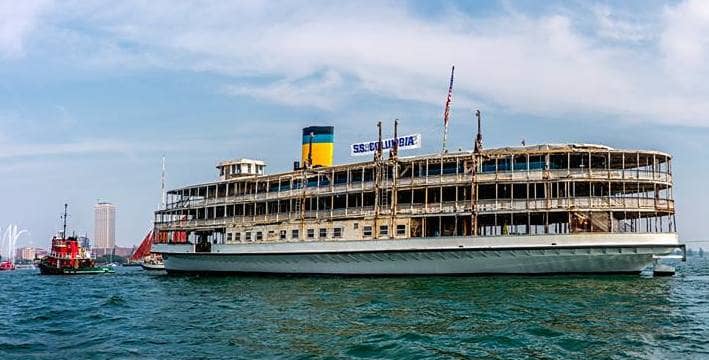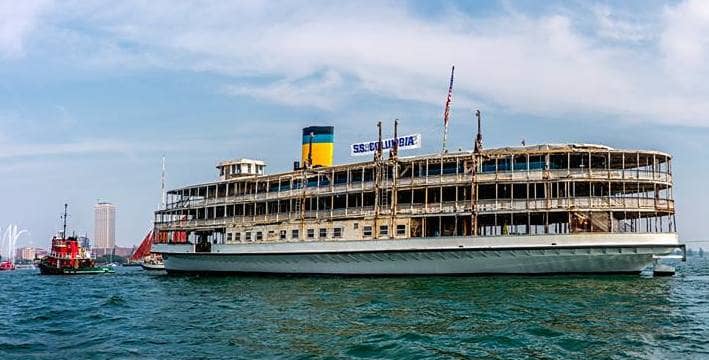 WARWICK, RI — The Steamship Historical Society of America (SSHSA), of Warwick, is heading to New York City Dec. 5 to honor  the excursion steamship SS Columbia, a National Historic Landmark, as the SS Columbia Project coaxes her out of retirement.
SSHSA, a Warwick nonprofit dedicated to recording, preserving and sharing America's maritime heritage, will present the SS Columbia with the 2017 Ship of the Year award, recognizing the vessel's 115 years on the water.
Once a ferry tasked with making daily roundtrips from Detroit to Canada's Bob-Lo Island Amusement Park, the ship is now on track to get back to work providing New Yorkers and tourists access to the great parks, historic sites, and cultural institutions of the Hudson Valley.
"As a kid growing up in Detroit, it was always a thrill to think of the possibility of taking a trip on the iconic 'Bob-Lo' boats and experience the warmth of the steam and feel the gentle rhythm of the engine," SSHSA Executive Director Matthew Schulte said. "Looking back, it seems that the boat ride was just as fun as the amusement park rides, and we are proud that the SS Columbia Project is here to make sure these memories are preserved for the next generation."
 The reception will take place on Tuesday, Dec. 5, from 6-9 p.m. at India House, 1 Hanover Square, New York, NY. The suggested donation is $100, with all proceeds benefiting the SS Columbia Project. Please RSVP to [email protected] by Nov. 30, 2017.
 SSHSA will also present its C. Bradford Mitchell Award to Captain Brian McAllister of New York's McAllister Towing & Transportation for publishing the recent book, McAllister Towing, chronicling the 150th anniversary of his family's company. McAllister Transportation is the owner of Providence Steamboat Co., located on India Street in Providence.
The Steamship Historical Society of America was founded in 1935 by seven amateur steamship historians. Eighty years later, it has grown to become the world's leading organization on the history of engine-powered vessels, with close to 2,500 domestic and international members in more than a dozen countries.
 The group operates the Ship History Center in Warwick, which houses the group's impressive archive comprising thousands of images, artifacts, periodicals, artwork, official records and memorabilia. The collection tells the story of America's transformation from sail to steam, the foundation of SSHSA's new "Steaming into the Future" educational program available at www.shiphistory.org.