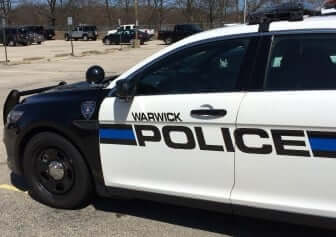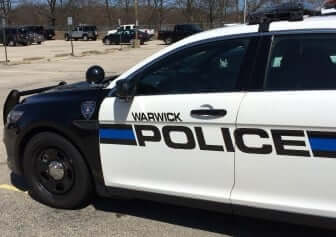 WARWICK, RI — Officer Keara Enos stopped a black pickup after it sped through the intersection of Warwick Avenue and Airport Road March 13 at 10:30 p.m., charging the driver with DUI.
Enos, who was stopped at the intersection, heard a loud exhaust before seeing the pickup, a 2021 GMC Harley Edition, in the 25 mph zone, going an estimated 15 mph over the limit, and activated her lights, turning to follow the truck onto Airport Road,  stopping it near the Commerce Drive.
Enos identified the driver as Kimberly Grenier, 53, of 166 Canochet Trail, Cranston, RI. When asked what the reason for the speed was, Grenier told Enos, "I was just being a little crazy with my truck."
Grenier also told Enos she had come from the VFW, where she had drank, "about four beers," according to the officer's report. Enos asked her to step from the truck to take sobriety tests.
During the tests, Grenier demonstrated a lack of smooth pursuit and involuntary movement in her vision, was not able to walk heel-to-toe, missing the steps by about a half inch, which she attributed to recent knee surgery. Due to the knee surgery, Enos did not ask her to perform a one-leg stand.
During a preliminary breath test, Grenier registered a .175%, and Enos arrested her on suspicion of DUI, then transported her in her cruiser to Warwick Police Headquarters, 99 Veterans Memorial Drive, where she refused to take a second breath test.
Enos charged her with DUI, blood alcohol unknown, first offense, and cited her for speeding. She was released to the custody of a sober adult at 12:45 a.m.