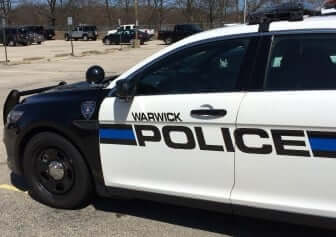 WARWICK, RI — Officer Connor Bemis stopped and arrested a speeding driver he, and the later the driver, estimated sped past him at 120 mph on Rte. 95 June 24 at 8:57 p.m.
Bemis charged the driver, Jacob Buskey, 22, of 14 Blackhall St., Apt. 2, New London, CT, with reckless driving, and cited him for speeding 110 mph in a 55 mph zone; for not maintaining his lane; and for failing use his turn signal.
Bemis was in the far right lane on Rte. 95 South near exit 27A when Buskey passed him at a speed so fast the officer was unable to identify the make or model of the vehicle, according to the officer's report.
The car was in the left lane, then cut right across lanes before returning left without using a turn signal, at what Bemis estimated was 120 mph, according to the report. As the car swerved in and out of lanes, surrounding vehicles in the heavy-traffic area braked to avoid crashes.
Bemis followed, accelerating to 120 mph to catch up with the car. At that speed, Bemis reported he was still unable to close with the speeding driver, only managing to keep sight of the vehicle's tail lights. As he approached Exit 24B, he was able to clock the car at 110 mph while they traveled through a 55 mph zone. The car changed lanes into the far left just prior to the Rte. 95 South/Rte. 4 split, where each highway transitions to two lanes, going 90 mph at an "extremely close" distance from the car in front of it, according to the report.
Bemis turned on lights and siren and pulled the driver over, identifying both Buskey and his car, a red 2008 Volkswagen Jetta.
Buskey told Bemis he didn't know what the speed limit was and was not sure how fast he'd been going. He also apologized multiple times, and stated he didn't want to say how fast he'd been going because he didn't want to incriminate himself. Later, at WPD Headquarters, 99 Veterans Memorial Drive, he volunteered that he believed he had been driving 120 mph.
Buskey's car was released to a licensed driver at the scene, and Buskey was arrested and transported to WPD HQ, where he was charged and released.