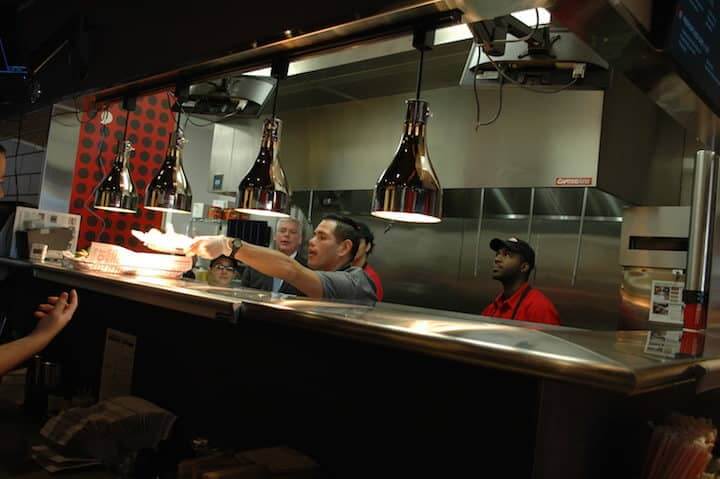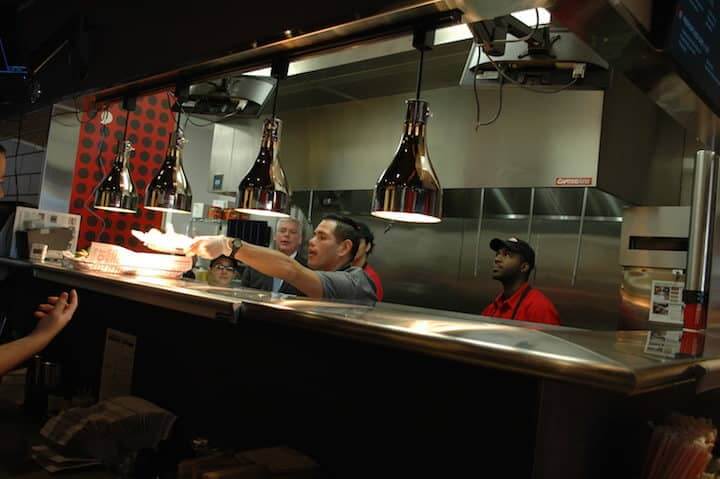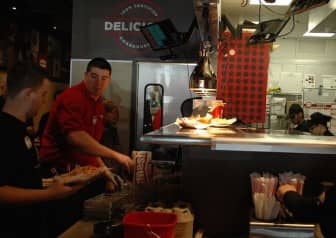 Warwick, RI — Smash Burger, among the fastest growing fast casual restaurants in the US, celebrated the opening of its first RI location at 1000 Bald Hill Road Thursday with the help of Mayor Scott Avedisian, The Central RI Chamber of Commerce, and executives of the Mohegan Holding Company, which owns the franchise.
Mohegan Holding Company also owns the Mohegan Sun casino in Uncasville, CT.When asked why the company chose Warwick, for its first RI location, Kevin Brown, chairman of the Mohegan Tribe, pointed out the window in the direction of a bustling Rte. 2 afternoon.
"Look at this space and all it has to offer," Brown said.
Avedisian said the owner of the retail plaza at 1000 Bald Hill Road, Linear Retail of Burlington, MA, made an effort to attract tenants unique to the area. That began with Trader Joes, then Panera, Wild Birds Unlimited, and Bolocco. "Smash Burger is the latest iteration of that," the Mayor said.
Avedisian said Mohegan Holding is also planning to open an Arooga's chain sports bar in the spring. The chain's website lists the new location as at 615 Greenwich Ave.
"This is all good news for us," Avedisian said.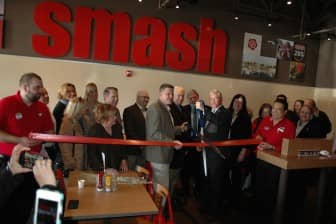 The fare was a big hit for the Mayor, too. "I think the string beans and carrots are exceptional," Avedisian said, referring to the chain's Veggie Frites, flash-fried and seasoned carrot sticks and green beans. He said he would've never combined them the way Smashburger had done, but he was a new fan of the dish.
The upscale burger restaurant uses fresh, Certified Angus Beef® smashed on a 400 degree flat grill "to sear in the flavor" according to the company. The burgers are served on toasted artisan buns and topped with fresh produce, cheeses, and high-quality condiments.
The Warwick location sports a menu created with regional flavors and tastes in mind. The Rhode Island Smashburger and chicken sandwich have provolone cheese, mayo, Gulden's spicy mustard, leaf lettuce, red onion and Rhode Island red relish on an egg bun.
Fried pickles with a ranch base sauce are available along with fries, all of which received rave reviews during the spot's grand opening Thursday.
Customers can also enjoy a selection of marinated grilled or crispy chicken sandwiches and fresh-tossed salads, along with a variety of sides including rosemary and garlic–seasoned Smashfries, Haystack Onions, The restaurant also serves handspun shakes, root-beer floats in frosted mugs and beer, including local brews from Grey Sail Brewing of Rhode Island and wine.
Smash Burger was named the fastest growing burger chain in the US by Business Insider in 2011. Forbes.com listed the burger purveyor among the most promising companies in the US, with $228 million in revenue in 2014. Half of the company's 250 restaurants are run by franchisees, as in Mohegan Holding Company's case.
"We are excited to bring Smashburger's better burger to Warwick. Satisfying and real, basic and good, affordable and fresh – Smashburger is a place with a burger soul," says Smashburger Co-Founder & Chief Concept Officer, Tom Ryan. "With a broad menu of handcrafted burgers, chicken, salads, signature sides and handspun shakes, Smashburger has something for everyone and we are proud to be opening another location in the area."