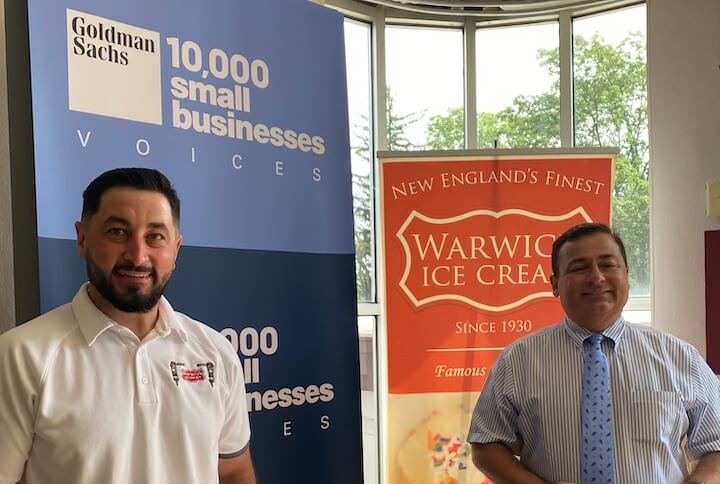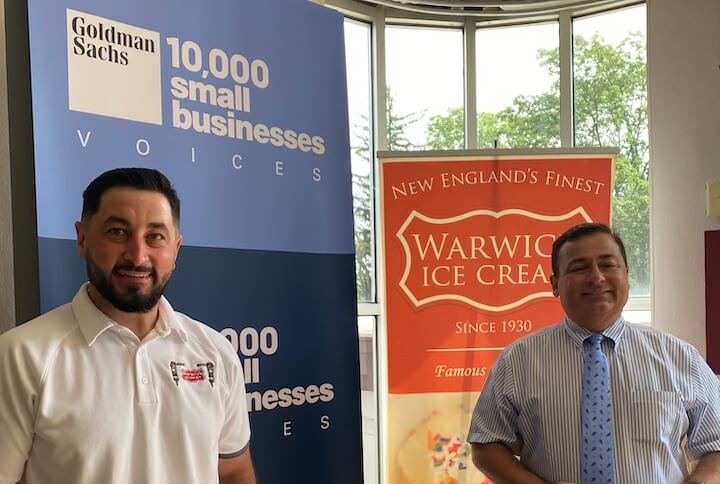 WARWICK, RI — Rhode Island House Speaker Joe Shekarchi and U.S. Representative David Cicilline toured Warwick Ice Cream on Bald Hill Road and Wright's Dairy Farm, respectively, Monday to discuss small business challenges, including labor shortages, supply chain hurdles, and the rise of the Delta variant.
The visits were part of the Goldman Sachs 10,000 Small Business Voices "Road to Recovery" a cross-country series of bipartisan events connecting elected officials with small business owners. Participating elected officials listen and learn from small business owners directly about the challenges they are facing coming out of the pandemic.
"Small businesses face many challenges, and I'm grateful to the Goldman Sachs 10,000 Small Businesses community for providing support and guidance during these difficult times. From workforce challenges to supply chain issues, it's reassuring to know that the voices of small business owners are being heard by our elected leaders," said Thomas Bucci of Warwick Ice Cream Company.
A recent national survey from Goldman Sachs 10,000 Small Businesses Voices showed that while small businesses are on the road to recovery, they are still facing major roadblocks including rising operating costs, access to capital and labor shortages. The survey found that of the 71 percent of small businesses currently hiring, 81 percent are finding it difficult to recruit qualified candidates. At the same time, 83 percent of small business owners report an increase in operating costs in the past few months and 82 percent are concerned about the impact of inflation on their businesses. As a result, almost half of small businesses (48 percent) have had to increase their prices.
"Rhode Island small businesses are essential to our state's economy, culture, communities and identity. The road to recovery will take time, but I remain committed to working with our small business owners to ensure they are heard," said Shekarchi. "I am very proud that in the General Assembly, we've passed innovative legislation to help get Rhode Islanders back to work while helping small businesses find the staffing they need. We will continue to work with our small business community to find solutions for the challenges they face as we work together to grow Rhode Island's economy and create opportunities for all of our residents."
 "I'm delighted for this opportunity to hear directly from Rhode Island small business owners about their road to recovery. Whether at home, here in Rhode Island, or in Washington, D.C., I'll continue to advocate for public policies that prioritize small businesses," said Cicilline.
"America's economic recovery is dependent on the strength of small businesses across the country, and we're grateful that Congressman David Cicilline and Rhode Island House Speaker Joe Shekarchi joined us for these important tours and to hear the urgent needs of Rhode Island's small business community," said Jane Moffat, Deputy National Director of Goldman Sachs 10,000 Small Business Voices.