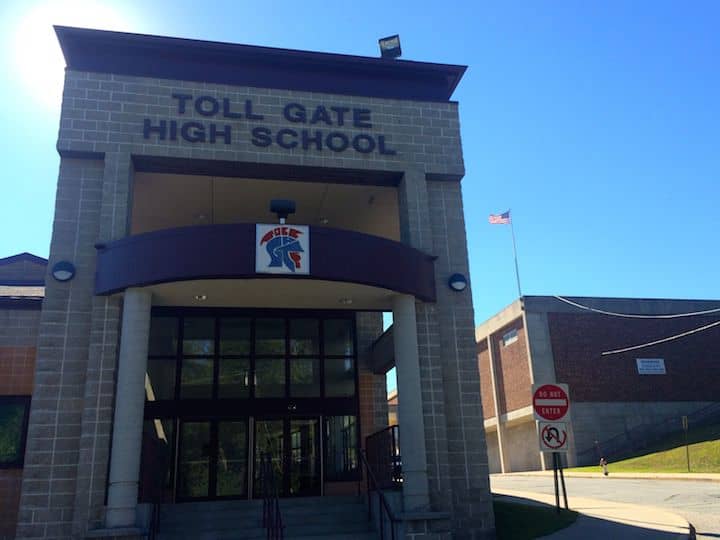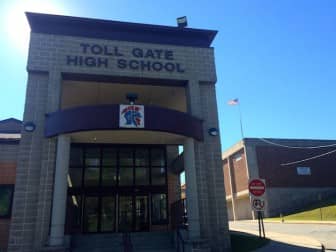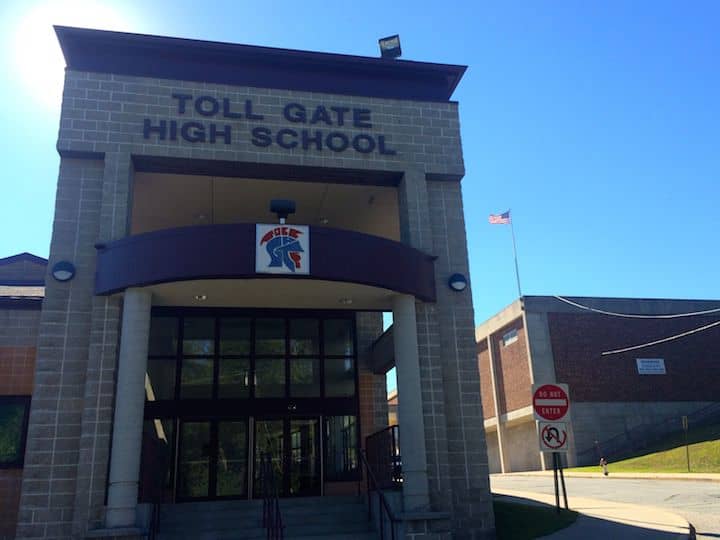 Warwick, RI — When a rumored weapon at Toll Gate High triggered a lockdown Nov. 20, teachers in the gym, a broken intercom "deadspot," didn't get the message, so the School Committee approved 24 walkie-talkies Tuesday to reach that and similar communications gaps district-wide.
During their 7 p.m. meeting in the Toll Gate auditorium, the Warwick School Committee voted 5-0 t to pay wireless equipment dealer BearCom of Dallas, TX $10,0875 for 24 walkie-talkies for teachers to use when assigned to those areas in Toll Gate and other schools.
"As you may know, we had a lockdown situation at Toll Gate a few days back," said Superintendent Phil Thornton. Since then, he said, he had asked for a survey of all the city's public schools and identified 24 areas where intercoms no longer reach. The 24 walkie talkies will fill in those communication gaps in the short term, Thornton said.
In the long term, he said, the intercom systems will be replaced with voice-over IP, which sends voice information in digital form.
Members of the audience objected to the discussion, initiated by School Committee Chair Jennifer Ahearn, which occurred before the meeting moved to New Business on the agenda, where the walkie-talkies were listed as item #13.
"I don't need to change the agenda, thank you," said Ahern.
"You do," protested a few audience members.
Open Meeting Law only governs rules for adding new items to the agenda. It does not address re-arranging the order of items already on it.
School Committee member Karen Bacchus said the earlier administration's decision to cut support service staff contributed to the failing PA system.
"I said it then. I said it was going to be abysmal. We have kids who are in trouble, and nobody to help them. Now, I have a superintendent who feels equally as I do. Thank you, Superintendent," Bacchus said.
Ahern said she had recieved several emails from parents that were extremely concerned about the safety of students following reports from teachers that they were out of the loop during the lockdown at Toll Gate High.
"Teachers have also been, sending out messages to us and also internally saying that they cannot, you know, be reached.." Ahern said. She also noted a teacher in the gym who could not be reached during the lockdown.
"That's what really spurred our investigation into all of our facilities to ensure that if there were any dead zones that individuals would be made aware of what was going on internally. So for me, I think it is completely appropriate, something we have to do to make sure that all of our students are safe. Especially when the teachers are requesting that we have some type of alternative (communication) system to support them in the schools.
The School Committee voted to purchase the walkie talkies, 5-0. The walkie talkies are expected to arrive at about the first of the year, within about 20 days.