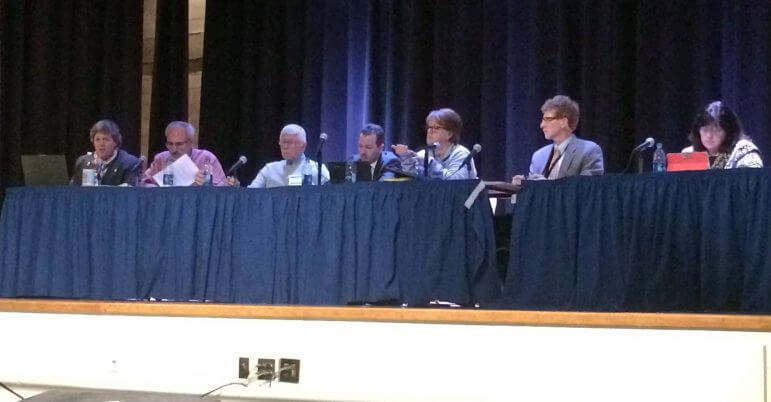 WARWICK, RI — The Warwick School Committee will meet in executive session 6 p.m. May 15 in the Veterans Middle School Auditorium to discuss teacher layoffs and the performance of Superintendent Philip Thornton before convening in open session at an unspecified time to discuss the layoffs, middle administration/principal appointments, and a number of contract awards.
The School Committee will also consider support of 2018-H 7696 and 2018-S2181 amending the state constitution to provide a right to an adequate education, to be placed before voters at the Nov. 6 election.
If approved, the amendment would provide that it would be the paramount duty of the general assembly, the department of education, and other government agencies to provide Rhode Island residents with equal opportunities to receive an education that is adequate to permit residents to achieve at high levels, effective Jan. 1, 2019.  It would also provide for judicial enforcement of this provision.
The Committee will hear a Technology Department requesting for purchase of $88,189.96 worth of network hardware and installation services from Whalley Computer Associates for wired and wireless network upgrade work at various Elementary School buildings. WPS has successfully submitted an application for Category 2 E-Rate funding for this project at a 50% award rate. The total cost to the district will be $44,094.58.
The purchase would update wireless access points and switching equipment to seven elementary school buildings in the district – Greenwood, Norwood, Park, Scott, Sherman, Warwick Neck, and the Warwick Early Learning Center at John Brown Francis.
The Committee will also consider Saccoccio & Associates proposal for designing and administering the Winman Middle School Front
step project, at a total design cost of $12,000. The front step project is a top priority project in the School Committee's ADOPTED Fy2019
Recommended Budget. The contract will allow the architect to  produce bid documents in time for the project to go forward over the summer of 2018.
The Committee will also consider a request to purchase 22 air conditioners at $9,062.28 for John Brown Francis School, which is scheduled to house Warwick's Early Learning Center in September.
A detailed list of the agenda and copies of public documents to be discussed at the meeting can be found at the district's public Google drive folder. 00 Agenda-May 15, 2018