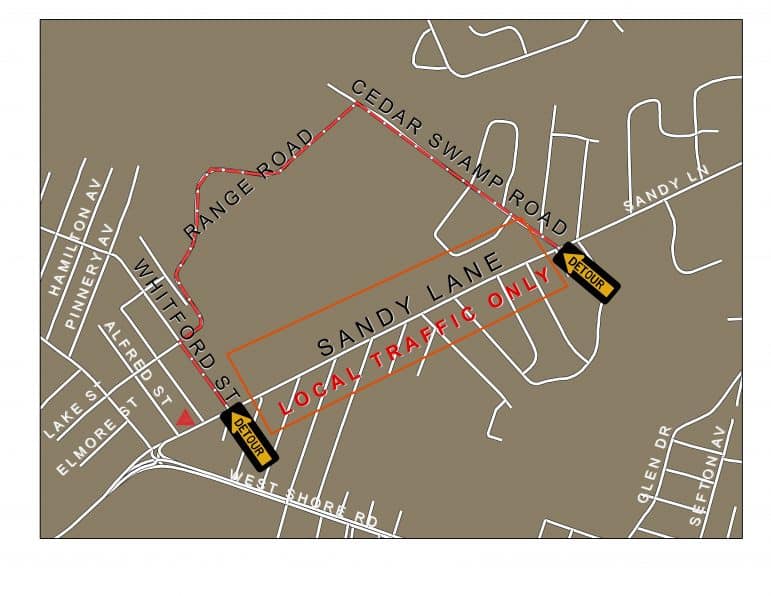 Sandy-Lane-Closure-Feb-18

WARWICK – On Monday, the Warwick Sewer Authority and DPW will start a week-long repair project to prevent 600 linear feet of sewer pipe along West Shore Road from failing that will require a week-long detour.
The last repair of 154 ft. of sewer line that collapsed the day before Thanksgiving took weeks of work, and alsorequired a detour. This detour will only last a week, though an original estimate put the repair time in January was two days. The new detour involves a temporary closure of Sandy Lane, a small section on Armory Drive and another section in the public works yard. 
Replacing that section of pipe would normally take at least a month, Burke Wells told the Sewer Authority members during their Jan. 9 meeting. But, she said, vendors had another option, a procedure that would repair the damaged pipe and reinforce it, likely lasting another 50 years.
DPW Director Mat Solitro described it as a tube of cured-in-place piping resembling big, gray sock, that would be inserted into the existing pipe. Then, either water or steam will be pumped into the piping to expand it, hardening it into an interior coating of the damaged pipe that's now whole again.
During this work, a detour will change traffic patterns starting Monday at approximately 7 a.m., which will remain in effect for about one week:
Except for local traffic, all passenger vehicles will be detoured:
Eastbound traffic on Sandy Lane will be diverted to Whitford Street, then to Ingalls Street, up Range Road and onto Cedar Swamp Road
Westbound traffic on Sandy Lane will be diverted onto Cedar Swamp Road to Range Road, then to Ingalls Street and down Whitford Street.
Signage for detour routes will be in place. Detail officers will be stationed at Sandy Lane, West Shore Road, Warwick Veterans School and Oakland Beach Avenue.
Cars only will be allowed to use the detour. Any vehicle with a GVW of 10,000 or greater must seek alternate routes.
Motorists should expect delays. Traffic laws will be strictly enforced in residential areas. Traffic details will remain in place for the duration of the repair work.
The Boys & Girls Club activities at the Cooper Armory will remain on regular schedule and will not be affected.
The School department will be advising parents and students about bus stop through their ConnectEd system.