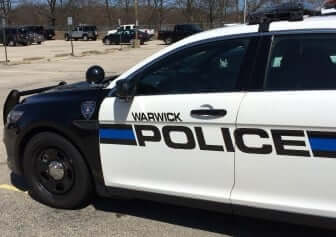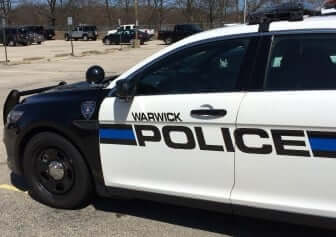 WARWICK, RI — A Warwick officer checking an unconscious driver at Motel 6 on Jefferson Boulevard April 6 at 5:12 p.m. was nearly run over when the man woke and led him on a Rte. 95 chase.
Warwick Police Officer Connor Bemis ultimately arrested Michael J. Mogayzel, 35, after he crashed and disabled his black 2021 Hyundai Elantra about a quarter mile past the "Thurbers Avenue 1 mile ahead" sign during the Rte. 95 chase.
Bemis charged Mogayzel with two counts of felony assault due to nearly striking Bemis and another officer in the Motel 6 lot; Driving Without Consent; DUI, blood alcohol content unknown; Possession of a Schedule I-V Controlled Substance Under 10g; Two Counts of Weapons Other than Firearms; Receiving Stolen Goods; Eluding Law Enforcement Officers in a High-Speed Pursuit; Refusal to Submit to a Chemical Test, 1st Offense. He was also wanted on a Central Falls warrant for Domestic Violation of a No-Contact Order.
Earlier that day, Bemis approached the Elantra in the lot at the Motel 6 after spotting the man in the driver's seat of the running car, asleep, his head tilted back and his mouth open, with a phone in his hand. A dog was in the car running around, which had failed to wake the driver, according to the officer's report.
As Bemis approached, the officer's radio sounded, startling the man awake. The officer spoke with and identified the man as Mogayzel. Bemis also noted a plastic bag with white residue in it inside the car's center console.
Bemis returned to his cruiser and checked Mogayzel's ID, learning that he was wanted in Central Falls for violating a no-contact order. Bemis called Officer Andrew Chretien to assist, and returned to Mogayzel to speak with him until Chretien arrived.
Mogayzel started to back the car up, and Bemis asked him to turn it off and put his left hand on the door to open it and turn off the ignition himself. Mogayzel suddenly accelerated away, forcing Bemis to remove his hand quickly and step away to avoid being pulled or struck by the car as it sped away, according to the officer's report. Bemis reported Mogayzel appeared to be attempting to drag him or injure his arm by driving away, but he avoided injury.
Mogayzel sped out of the lot and toward Chretien's cruiser as it arrived, also nearly striking his vehicle, coming within a foot of a head-on collision at about 50-60 mph, according to Bemis's report.
The officers pursued, with Bemis leading and Chretien following, handling radio during the Rte. 95 chase.
Mogayzel sped onto the Rte. 95 North onramp, and into the high-speed lane at about 70 mph in the 55 mph zone, switching to the breakdown lane on the left and accelerating to 100 mph. Bemis followed in the high speed breakdown lane past Exit 16. Mogayzel crossed right into the far right lane and slowed to 80 mph, then struck several traffic barrels, according to Bemis's report.
Mogayzel then attempted to cut back to the left, then began trying to navigate traffic by switching between the far right lane and the lane to his left. The driver struck several other vehicles in the process, causing minor damage as he slowed, before his car was disabled by the resulting damage, according to the report.
Bemis stopped, exited his cruiser and approached the Elantra with his firearm pointed at Mogayzel, who was awake and shaking in the driver's seat, with the car's airbag deployed. Bemis removed him from the car and onto the ground, handcuffed him and immediately called a rescue for the man. He also inquired with other drivers about needing medical attention, which they declined. Rhode Island State Police arrived to handle the scene of the traffic crashes.
Bemis secured Mogayzel in Chretien's cruiser, and the driver told the officers he had smoke fentanyl, so they administered Narcan to him.
A check of the vehicle came back as reported stolen from Avis Rental, and the Maine plate attached was actually from another car. Inside the car, officers found a crack pipe and a Xanax pill for which Mogayzel did not have a prescription. There was also a backpack containing multiple bank cards, licenses and SIM cards, which was seized as evidence for detectives to examine.
Bemis rode with Mogayzel in a Cranston rescue truck to Rhode Island Hospital as the driver was treated for a wrist injury and a head injury, and self-destructive comments. At the hospital, Mogayzel refused to submit to a blood test.
Bemis left Mogayzel in a fellow officer's custody at the hospital and returned to Warwick Police Headquarters, 99 Veterans Memorial Drive, to assess the charges against Mogayzel.