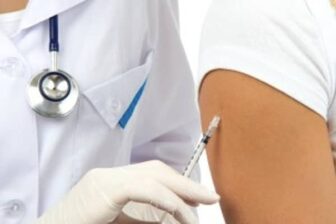 PROVIDENCE — As New England states report elevated flu activity the last several weeks, with one flu-related death and 24 flu-related hospitalizations in Rhode Island, the RI Department of Health urges flu vaccinations for those who've yet to get a shot.
During the 2018-2019 flu season, there were 39 deaths and 1,032 hospitalizations associated with the flu.
"After getting a flu shot, it usually takes someone roughly two weeks to start developing the antibodies that provide protection against the flu. For people who have not been vaccinated and who plan to get together with family and friends for the holidays, now is the perfect time to get vaccinated," said Director of Health Nicole Alexander-Scott, MD, MPH. "A flu shot can help you avoid serious illness, doctor visits, missed work, or missed school, and it can also help you keep the people you love healthy and safe by reducing the spread of the flu."
Everyone older than six months of age should be vaccinated every year, the health department stated.  Vaccination is particularly important for certain people, including the elderly, young children, pregnant women, healthcare workers, and people with chronic medical conditions (such as asthma or diabetes). Even if someone is vaccinated and still gets sick, a flu shot can reduce the severity of that person's illness.
Warning signs requiring emergency care
Some cases of the flu should be treated in an emergency department.
Warning signs that indicate that someone with the flu does need to go to the emergency department include:
Difficulty breathing or shortness of breath; pain or pressure in the chest
Having flu-like symptoms that improve but then return with fever and worse cough.
If someone is not sure if they need to go to the emergency department, they should contact their primary care provider. A primary care provider will be able to provide guidance about the next best step. (Most offices have physicians on-call after hours.)
When to seek your regular doctor's care
Cases of the flu with symptoms that are not severe are often more quickly treated by a primary care provider or in an urgent care facility. RIDOH has information and lists online for urgent care facilities, as well as for community health centers and other express care facilities in the state.
Going to an emergency department for a case of the flu with symptoms that are not severe will likely result in a long wait because emergency departments prioritize more serious injuries and illnesses.