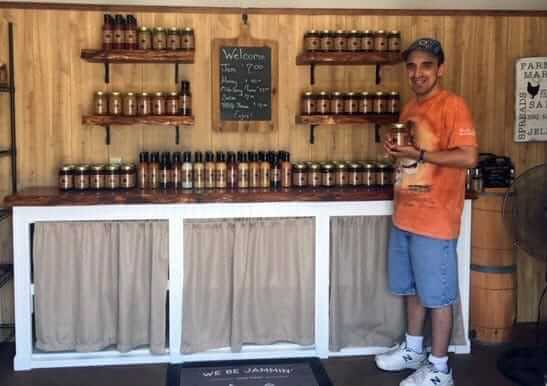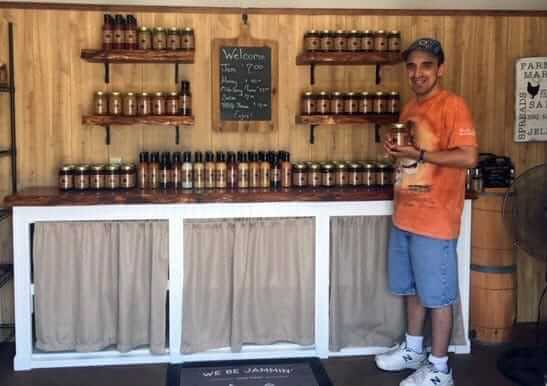 WARWICK, RI — Jason Wood, with the help of his mother Debbie Wood, started revolutionary jam business, We Be Jammin, which has grown in leaps and bounds making its way to its first official "brick and mortar" (shed) location, opening its doors to the public for its premier season this summer.
Based on his favorite snack, toast and jam, 31-year-old Jason, who is severely autistic and predominately non-verbal, was introduced to an opportunity to spread his entrepreneurial wings and participate in small business classes through the Rhode Island Developmental Disabilities Council (RIDCC) via a Real Pathways grant provided by the Department of Labor and Training (DLT).
Debbie, who is steadfast about focusing on what her son Jason can do, instead of what he cannot do, thought this business program and these classes were a great idea and jumped on board immediately. Starting with just a couple of traditionally flavored jams and a few farmer's markets, the duo set out on a journey of entrepreneurism that has proved to be successful, useful and fulfilling.
"I am Jason's chief working officer," jokes Debbie, who says that she and her husband began thinking and planning for Jason's future, post-schooling, way back when he was about 14 years old. "At 21 we knew he would age out of school and we wanted to be sure we had something for him to be a big part of when that happened, so we thought about a business we could create for him."
She added, "We have always been heavily involved in Jason's programming and with RIDDC, we have taken advantage of all they had to offer Jason, especially getting him on the path to self-employment. So, we zeroed in on his interest and skill level."
"Although Jason doesn't have the communications skills to be able to tell customers about the product, his job is bagging it up and he thanks each customer by tipping his hat and saying thank you," explains Debbie, who is very proud of the accomplishments Jason has been able to make through his business.
"Every time he learned another word, [blueberry, strawberry, etc.] I came up with another flavor, now we have 75 different products including jams, BBQ sauces, marinades, salsas, salad dressings, ketchups and more."
Debbie explained that food was a great motivator for Jason, who has sensory issues and likes toast especially, because it is very crunchy. Adding the smooth jam got some fruits into him and then, adding chips and salsa; Debbie was able to sneak in some vegetables.
Beyond a healthier diet, Jason's business has allowed him to blossom and gain some independent perspective on business happenings. Along with his support staff, Jason attended the in-person, six-class course offered by RIDDC, which linked up with the Center for Women and Enterprise Rhode Island. The classes were taught by professionals in the field, with self-directed support, to individuals looking to learn more about starting, owning, running and managing their own businesses. The course covered areas of interest including: what it means to be an entrepreneur, marketing, finances, the all-important elevator pitch and more.
"Every time he learned another word, [blueberry, strawberry, etc.] I came up with another flavor, now we have 75 different products including jams, BBQ sauces, marinades, salsas, salad dressings, ketchups and more."
"Jason worked very hard on his elevator pitch and although he can't really read, he does recognize site words so we had a whiteboard with prompting words on it to help him. He was able to present, just like they do on Shark Tank," said Debbie.
She added, "In Jason's pitch he said, "My name is Jason Wood, I sell delicious jam. I hope you can try it someday."
All through the COVID-19 pandemic, the classes have continued to stay in touch with Zoom meetings to discuss marketing strategies, online opportunities and more.
"It is the most wonderful group of people and we are so grateful to be a part of this," said Debbie.
In May, Jason, who already has a website and Facebook page for his business, was able to realize a long-term goal and "We Be Jammin" opened up at 3630 West Shore Road in Warwick on a property his father owns. The shed is open Monday through Friday, from 10 a.m. to 2 p.m. and houses all Jason's products.
Jason works daily, with the help of support staff. He gets the products for customers, bags it up and thanks customers. He also restocks inventory, cleans appropriately for COVID and performs all the necessary tasks for opening and closing his store regularly.
In addition, following Debbie's mantra of giving back, the shed also houses the wares of other incubator businesses that are part of the Real Pathways program; showcasing jewelry and cards made by other individuals with disabilities.
"If we have the room you can have a space," said Debbie who is all for helping others, like her son, get their own businesses up and running. "We don't charge for the space. It was brought up that you have to give back if you can, and we teach Jason that as well, so this is our way of giving back."
In addition to the shed shop, Jason's goods can be purchased online. He makes daily trips to the post office to ship his unique products all over the country. Some of his most unusual offerings include bacon ketchup, bacon pineapple salsa, chow chow, raspberry jalapeno jam (one of Jason's favorite flavors) and peach butter, to name a few. He also sells mainstays such as raspberry, strawberry, blueberry and blackberry jam also. Most of his items have a modest price tag of $7 and come handsomely packaged. All of his goods are produced in a certified commercial kitchen.
"It's really been a wonderful experience and without this, these kids would never be able to sustain their businesses," said Debbie. "This is a wonderful platform for people with disabilities and it is a privilege to be part of this program. We are very grateful for the opportunity this has provided for Jason."
For more information about We Be Jammin, visit webejammin.net.
For more information about the Rhode Island Developmental Disabilities Council, visit www.riddc.org.
This page is part of a series of sponsored content pieces for the Rhode Island Developmental Disabilities Council.