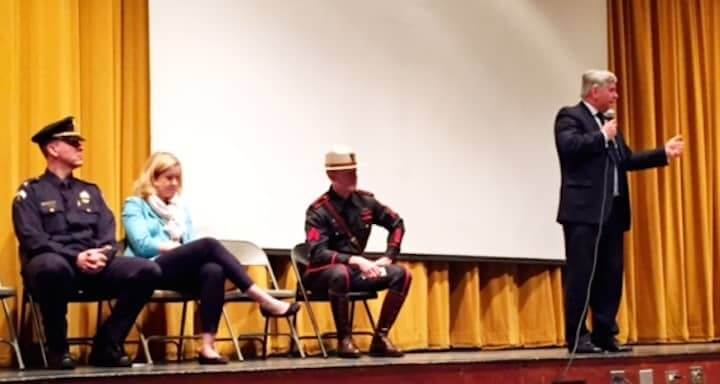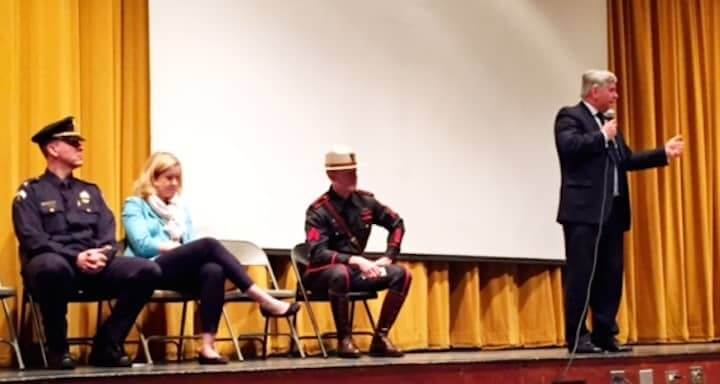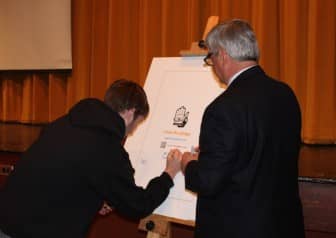 Warwick, R.I. — RI Attorney General Peter F. Kilmartin warned teen drivers on the dangers and consequences of distracted driving at Pilgrim High School yesterday morning as his "It Can Wait" campaign enters its fourth year.
Kilmartin, the Rhode Island State Police (RISP) and AT&T are cooperating to bring the "It Can Wait" campaign to schools throughout Rhode Island again, at a time when people and young people in particular are making ever-more reckless driving decisions.
. "People are not just texting behind the wheel – they are taking selfies, checking email, and, perhaps most shocking, even viewing and recording videos. The good news is that peer influence can have a tremendous impact on drivers' behavior, which is why it's critical to teach young drivers the message that no post, message, email, or photo is worth a life…It Can Wait," Kilmartin said.
"Distracted Drivers are a serious problem on our roadways. As the enforcement arm of this campaign, we are pleased to join Attorney General Kilmartin, DOT and educators to get the message out to our most vulnerable population, don't text and drive!" said Steven G. O'Donnell, Rhode Island State Police Colonel and Commissioner of the Department of Public Safety.
According to data recently released by AT&T, 62 percent of drivers keep their smartphones within easy reach while driving. Nearly four in 10 smartphone users tap into social media while driving, almost three in 10 surf the net, and one in 10 even video chat while driving.
Smartphone activities people admitted to doing while driving include:
Text (61%)
Email (33%)
Surf the net (28%)
Facebook (27%)
Snap a selfie/photo (17%)
Twitter (14%)
Instagram (14%)
Shoot a video (12%)
Snapchat (11%)
Video chat (10%)
However, data also reveals that peer influence plays a large role in driver behavior. Most people (about 75%) have almost all or most of their texts, social media interactions, and emails with just five people. The research also showed that people and their "top five" have a lot of influence over each other:
More than eight in 10 people said they would likely stop or reduce their smartphone use while driving if one or more of their "top five" contacts asked them to, and
Nearly 85% would be likely to stop sending smartphone communications to their "top five" when they know they're driving.

[CREDIT: Emily Martineau] Pilgrim High School Interim Principal Pamela Bernardi introduces Attorney General Kilmartin, AT&T Regional Vice President of External Affairs Brooke Thomson, Warwick Police Lt. Michael Gilbert, and RI State Police Sgt. Gregory Cunningham.