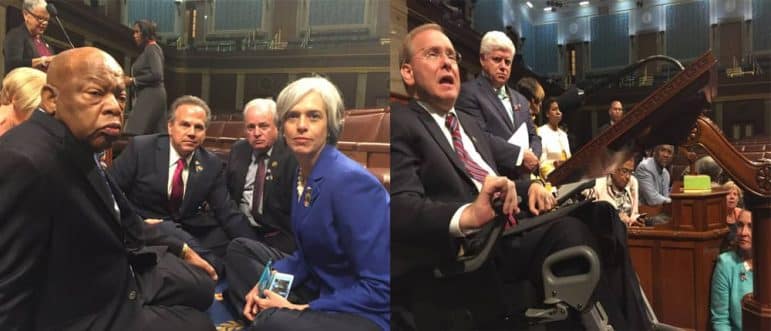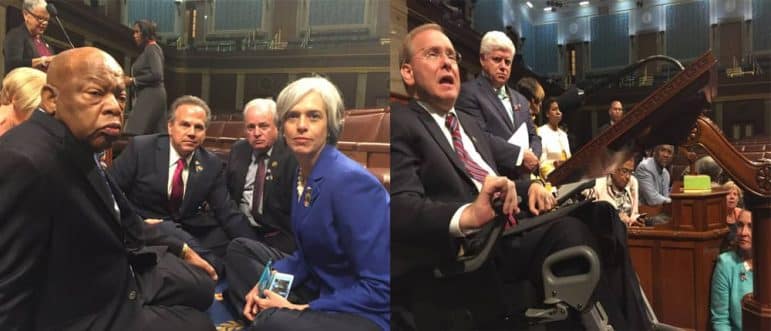 WASHINGTON, DC — RI Representatives Jim Langevin and David Cicilline joined fellow Democrats in an hours-long sit-in led by Civil Rights icon John Lewis demanding the House take voting action on gun control bills spurred by the June 12 mass shooting killing 49 people at the gay nightclub Pulse in Orlando, FL.
House Republican leadership, who as the majority control the cameras providing footage to C-SPAN for broadcast of Congressional hearings, declared the House in recess following the sit-in and shut off the broadcast, according to a report from the Washington Post, which notes this practice has also been used by Democrats against Republicans, notably in 2008 when Speaker Nancy Pelosi turned also turned off the lights.
The Democrat protesters persevered, and so did C-SPAN, which posted live Periscope video of the sit-in on their website and also archived the footage from the beginning at 11:25 a.m., according to the broadcaster.
At 10 a.m., Pelosi and Democrats held a rally outside the House chamber to call attention to the party's two gun control measures: A ban on gun sales to people on the government's no-fly list for suspected terrorists, and expanded background checks for gun sales.
Both Langevin and Cicilline posted the events to Twitter, along with photos as the sit-in continued: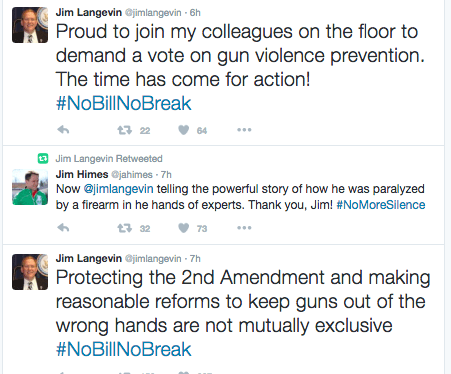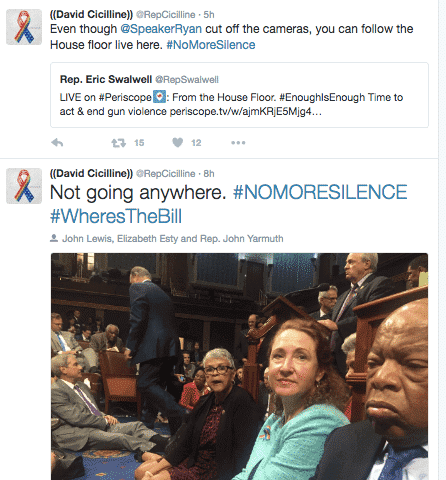 The terrorist watch list, on which the no-fly list is based, has come under routine and well-publicized scrutiny from Civil Rights advocates, who note the list lacks due process, violating the Fourteenth amendment to the Constitution protecting citizens from the denial of life, liberty, or property, without due process of law.
The American Civil Liberties Union spoke out forcefully about a Democratic Senate bill which also used the no-fly list as a starting point for prohibiting gun ownership. That bill did proceed to a vote, but was defeated Monday.
"The government contends that it can place Americans on the No Fly List who have never been charged, let alone convicted of a crime, on the basis of prediction that they nevertheless pose a threat (which is undefined) of conduct that the government concedes "may or may not occur." Criteria like these guarantee a high risk of error and it is imperative that the watch-listing system include due process safeguards—which it does not. In the context of the No Fly List, for example, the government refuses to provide even Americans who know they are on the List with the full reasons for the placement, the basis for those reasons, and a hearing before a neutral decision-maker," the ACLU wrote in its protest of the measure.
The House Democrats are also demanding legislation to expand background checks for people buying firearms. Currently, federal law permits private gun sellers to forego background checks, including some sellers at gun shows, according to Politifact.com.