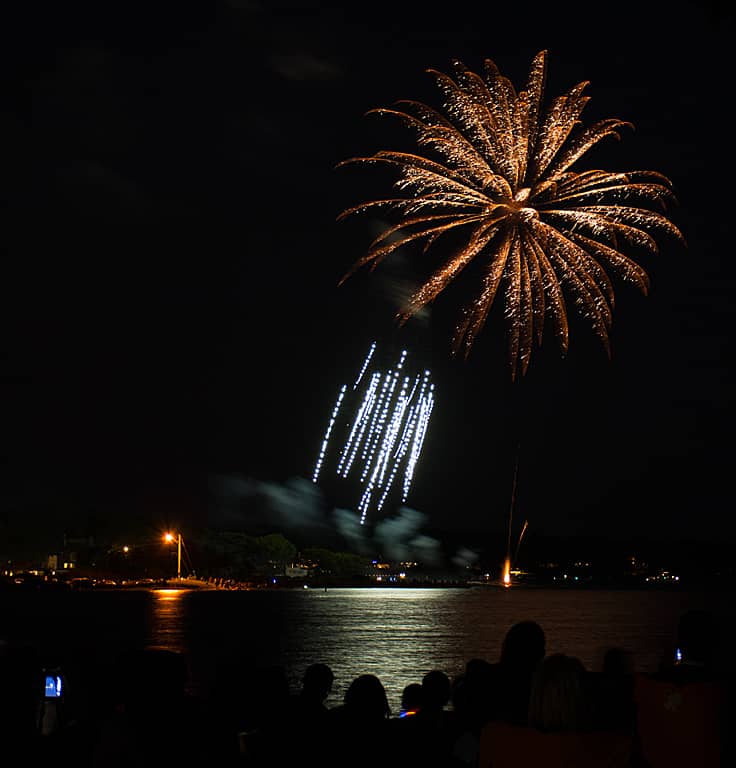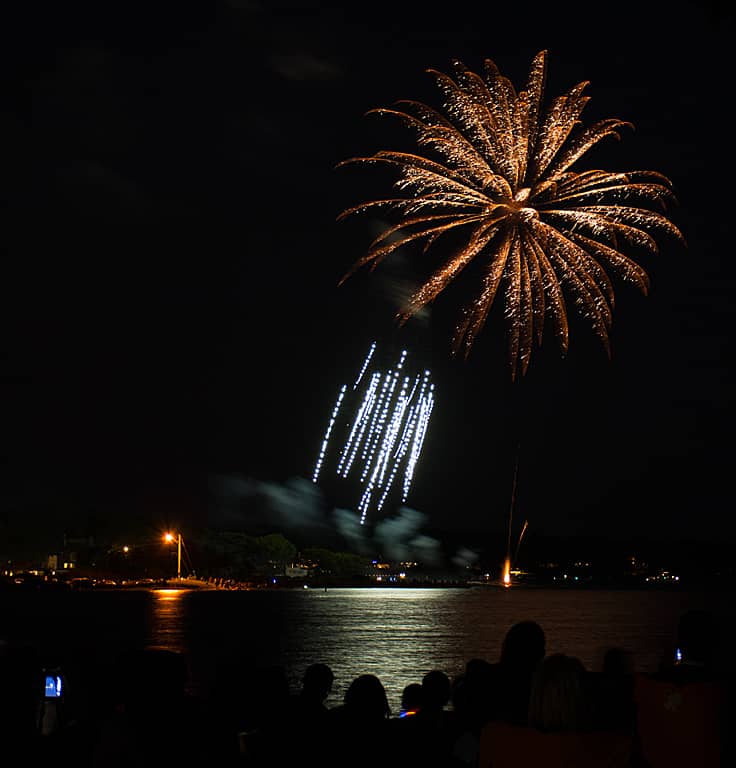 Update, July 3 at 1:30 p.m.: Warwick has rescheduled its fireworks display to Wednesday, July 5, due to inclement weather July 3.
Additionally, Newport and Jamestown have rescheduled their respective fireworks shows, orginally planned for July 4, to July 5.
Additionally additionally, Coventry and Portsmouth have rescheduled to July 8. Coventry Police have posted some parking information about the display on their Facebook page that will come in handy.
Original post: WARWICK, RI — Soon, RI fireworks will be back as the Ocean State celebrates the Fourth of July — here are the Warwick Fireworks details and statewide schedules:
Warwick fireworks are set for  Wednesday night, July 5 and can be viewed at dusk (approximately 9 p.m.), lasting about 30 minutes, visible from the Oakland Beach seawall or Warwick City Park.
The Department of Tourism, Culture and Development's Facebook and Twitter accounts will also have updates.
If that doesn't float your boat, there are enough fireworks in Rhode island celebrating the Fourth of July for you to view a pyrotechnic show every day of the holiday weekend with careful planning and luck.
Here is our usual roundup on the details of all the state's fireworks displays. (Let us know if we missed any).
Fireworks in Rhode Island 2023
RI Fireworks Saturday, July 1, 2023:
Partnering with Ocean State Pyrotechnics, Block Island will light up the sky with a breathtaking display set off from a barge in the Block Island Sound for their 38th year.
The more the merrier for this patriotic event, so bring the whole gang and all the accoutrements — chairs, blankets, picnics, and glow sticks for the kids. The fireworks hit the sky as soon as it is suitably dark, probably around 9 p.m.
You'll be able to see the show from nearly all points on the island, at Town Beach (just a short walk from the ferry along Corn Neck Road), or seek a favorite spot for a more private view.
 Rain Date: Sunday, July 9, 9 p.m. (fireworks only)
The Town of Smithfield and Bryant University invite Smithfield residents for an Independence Day Celebration including fireworks, food trucks and music!
Lawn chairs and blankets are encouraged. Do not bring personal fireworks, drones, pets or alcoholic beverages.
Food trucks arrive at 4 p.m.
Featuring the music of  the "DMB PROJECT" band at 6 p.m., then a fireworks extravaganza.
Smithfield fireworks begin at dark.
RI Fireworks Sunday, July 2, 2023:
RI Fireworks Monday, July 3, 2023
Hope fireworks, July 3
, The Hope & Jackson Fire Department is pleased to announce the annual July 3rd Fireworks Celebration! Join us for activities, food, fireworks. Event starts at 5pm, Fireworks begin at dusk. Please help us keep tradition alive by donating to the cause!
RI Stage Band Alumni, directed by Ted Collins: 3 – 5 p.m. (No rain date)
Night Life Orchestra: 6:30 – 8 p.m. (Rain date for orchestra is July 4)
Rain date for fireworks: Tuesday, July 4.
Food Trucks will be available. Bring a lawn chair or blanket to be comfortable. Shuttle starts at 5:30, NK Town Hall, 100 Fairway Dr. There will be NO parking at the beach after 5:30 p.m., only drop-offs. Sorry, but no pets allowed.
Welcome to the first ever fireworks with food trucks in North Providence. The fun starts at 4 p.m. and goes till the last pop. Come listen to Classic Blend at 6 p.m. The event is brought to you by Town of North Providence and @osfoodtruckfestivals.
Rain Date: Tuesday, July 5
Warwick Fireworks, 9 p.m., July 3, Oakland Beach sea wall, Warwick City Park
Rain Date:  Wednesday, July 5
The Independence Day display will be shot from Oakland Beach at dusk and last approximately 40 minutes.
Due to the volume of traffic expected at the seawall, spectators are also advised to expect heavy delays on Oakland Beach Avenue and to seek alternate routes to the seawall area, such as Sea View Drive or Pequot Avenue.
The fireworks can also be viewed from City Park, which offers fantastic, unobstructed views of the display along the shoreline.
The nation's oldest Fourth of July celebration, established in 1785 by Rev. Henry Wight of the First Congregational Church and Veteran of the Revolutionary War. The celebration officially starts with Flag Day, June 14. For a full list of events,
visit Bristol's Fourth of July Celebration calendar
.
After the fireworks on July 4 is Bristol's Traditional Fourth of July Parade.
RI Fireworks Tuesday, July 4, 2023: 
Coventry Fireworks, July 4, 9:30 p.m., Johnson's Pond       (Rescheduled to July 8)
Parking at the Inn is limited to registered guests & their families.

There will be traffic delays in the area. There will also be delays near the Mount Hope Bridge.
Be courteous and consider finding a different vantage spot if Middle Road is clogged with cars.
Rain Date: Tuesday, July 5
The fireworks show begins after dark, around 9:15 p.m. Best viewing is anywhere along Newport Harbor, facing west. Parking can be limited during the hours leading up to the display. Visitors are encouraged to use
any one of the City's public parking lots:
South Kingstown fireworks: July 4, 9:30 p.m.,Old Mountain Field, 831 Kingstown Road (Taking place as scheduled – see notes from Parks and Rec. Dept.)
The Annual South Kingstown 4th of July Celebration will take place on Tuesday, July 4, starting at 5 p.m.
The evening's festivities include a live concert featuring "Take it to the Bridge", a variety of food and novelty concessions in the park, a 50/50 raffle, and the event finale – a world-class fireworks display sponsored in part, by South County Health. Fireworks will begin immediately following the concert at approximately 9:00 pm.
Rain date is July 5
RI Fireworks Wednesday, July 5, 2023: 
Enjoy the night with an incredible lineup of artists scheduled for our Independence Day Fireworks and Concert celebration at Pierce Memorial Field on July 3rd,
Gate opens at 6 p.m.
No coolers or pets
Free
Concert features the following artists:
Marc Dennis
Crystal
Brendan Rush and Bella Hannah
Full Circle Duo
The Stone Leaf
Arlindo Andrade
Manuel Brandao
Andrea Vargas
Jamestown/DEM Fireworks  DEM's Quiet Fireworks viewing event at Beavertail State Park in Jamestown that was originally scheduled  July 4 has been rescheduled to the rain date of Wednesday, July 5 from 9-10 p.m., as the City of Newport's fireworks display has been postponed to Wednesday, July 5th at 9:15 PM. On July 5, the Beavertail Aquarium will still be extending its regular hours to 8PM so patrons can explore marine life common to Rhode Island's waters before the fireworks begin.