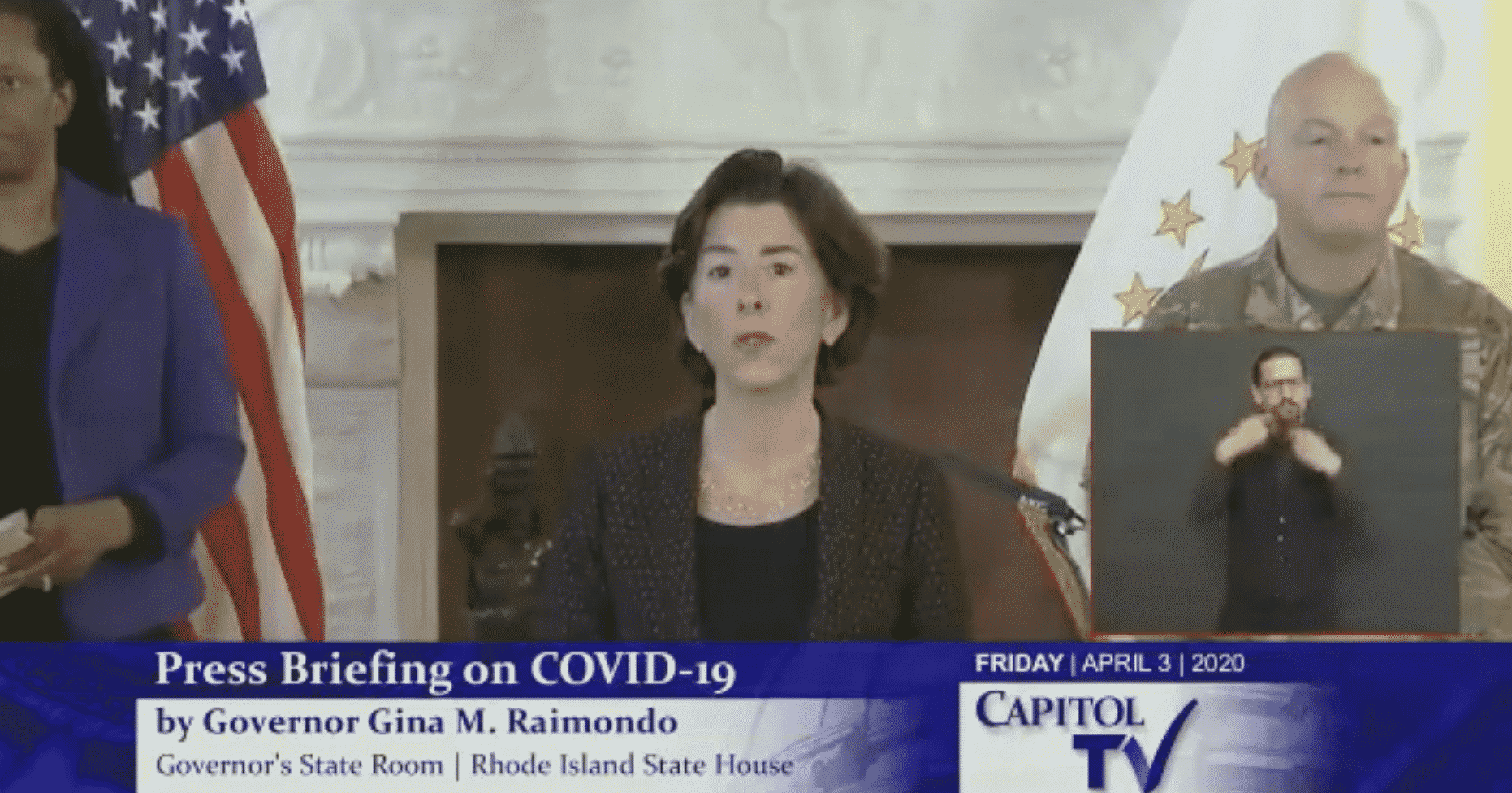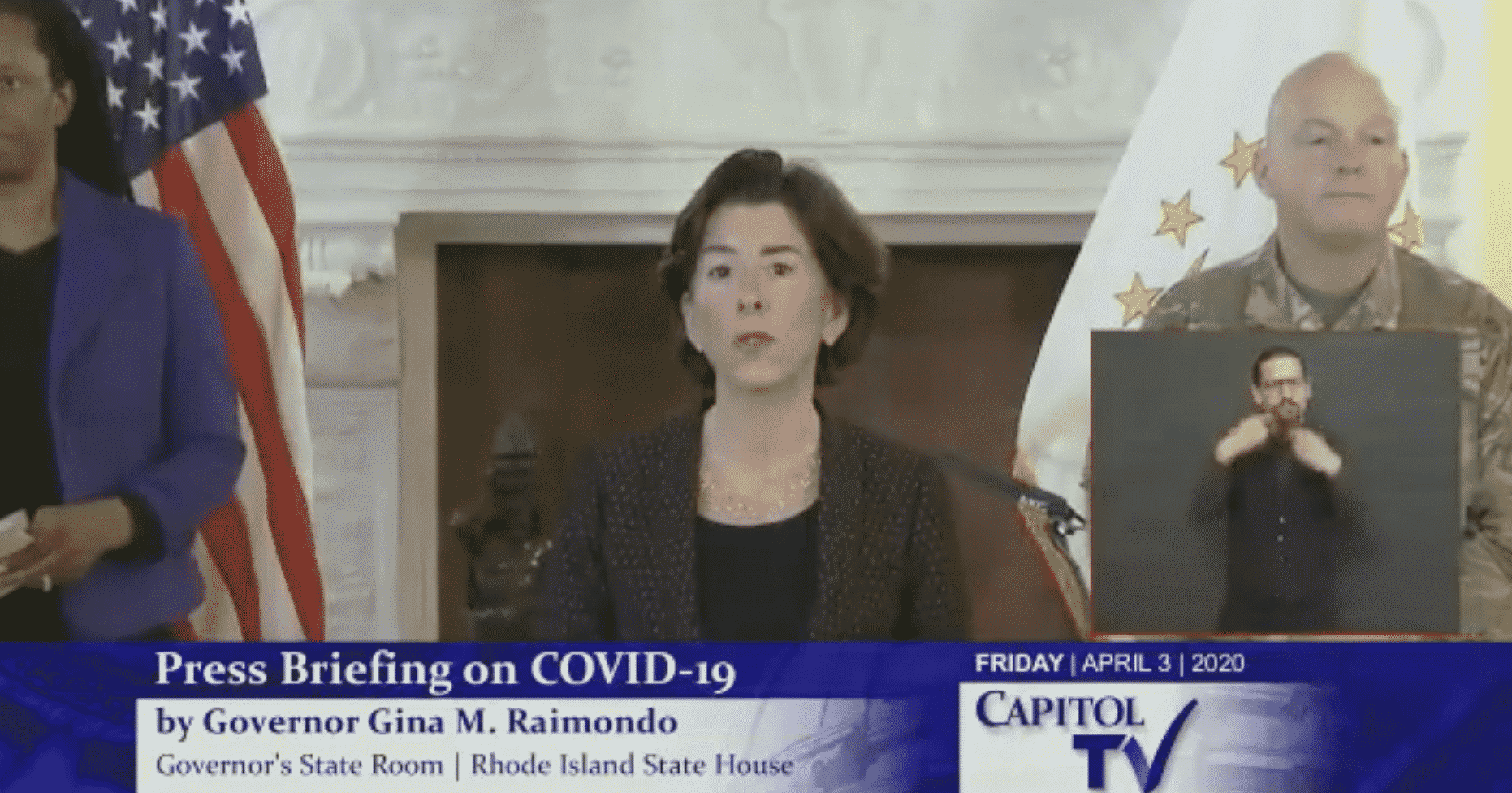 Editor's note: This article and most of our COVID-19 related news is free to the public to ensure people have access to life-saving information. If we've helped you, and you're able to help us keep the lights on, we would appreciate your subscription for either $1.50/month or $15 per year. 
PROVIDENCE, RI — Gov. Gina M. Raimondo reported two new RI COVID-19 deaths Friday afternoon, advised general public use of face masks to prevent spread of the coronavirus causing the illness and stressed the life-and-death urgency of social distancing.
RI saw 54 new cases of COVID-19 Friday for a total of 711 cases, and 72 people receiving care for the diseases in hospitals.
"We know there are many more people than 700 who have coronavirus," Raimondo said during her Friday State House press conference on the state response to the outbreak fo the disease, for which there is no cure, no vaccine, no pre-existing immunity and no proven, effective treatment.
Raimondo said the number officials are sure about is the number in the hospital, which is increasing quickly.
"So we know we are in a rapid-spread scenario here in Rhode Island," Raimondo said. "And what that means is we have to get even more serious about the rules we have in place around social distancing, staying at home, absolutely staying at home if you're sick, obeying quarantine if you're in quarantine, and washing your hands constantly, for 30 seconds at a time."
COVID-19 surge care sites setting up
Raimondo noted that there is still time to ready the state's hospital capacity for the coming surge of new COVID-19 cases. She said the state is setting up surge sites with the help of the Army Corps. of Engineers to provide hospital-level care at three field hospital sites:
Rhode Island Convention Center
The former Citizens Bank building on Sockanosset Cross Road in Cranston
The former Lowe's building at Quonset
Once complete, these sites will be staffed and equipped with the medical resources needed to treat more than 1,000 people.
"I want you to know that work is well underway," Raimondo said.
Also, she said, the state's existing hospitals are adding capacity to handle an additional 20 percent above their normal patient capacity.
RI needs medical personnel
While the state expands its physical capacity to handle the expected surge of new COVID-19 patients, it's also in need of more medically trained personnel to staff the facilities and relieve overworked doctors and nurses.
"We still need help. So I am asking you again, begging you, imploring you, if you are a retired doctor, nurse, physical therapist, CNA, social worker, behavioral therapist, any health care worker with any health care experience. If you're retired, if you're only working part-time right now, if you're a recent graduate and not yet employed, we need to call you up," Raimondo said.
Anyone with any medical training not already helping should visit RIresponds.org to sign up to work against the spread of COVID-19.
Stay home: Lone grocery stops, one per week 
The Governor repeated her stay-at-home order for everyone in Rhode Island. She said that means:
People should stay at home & work at home
Grocery and pharmacy runs should be done alone, once per week, and people should immediately return home.
If you must work, go there and the come directly home.
what that means is we have to get even more serious about the rules we have in place around social distancing, staying at home, absolutely staying at home if you're sick, obeying quarantine if you're in quarantine, and washing your hands constantly, for 30 seconds at a time.
Raimondo said she knows the order isn't being followed well enough, because the State Police are checking in at box stores and grocery stores and seeing too many people crowded together and in lines inside and outside the buildings.
Raimondo said public information data show Rhode Islanders are less diligent about following social distancing than people in Massachusetts and also fall below the national average of people following the rules to prevent the spread of COVID-19 and prevent deaths.
Rhode Islanders have cut down on their movement by 36 percent, Raimondo said. "The national average is 41 percent," she said.
"That means we're not staying home enough," Raimondo said. "So, I'm asking you to do better. We need to do better."
Raimondo said more conscientious social distancing is crucial because state hospitals and medical staff don't have enough resources, including ventilators needed for the sickest COVID-19 patients, if the surge of cases hits the state sooner than expected or is bigger than expected.
"We don't. More people will die. We don't have enough hospital beds. We don't have enough doctors and nurses to take care of people. That's just a fact."
Additional notes on the COVID-19 outbreak:
Cloth Face Covers: 

Dr. Alexander-Scott encouraged Rhode Islanders to consider wearing cloth face covers when in public. A cloth face cover is a material that covers the nose and mouth. It can be secured to the head with ties or straps, or wrapped around the lower face. A cloth face cover could be sewn by hand or improvised from household items such as scarves or T-shirts. (Face covers are different than N95 facemasks. People in the general public should not be purchasing or hoarding medical grade masks, such as N95s.) The primary role of a cloth face cover is to reduce the release of infectious particles into the air when someone speaks, coughs, or sneezes. Cloth face covers are not substitutes for physical distancing, washing your hands, and staying home when ill.

Childcare: The state will continue to suspend childcare licenses through the month of April.
Mental Health: The Governor announced the establishment of a $5 million COVID-19 Behavioral Health Fund at the Rhode Island Foundation. The funding is made available by local insurance companies as a result of a state compliance review and will be dedicated to fund nonprofit organizations working to address Rhode Islanders' behavioral health needs resulting from the COVID-19 crisis. Nonprofits who think they can help with these services can apply for funding through the Rhode Island Foundation beginning April 6. Adults seeking mental or behavioral health support should call BH Link at 414-LINK. For services for children, call Kids Link 855-543-5465.
Testing: All Rhode Islanders who have symptoms of COVID-19 are urged to call a healthcare provider to get scheduled for a test. The symptoms of COVID-19 include any of these symptoms: fever, cough, shortness of breath, muscle aches (myalgias), chills, runny nose or stuffy nose, sore throat, headache, or diarrhea. COVID-19 testing in Rhode Island had previously been limited to the members of certain priority populations who are more vulnerable to complications from COVID-19 or who are members of Rhode Island's critical infrastructure workforce.