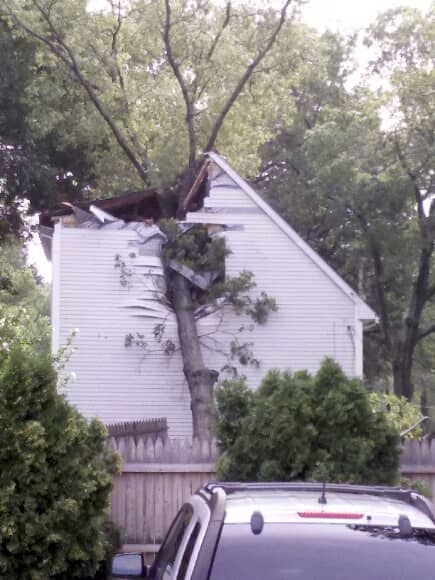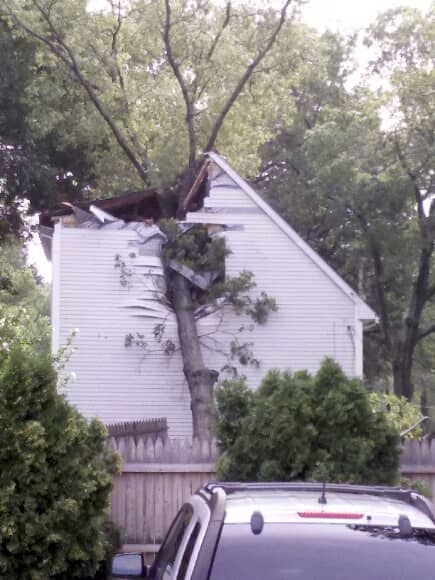 Don't wait: Sign up for updates and breaking news with our FREE daily newsletter.
Warwick, RI – Rhode Islanders not yet clear of the debris and damage caused by this morning's powerful storm are being urged to make sure they're prepared for severe weather forecast for later this afternoon.
Additional thunderstorms, with potential to be strong to severe and contain heavy rains, strong winds, hail, and frequent lightning, are anticipated to pass through Rhode Island between 3 and 8 p.m., warns the Rhode Island Emergency Management Agency (RIEMA).
The new thunderstorms come in the wake of this morning's storm, which caused more than 123,000 power outages, downed trees, and flooded roads in some areas.
"I urge Rhode Islanders to continue to use caution on the roads, and to prepare for more severe weather later today," said Governor Gina M. Raimondo. "We still have folks without power across the state, and some roads are impassable due to flooding and fallen trees. We are coordinating closely with the state agencies and National Grid as they continue to work as quickly as possible to restore power and clean up debris, and I encourage everyone to follow their safety tips."
RIEMA:
• Always assume that a downed wire is a live wire. Do not touch! • If you are a National Grid customer, report a downed wire or a power outage by calling 1-800-465-1212. Do not call 911. • Avoid driving through flooded roads, as even a foot of water can cause a motorist to become stranded. • Photograph and record all property/vehicle damages and report to your insurance provider.
RIDOH:
Post storm cleanup safety:
• Before starting any work, survey the site for hazards (i.e. downed wires, leaning trees, hanging or broken limbs, etc.) • Never attempt to do tree work if electrical wires are an issue. Contact your utility company to remove the electrical wires. • Only work on the ground and always wear the proper protection (i.e. hard hat, eye protection, chain-saw leg protectors, appropriate footwear, etc.) • Beware of trees and limbs under pressure. Trees that have twisted or fallen on top of each other can be under enormous pressure. Sudden release of this pressure with a chain saw or other tool may cause serious injury or death. • When you begin to get tired, stop sawing. Let someone else take over, or wait until the next day to continue.
Food and Water Safety Tips:
• Before a power outage, turn refrigerators and freezers to the coldest setting. • Make sure you have food that does not require refrigeration or cooking. • Fill your bathtub with water for washing and cleaning. • During a power outage, avoid opening refrigerators and freezers. • If the power is out for more than four hours, throw away meat, poultry, fish, soft cheeses, milk, eggs, deli items, and any leftovers in the refrigerator. • If the temperature in the freezer goes above 41 degrees, throw away any food that is in the freezer. • Many times, you cannot see, smell, or taste bacteria in food that could make you sick. When in doubt, throw it out.
RIDEM:
General Tips:
• With many downed limbs and other difficult conditions being reported as a result of today's storm, DEM is asking the public to use caution when visiting state parks and management areas. • All outdoor recreational users are advised to pay close attention to severe weather alerts and exercise caution for exposure in coastal features or forested areas where heavy wind and rains have the potential to cause heavy branches or trees to fall. • DEM Environmental Police advise boaters to keep a watch on the weather forecast and be sure that their boats are secured
In regards to Burlingame State Park:
• There is currently no electric power at the campground, but water is available. • No walk-ins are being allowed at this time. • Campers with reservations are asked to call the campground at (401) 322-7994 before going to the campground to ensure they will have access to their reserved camping site. • Efforts will be made to relocate campers if their reserved campsite has been impacted by the storm and is not deemed safe.
RIDOT:
When driving, be on the lookout for the following:
• Blowing traffic control equipment (i.e. barrels, signs, etc.) • Traffic signals out due to power outages, or on flash • Flooded roadways due to high volumes of rain • Debris in roadways • DOT crews who may be out actively trying to remove trees, debris and water from roadways