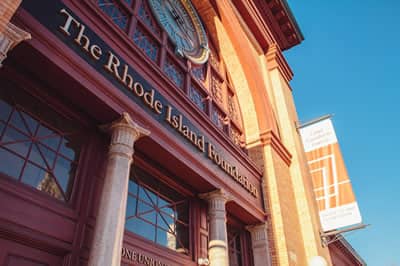 WARWICK, RI  —  Gardens, historical signage and park equipment are coming to four Warwick neighborhoods thanks to nearly $30,000 in grants from the Rhode Island Foundation.
Apponaug Village will receive a $10,000 revitalization. The House of Hope Community Development Corporation received $9,460 to shore up its gardens. Another $10,000 will go to Friends of Salters Grove received to support their work improving the playground at Salter Grove.
"We're excited about these ideas for making community happen in more and better ways at the local level. Supporting community-building will improve shared places and quality of life, promote collaboration and increase community engagement," said Jessica David, executive vice president of strategy and community investments. "We're grateful to have donors who invest in our work and partners like these that understand the needs of their community."
The  Apponaug Village grant will be used to create six wayside signs that will provide direction, orientation and historical context of the village. The project includes installing site furnishings and landscape enhancements along the new village streetscape.
"This will enhance our work to promote and celebrate Apponaug's rich history. It will also further our efforts to create a vibrant, attractive village that supports small business economic development and invites residents and tourists to return to again and again," said Mayor Joseph J. Solomon. "I look forward to working with members of the community as we move forward with these improvements."
The House of Hope Community Development Corporation grant will help rebuild the deteriorating fence around the charity's Shippen Avenue community garden in Hoxie. It will also fund install of a new community garden at its newest affordable housing development on Fair Street in Pawtuxet Village.
"Community gardens engage residents through Master Gardner workshops and demonstrations. They also forge connections with the surrounding community, dispel myths about homelessness and teach residents how to grow healthy food and enjoy the therapeutic qualities of the garden," said Laura Jaworski, executive director.
In Gaspee, Friends of Salters Grove  will use their grant to improve the playground at Salter Grove in partnership with the City of Warwick and the state Department of Environmental Management. The grant will be used to purchase attractive, custom-designed benches and waste containers.
The projects are expected to be completed by 2019. The funding from the Community Grants Program is supplemented by a gift from long-time Foundation donor Anne Sage.
 The Rhode Island Foundation is the largest and most comprehensive funder of nonprofit organizations in Rhode Island. Working with generous and visionary donors, the Foundation raised $38 million and awarded $43 million in grants to organizations addressing the state's most pressing issues and needs of diverse communities in 2017. For more information, visit rifoundation.org.