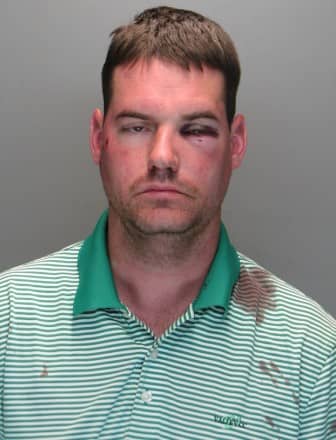 Warwick, RI – The Toll Gate High School teacher accused of sexually assaulting a woman at O'Rourke's Bar and Grille on Sept. 12 hurt himself when he tried to climb the stairs to his apartment building, and was followed home by several people who told a local officer that they had witnessed the assault, Warwick Police reported.
Ofc. Christian Vargas responded to 25 Emmons Ave. and reported finding an "extremely intoxicated" Brendan Friel, 31, sitting on the front steps of his apartment, next to a broken plastic lawn chair. Vargas wrote that he observed "severe facial injuries and a head wound" on Friel and saw blood on the wall behind Friel and on the porch floor, then called Warwick Fire and Rescue.
Vargas, the first officer to arrive at the scene, was responding to a call from a neighbor that a man was sitting on the porch there "screaming," according to his report.
Friel showed "obvious signs" of being highly intoxicated, Vargas wrote: Severely slurred speech and a strong odor of alcohol on his breath. When asked how he'd gotten injured, and if he had been in a fight, Vargas reported that Friel offered elusive statements, including, "Maybe I was or maybe I wasn't."
When Vargas asked if he'd injured himself falling down, Friel responded, "Yeah," the officer reported. The rescue arrived, and when Friel tried to stand up, he nearly fell over.
Vargas wrote that he caught Friel and helped him to the rescue.
As Vargas was returning to his cruiser, he saw a "large group" of people approaching, including two women and a man wearing black clothing, who were servers from O'Rourke's. The crowd also included an older man with white hair, who told Vargas that his daughter had been assaulted at the bar.
The father, who also lives nearby, said his daughter had come home and told him she'd been assaulted. The bar servers informed Vargas that they had recognized that Friel was "very drunk," then served him water and asked him to pay his check and leave.
Friel stayed at the bar another 30 minutes before assaulting the woman, according to Vargas's account of the servers' statements.
After the assault, the servers told Vargas that they asked Friel to leave again and offered to call a cab, but he refused, saying he would walk home. The servers said Friel stumbled repeatedly as he walked away, according to Vargas's report.
The woman also left the bar, and her father showed up about 20 minutes later, Vargas noted.
According to Vargas, the woman said that she had been sitting on a bar stool when Friel forced his hand under the back of her skirt.
All of the witnesses told Vargas that Friel left the bar by himself and was not involved in a fight with anyone that night.
Warwick Rescue took Friel to Kent County Memorial Hospital for treatment of his injuries, which "appear to have been caused by falling down on his way home due to his extremely high level of intoxication," Vargas wrote.
Friel posted bail at arraignment on Sept. 14, and is scheduled for a felony screening on one count of second-degree sexual assault on Oct. 19.