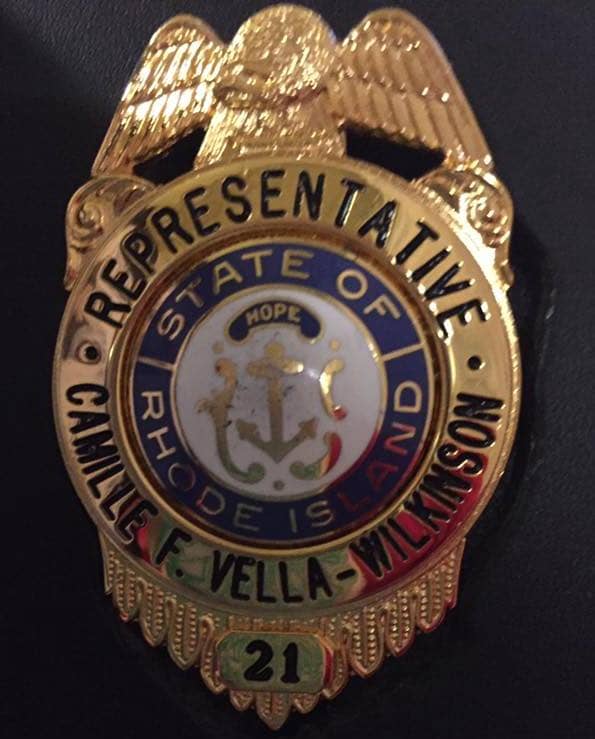 Editor's note: The following information was provided by the Legislative Press and Public Information Bureau.
STATE HOUSE — Rep. Camille F.J. Vella-Wilkinson (D-Dist. 21, Warwick) was formally sworn into office Tuesday, Jan. 3, as the 2017-18 session of the Rhode Island General Assembly convened.
Vella-Wilkinson was one of 12 new members of the House of Representatives who took the oath of office administered to all 75 House members by Rhode Island Secretary of State Nellie Gorbea.
The House of Representatives began its legislative year with a program of activities that included the re-election of Rep. Nicholas Mattiello (D-Dist. 15, Cranston) as the Speaker of the House. Elected Speaker in March 2014, Mattiello began his second full two-year term today with an address to the House members and other assembled officials and guests.
Vella-Wilkinson, a retired Navy officer,  is self-employed as a work-readiness coach. She graduated from St. Edmund High School in Brooklyn in 1974. She received a bachelor's degree in English and psychology from Long Island University in 1979. She received her master's degree in labor relations from the University of Rhode Island and juris doctor degree from Roger Williams University in 2006.
Representative Vella-Wilkinson was born on Dec. 29, 1956. She is married to Kenneth and they have one child, Ian. They reside in Warwick.