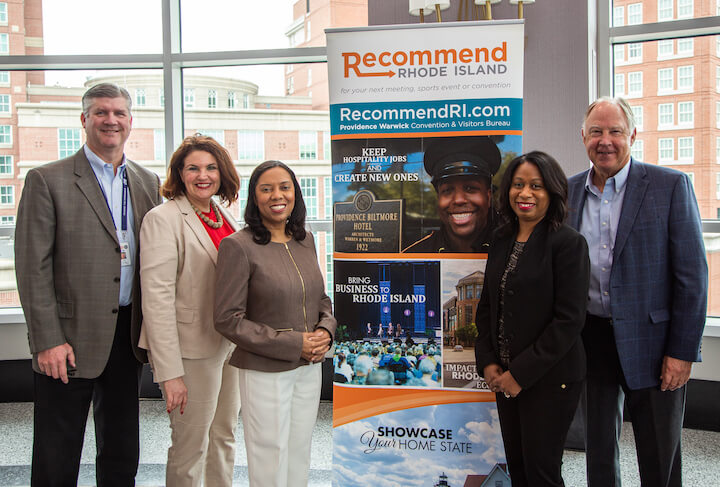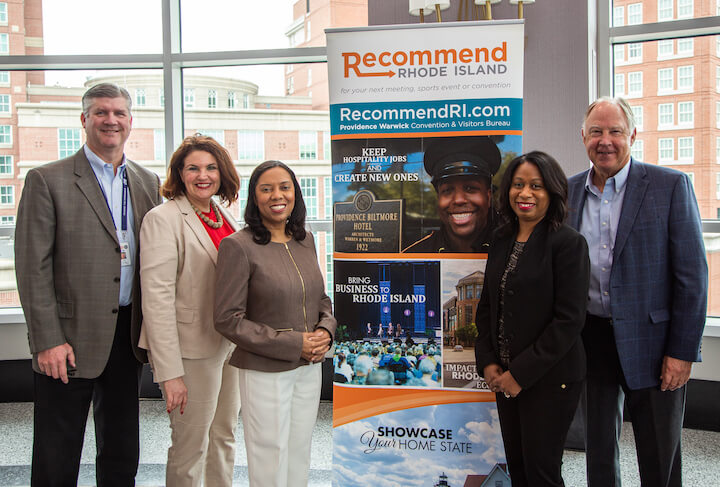 PROVIDENCE, RI — The Providence Warwick Convention & Visitors Bureau  (PWCVB) is relaunching Recommend Rhode Island, a campaign asking Rhode Islanders to refer events of any size among their personal and professional networks to the Ocean State.
Lieutenant Governor Sabina Matos joined Providence Warwick Convention & Visitors Bureau President & CEO Kristen Adamo, Rhode Island Convention Center Authority Executive Director Daniel McConaghy, and Discover Newport President & CEO Evan Smith to announce the relaunch of  the program.
The relaunch comes on a day that the meetings and conventions industry celebrates, Global Meetings Industry Day, a day to showcase the proven value that business meetings, conferences, and conventions bring to businesses and the economy.
"Thanks to our state's resiliency and selflessness, we lead the country in fully vaccinated rates and the region in economic recovery," said Matos. "Rhode Island is open for business and is ready to host your next event or professional meeting. The diversity and vibrancy of our hospitality and arts and culture industries will not disappoint."
Rhode Islanders can assist the industry's recovery by recommending Rhode Island as a place for groups of any size to meet. Whether that be a professional association, athletic league, church group, or any sort of member-based organization, Rhode Island is ready to host their next meeting, convention, or sporting event.
"We know most of our residents belong to some sort of group and they're ready to meet in person once again," said Adamo. "We expect today's Recommend RI relaunch to build on the campaign's pre-pandemic momentum of working with 10-20 residents annually to attract business that generated upwards of $7 million."
Big or small, once any meeting, convention, trade show, or sporting event is booked through RecommendRI.com, it's eligible for assistance from the PWCVB Sales & Services team. This includes research of hotel availability and rates, recommendations for off-site venues and free-time activities, site inspections, and any additional needs to make the event a success.
The onset of the COVID-19 pandemic led to the catastrophic losses of more than $78 million in direct spending due to canceled business booked by the PWCVB. While it continues to make strides toward recovery, Providence's largely event-based tourism economy isn't expected to return to pre-pandemic levels until at least 2024.
"As we continue to emerge from the pandemic, it is critical we find ways to energize the economy and accelerate the recovery of both the city of Providence and the state as a whole," McConaghy said. "Recommending Rhode Island as a location for meetings and gatherings will have an enormous impact on local businesses which have been so severely impacted over the past two years."