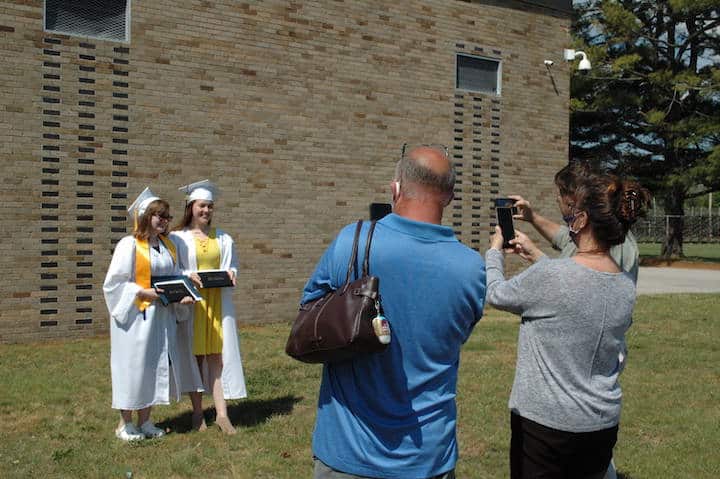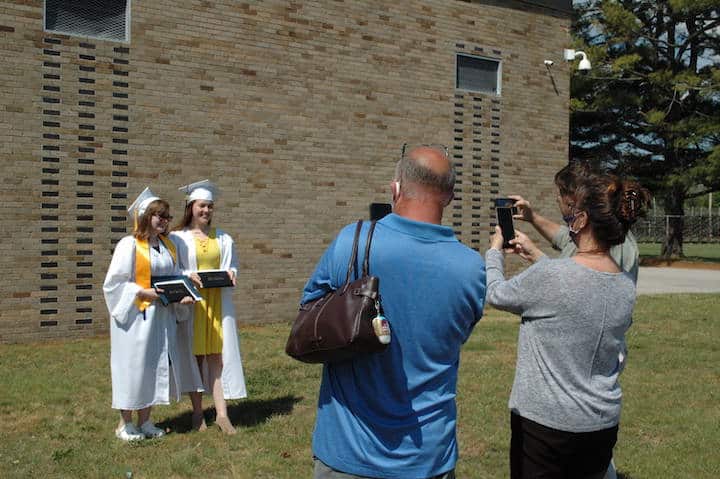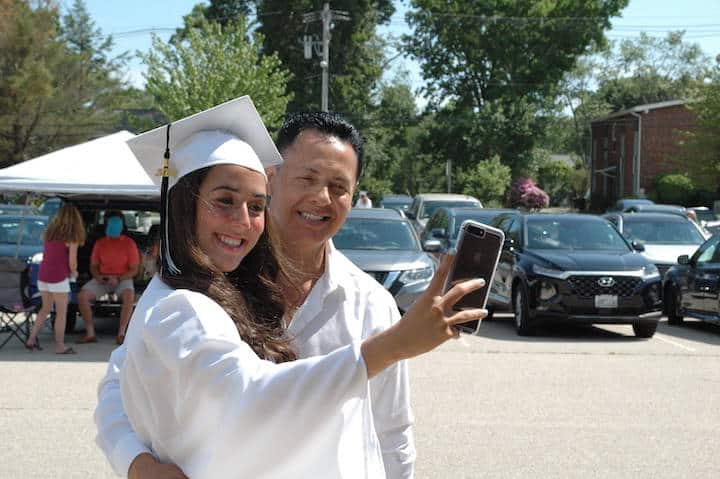 WARWICK, RI  —  Pilgrim High's Class of 2020 graduated by appointment at the school Thursday, gathering in separate, small groups of family and friends to wait their turn to take their diplomas and walk across the auditorium stage.
Outside the high school, parents, friends and families gathered with graduates as they entered the front of the building, moved through the auditorium to collect their diplomas and exited for photos and brief gatherings of small groups before leaving. In the parking lot, car windows were decorated with a few congratulatory messages
"I want to congratulate the Class of 2020 for this tremendous accomplishment," said Pilgrim High Principal Gerald Habershaw in prepared remarks recorded on video. "You have experienced something that no one else has ever experienced. A world-wide pandemic took away a quarter and a half of your senior year. I feel for you this should not happen to anyone," Habershaw said.
The COVID-19 pandemic threatened to curtail any graduation at all for 2020 graduates, but as Phase II of Gov. Gina M. Raimondo's reopening plan restored limited commerce and socializing, groups large enough to fill auditoriums were deemed too big a risk for transmission of the highly contagious, deadly virus, for which no proven treatment or vaccine yet exists.
Habershaw urged graduates not to allow the situation to ruin their hopes and dreams.
"I ask that you continue to persevere and attain your goals. Life will never be the same, but we must adapt in a positive manner.
Habershaw said the Class of 2020 is special to him personally as the first four-year class of students to graduate from Pilgrim with him as its principal.
"This is not the way we expected the year to end, but I want the Class of 2020 to know that you were a great class of students here at Pilgrim High School. This class will never be forgotten in the history of our school. Good luck to all of you, and thank you."