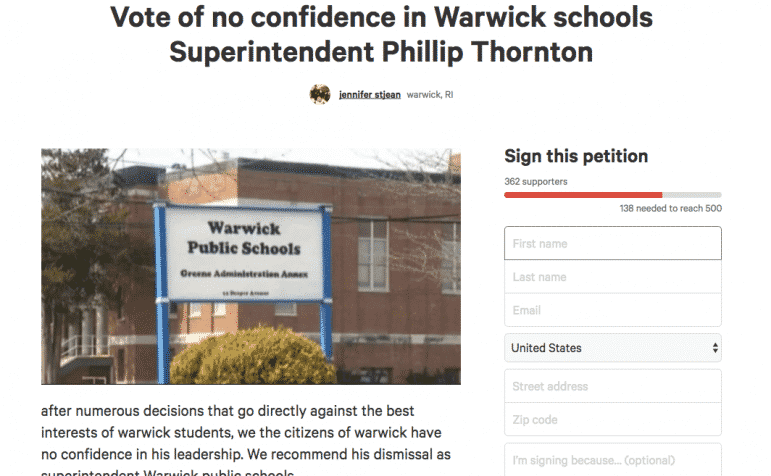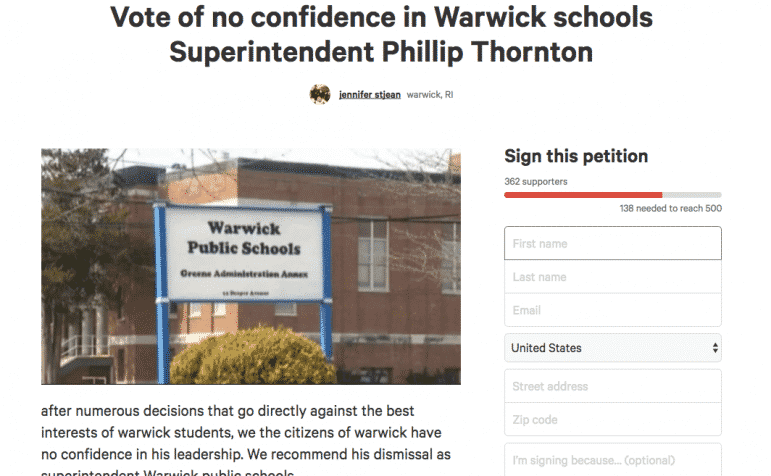 WARWICK, RI — Although Jennifer St. Jean's Change.org petition encouraging people to register a vote of no confidence in the leadership of Superintendent Phil Thornton recommends dismissing him, the effort is more about changing top school officials' approach to running the district, she says, than removing the education chief from his position.
"If this alerts Dr. Thornton to the outcry, and he sees and he hears and he listens, that's good, too," said the mother of three, whose 16-year-old attends Toll Gate High and 12-year-old attends Winman in seventh grade. Her 4-year-old daughter, a special needs student, attends private school in Cranston, and that's how it will stay, she said, until she sees positive change in the Warwick district's special education program.
St. Jean is also an assistant advocate with Rhode Island Advocacy for Children, a non-profit that helps parents of special needs children organize their education, particularly in relation to their Individual Education Plans (IEP)s. She knows many fellow parents of special needs students, she said, who can corroborate stories of IEP violations, which expose the Warwick School Department to lawsuits.
One such story involves a class of 27 students, 12 of whom have IEPs, taught by just one person, without the benefit of the required specialized training, St. Jean said.
That account and others, including instructions to teachers that they should not call 911 when a student becomes dangerously disrupted, were relayed during the Oct. 19 meeting of the Warwick Community Outreach Educational Committee, said St. Jean.
Parent Monica Hernendez also discussed concerns of under-staffing compromising the education of special needs kids, one of several parents asking City Councilman Ed Ladouceur, a member of the OEC, to look into the problem.
Ladouceur said there were about 34 people who spoke to its members Oct. 19 about special education staffing.
"I continue to pursue this problem with RIDE among other things and I am committed to continue pressing forward for a formal investigation into this matter. I continue to have people reach out to me regarding the Special Education Department almost daily," Ladouceur said.
The councilman said there will be a follow up meeting this Wednesday, Nov. 9, at the Career Tech center.
St. Jean said she'd like Thornton and the School Committee to begin treating parents with more respect and compassion, particularly when they're speaking to the Committee during meetings.
"There's nothing worse than when you're talking from your heart and someone shuts you down," St. Jean said.
Also, St. Jean said the school administration should settle its contract dispute, and consider further delaying moving sixth graders to the Junior High, since, she said, until the building is ready for the extra students.
But last, St. Jean said, "Perhaps he could consider sitting down with the class presidents of each high school and to discuss some sort of community activity so the kids can come together," she said.
Such an exercise is sorely needed, she said, thanks to the way secondary schools' consolidation was organized. So few students wound up transferred from Warwick Veterans High School that they're isolated from their fellow Warwick Vets students, St. Jean said. Unfortunately, she said, the transferred students are experiencing a severe new kid stigma that's been difficult to adjust to.
St. Jean's 16-year-old daughter has been disheartened by the situation, St.Jean said.
At Pilgrim High School, too many students from Warwick Veterans High School were transferred, creating extreme overcrowding, St. Jean said. One student told her she had eaten lunch sitting on the floor in the school cafeteria, St. Jean said.
Thornton and the School Committee should address all these issues, St. Jean said, but she hasn't seen these concerns, raised by several parents, taken seriously by the school leadership. The situation is spurring a number of families to pull their children out of Warwick Public Schools.
"Five children on my street go to private school because of the [school] leadership in this city," St. Jean said.
The petition currently has 362 supporters. Once she's reached a large enough number, St. Jean said she hopes to sit down with Mayor Scott Avedisian to ask his support in getting a fair hearing of their concerns from school officials.
She said  her petition is an effort to be more proactive about the problems the school district faces.
"Something has to be done. We can't go on like this," St. Jean said.
"I have and will continue to act in the best interests of Warwick students, the Warwick School System, and Warwick taxpayers," Thorton said when asked about his response to the petition.