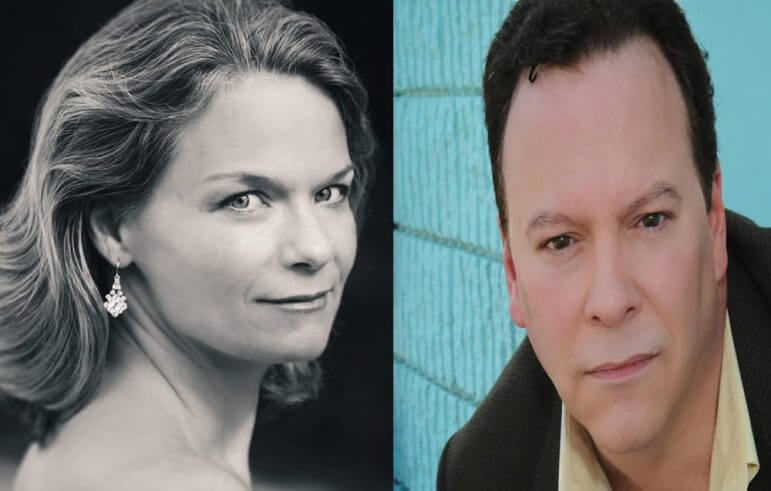 WARWICK, RI – Ocean State Theatre Company (OSTC), presents the provocative, hilarious musical, Victor/Victoria, which will run at the venue from April 26 – May 21.
 Additional underwriting for Victor/Victoria has been provided by SBR (Service By Referral).
Based on the hit 1982 Blake Edwards film, which was nominated forseven Academy Awards, Victor/Victoria is the funny, charming and heartwarming story of Victoria Grant, a down on her luck British singer in Paris who becomes a female impersonator. Featuring an impressive score by Henry Mancini including "Le Jazz Hot," "You and Me," "Almost a Love Song," Trust Me," "Living in the Shadows," "Paris By Night" and "Crazy World," this gender-bending musical takes us on an unforgettable song and dance-filled journey.
Directed and staged by OSTC's Producing Artistic Director Amiee Turner, with choreography by Sebastian Goldberg and musical direction by Esther Zabinski, who music directed previous OSTC productions of Anything Goes, 1776, The Addams Family, Into the Woods, Meet Me in St. Louis, My Fair Lady, Miracle on 34th Street andRENT, the cast includes Eden Casteel of Wakefield and Bill Whitehead Jr of Scituate as Victoria Grant and Carol "Toddy" Todd. Ms Casteel and Mr. Whitehead are both making their Ocean State Theatre Companydebuts. Audience favorite Christopher Swan, who has been seen in OSTC's Billy Elliot, 1776, Breaking Legs, Gypsy, Race, Legally Blonde, and The King and I, returns in the role of King Marchan and Kristin Wetherington, who portrayed Mrs. Keller in The Miracle Worker, and Louise in Gypsy at OSTC will portray Norma Cassidy. Boston University graduate Ben Salus will be making his OSTC debut as "Squash" Bernstein, David Groccia of North Providence, who has appeared previously with OSTC in Guys and Dolls, My Fair Lady, Around the World in 80 Days, 1776, Anything Goes, and White Christmas will play Henri Labisse and Brad Kirton of Coventry, who has appeared in OSTC productions of Billy Elliot, 1776, It's a Wonderful Life, Legally Blonde, and Fools returns in the role of André Cassell. Rounding out the cast are Michael James Byrne of New York, Taavon Gamble of Baltimore, Heather Gault of Connecticut, Robert Grady of East Providence, Lisa Joyce of Dedham, Mass., Jeremiah Light of Denver, Colorado and Alison Russo of Pawtucket.
Victor/Victoria will be presented at Ocean State Theatre from April 26 – May 21. Previews are scheduled for Wednesday, April 26 at 7:30 pm and Thursday, April 27 at 2 and 7:30 p.m.. All other performances will be held Wednesday (except May 3), Thursday (except May 11 & 18), Fridayand Saturday evenings at 7:30 p.m., with matinees on Thursdays (exceptMay 11 & 18), Saturdays at 2 p.m. (except April 29 & May 6) and Sundays at 2:00 pm. Conducting Conversations Live!, a free post-show discussion hosted by WCRI's Mike Maino, will follow the 2pmperformance on Sunday, April 30. The post show Piano Bar Series,hosted by Robert Miller, Jr., will continue following Friday andSaturday evening performances in the theatre's lobby on May 5, 6, 12, 13, 19 and 20.
The theatre is located at 1245 Jefferson Boulevard, Warwick, RI. Tickets are $39 for preview performances, $39-$59 for all other performances except Thrifty Thursday (May 4) when all tickets are priced at a $10 discount ($29-$49). $30 "Rush" tickets are available on a limited basis one hour prior to curtain on the day of the performance. Additional discounted rates may be available for groups of 10 or more by calling(401) 921-1777 x112. Tickets are on sale at the box office Mondaythrough Friday from 12 noon – 6:00 pm, Saturdays from 12 noon – 4:00 pm, and from 12 noon until curtain time on performance days. Tickets are also available online 24 hours a day at www.OceanStateTheatre.organd via telephone during normal box office hours by calling (401) 921-6800.