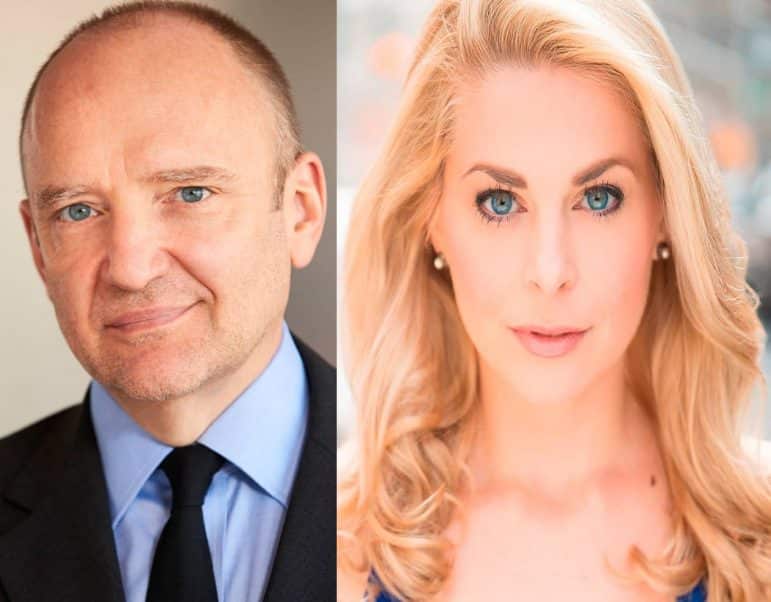 WARWICK, RI  — Ocean State Theatre Company (OSTC) will present Garson Kanin's witty political comedy, Born Yesterday, a classic Pygmalion story of a not-so-dumb blonde and a not-so-honest businessman,  from Jan. 25 – Feb. 12. 
Born Yesterday, which enjoyed one of the longest Broadway runs in history, was written in 1946 and has never been more relevant. The character-driven comedy focuses on the vulgar, egotistic, and very wealthy junkman, Harry Brock, who has come to a swanky hotel in Washington to make crooked deals with government big-wigs.
Brock's showgirl mistress, the charming, ex-chorus girl, Billie Dawn, lacks education and social graces, so Brock hires a tutor, journalist Paul Verrall, to bring her up to speed. Dawn awakens to the corruption of American government and becomes aware of all the possibilities the power of knowledge offers.
Directed by Producing Artistic Director Amiee Turner, the cast includes New York actors Lara Hayhurst and Robert Ierardi, who will be portraying the roles of Billie Dawn and Harry Brock.
Hayhurst, who worked on the Broadway productions ofLady Day at Emerson's Bar & Grill starring Audra McDonald and You Can't Take It with You starring James Earl Jones, will be making her OSTC debut.
Ierardi returns to OSTC having portrayed Vince Lombardi in Lombardi and Michael Novak in God of Carnage. He will be appearing in the new Marvel/Netflix series, "Iron Fist," which premieres in March.
Sean McGuirk of Warwick, who appeared in OSTC productions of Race and Hairspray, will be playing the role of Ed Devery. Warwick's Brian Mulvey, who has appeared in OSTC productions of Into the Woods, My Fair Lady and Guys and Dolls, will play Hedges.
Previews are scheduled for Wednesday, Jan. 25 at 7:30 p.m. and Thursday, Jan. 26 at 2 and 7:30 p.m. All other performances will be held Wednesday (except Feb. 1), Thursday (except Feb. 9), Friday and Saturday evenings at 7:30 p.m., with matinees on Thursdays (except February 9), Saturdays at 2:00 pm (except January 28 & February 4) and Sundays at 2:00 pm. Conducting Conversations Live!, a free post-show discussion hosted by WCRI's Mike Maino, will follow the 2pm performance on Sunday, January 29.
The theatre is located at 1245 Jefferson Boulevard, Warwick, RI. Tickets are $34 for preview performances, $34-$49 for all other performances except Thrifty Thursday(February 9) when all tickets are priced at a $10 discount ($24-$39).
Furnishings for the set will be provided by OSTC's "Partner in Design," Ethan Allen.