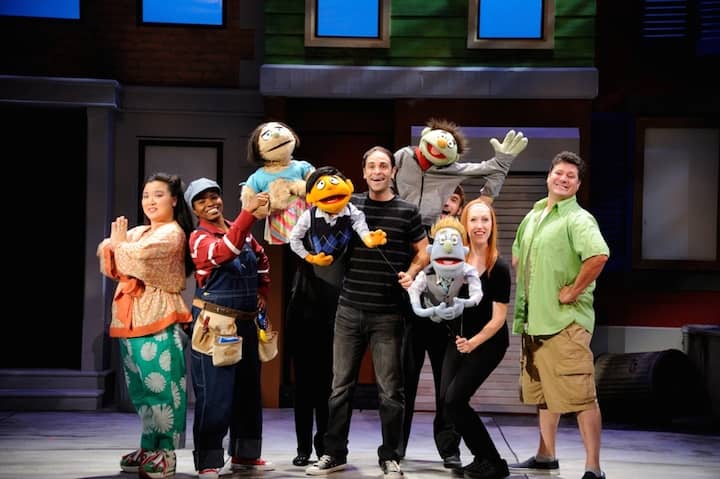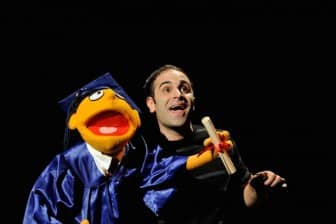 WARWICK, RI — Avenue Q, a musical homage to an alternate universe Sesame Street filled with bad language, adult themes and puppet sex, has surprises in store even for those familiar with the show in Ocean State Theatre's incarnation.
After Princeton, a recent college grad, moves into a shabby New York apartment way out on Avenue Q, he and his new friends struggle to find jobs, dates, and their ever-elusive purpose in life.
The puppet show-live action musical pretends to focus on the search for meaning life, but along the way much deeper themes are explored, as in "If You Were Gay," in which roomates Rod and Nicky's friendship and possible romantic entanglement is explored, with compelling tension on Rod's part as he wonders if Nicky might be his love interest, even as he struggles to remain in the closet.
Rod's tension is so compelling thanks in large part to the puppeteer's physical acting, an element of the show that's emphasized in this production to profound effect. Other productions seem to strive to maintain focus on the puppets, but the puppeteers at Ocean State Theatre writhe with the excitement of their characters and express emotion with a subtlety that can't be conveyed in felt. It works, very effectively, at a level that many other productions haven't met.
Choreography is well done throughout, including during one number with a group of singing boxes, artfully arrayed as the characters' accompaniment and as a portable stage.
The musical also hits on some humorous truths with "Everyone's a Little Bit Racist," and The Internet is for Porn".
Even if you've seen it before, you'll be missing something special if you fail to see Ocean State Theatre's "Avenue Q".
Avenue Q will be presented at Ocean State Theatre from August 3 – 21. Performances are Tuesday, Wednesday, Thursday, Friday, and Saturday evenings at 7:30 p.m., with matinees at 2:00 pm on Sundays. Special matinees are also scheduled for Thursday, August 11 and Saturday, August 20 at 2 p.m. Conducting Conversations Live!, a free post-show discussion hosted by WCRI's Mike Maino, will follow the 2 p.m. performance on Sunday, Aug. 7. The post show Piano Bar Series, hosted by Robert Miller, Jr.,will continue following Friday and Saturday evening performances in the theatre's lobby on Aug. 13, 19 and 20.
 The theatre is located at 1245 Jefferson Boulevard, Warwick, RI. Tickets are $39 for preview performances and $39-$59 for all other performances.