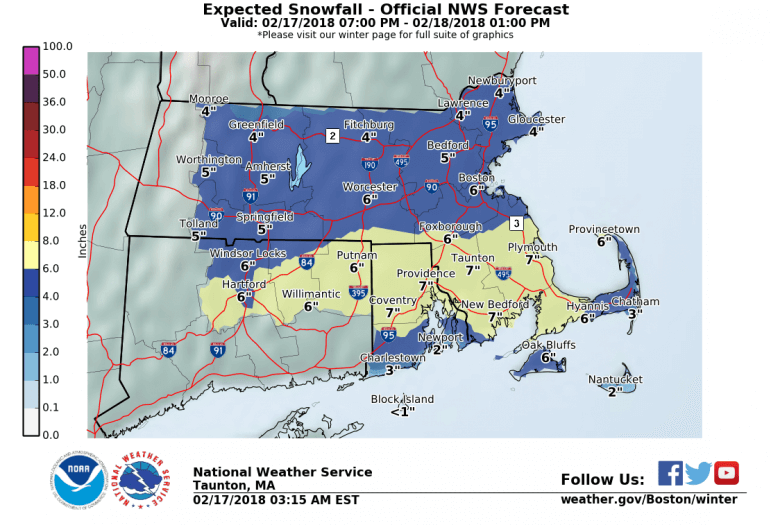 WARWICK — The National Weather Service has issued a Winter Storm Warning for Warwick and the surrounding region this evening as heavy snow is expected to begin at about 7 p.m., reducing visibility and making traffic hazardous throughout the night.
The warning remains in effect for portions of northern Connecticut, all of Rhode Island except Block Island, and Southeastern Massachusetts except Cape Cod and the Islands, from 7 p.m. through 7 a.m. Sunday.
NWS warns of difficult travel conditions during the storm, with accumulations of 5 to 8 inches expected. The likely amount for Warwick, Coventry, Cranston and Providence is 7 inches.  Be prepared for significant reductions in visibility at times. Heavy snow is possible, with snowfall rates 1 to 2 inches per hour expected throughout the storm.
If you must travel, NWS recommends preparing with an extra flashlight, food and water in your vehicle in case of an emergency. The service recommends the following winter weather precautions:
Shovel safely
Working in cold weather puts a tremendous strain on the body, even for people in good shape. Take frequent breaks and don't overexert yourself. Make sure you dress properly for the conditions. Wear several layers of lightweight clothing. Air is trapped between the layers to help keep the body warm. Protect the extremities, such as the hands, feet and ears as they are the most susceptible to frostbite. Wear a hat as a large percentage of the body's heat is lost through the top of the head.
Be prepared for winter travel
Travel in winter can be extremely dangerous. The best thing to do is cancel any travel if winter weather will occur. However if you must travel, make sure you plan ahead. Make sure other people know your travel plans and know how to contact you. Travel in convoy with other vehicles if possible. Keep a survival kit in you vehicle. This kit should include items which include non-perishable food such as can goods or candy bars, extra clothes and blankets, a battery powered radio, a shovel, and sand and/or kitty litter for traction in case you're stuck. If stranded, the best thing to do in to stay in the vehicle. Tie a bright colored cloth to the antenna so rescuers can find you. Run the engine occasionally for heat making sure to keep the exhaust pipe clear. Open windows occasionally for fresh air.