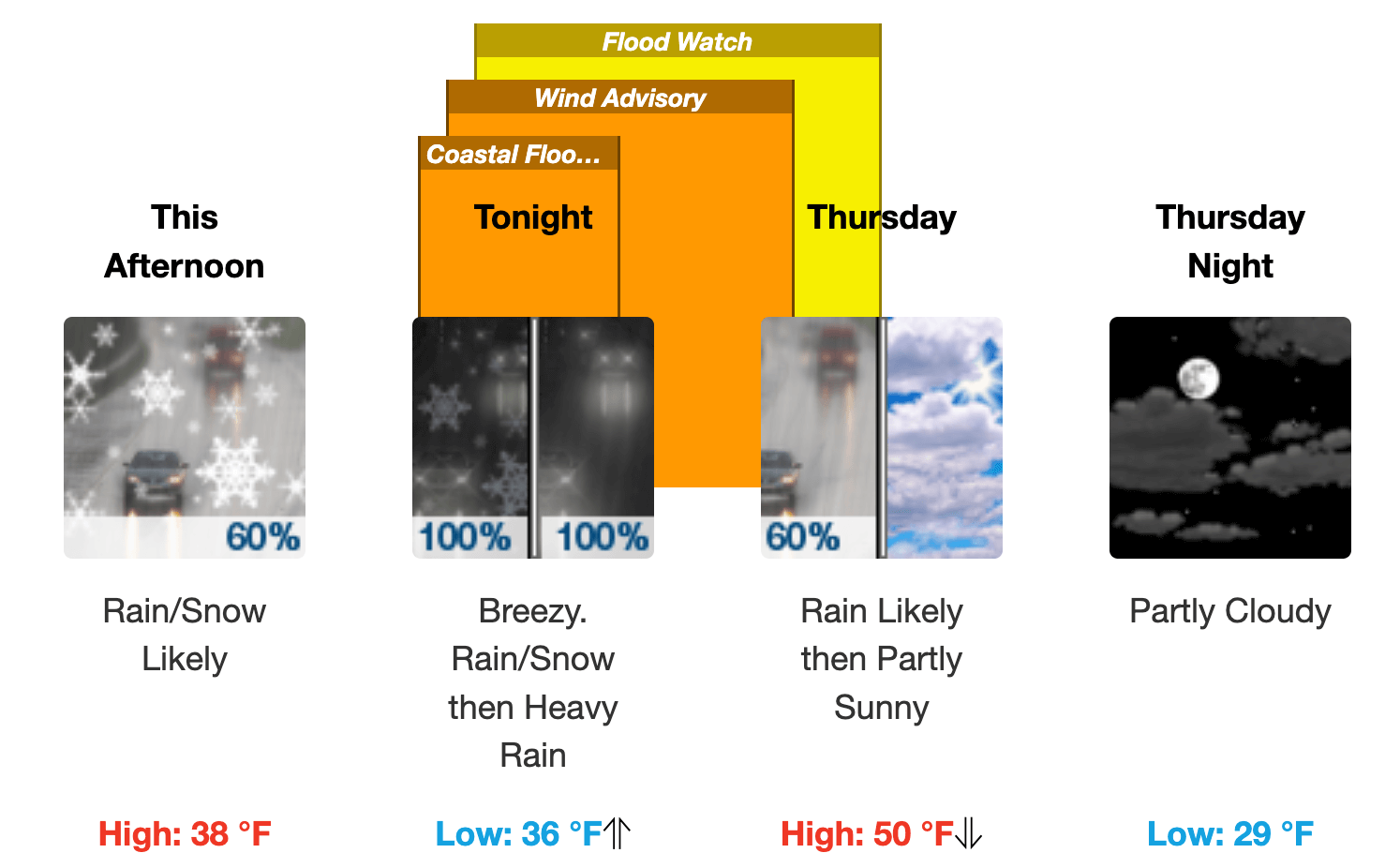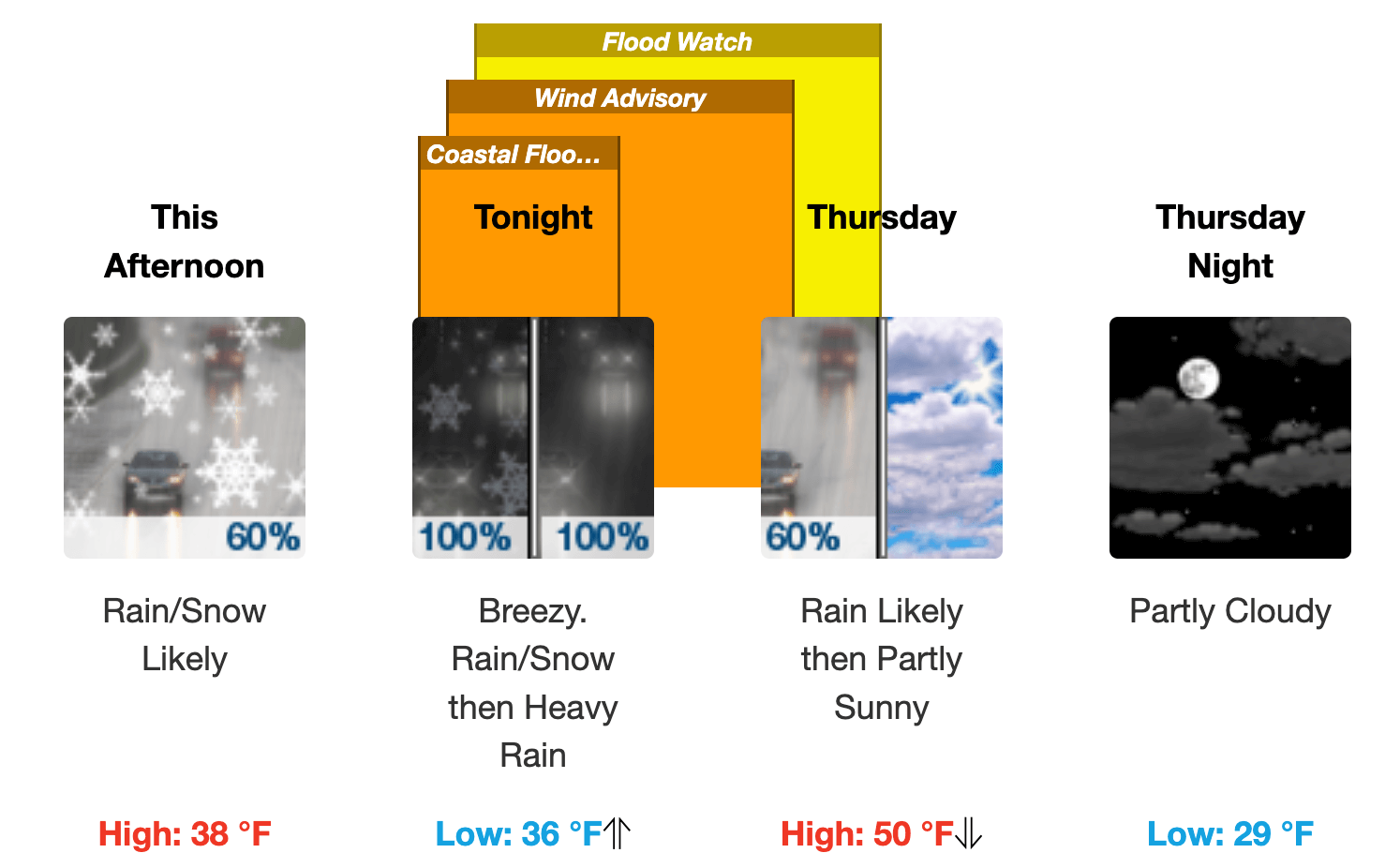 PROVIDENCE, RI — There's a hazardous weather outlook in effect for Rhode Island, including Warwick, starting tonight and lasting into Thursday as snow, strong wind and rain causing flooding is expected to begin tonight.
After-school activities in Warwick have been cancelled, and Kent County YMCA has cancelled PM daycare, among several cancellations of afternoon and evening activities throughout the state. Locally:
Boys and Girls Club – Warwick

: 

Early Dismissal; Closing promptly at 5pm all sites; No youthoop basketbal

Bishop Hendricken HS

: 

No PM Activities; No sports and activities

St Kevin School

: 

No PM Activities; No Extended Day or Activities

St Rose of Lima School

: 

No PM Activities

St Gregory the Great-Warwick

: 

No CCD Classes
According to the National Weather Service, there's a chance of snow between 3 and 5 p.m., then snow likely, possibly mixed with rain, after 5 p.m.. The day is expected to be  cloudy, with a high near 38, and a Southeast wind at 5 to 7 mph.  Little or no snow accumulation expected during the afternoon and early evening.
Tonight, however rain, possibly mixed with snow, likely heavy at times before transitioning to all rain after 8 p.m., is expected.  Temperature will  rise to around 50 degrees by 1 a.m. The night will also be breezy, with an east wind 13 to 23 mph becoming south after midnight. Winds could gust as high as 43 mph.  Snow accumulation of less than a half inch is possible.
High wind advisory
A high-wind advisory is in effect for the state starting at 9 p.m., with south winds 20 to 30 mph and gusts up to 50 mph. NWS warns the winds could blow around unsecured objects. Tree limbs could be blown down and a few power outages may result. The advisory is expected to be lifted at 9 a.m. Thursday.
Coastal flood advisory
A coastal flood advisory goes into effect at 8 p.m., with minor coastal flooding expected to occur along the most vulnerable shoreline locales in Newport, Portsmouth and Middletown. This includes flooding at parking lots near beaches in Newport, and a portion of Hazard Road. Minor coastal flooding is also expected on several streets in the Common Fence Point area.
"If travel is required, allow extra time as some roads may be closed. Do not drive around barricades or through water of unknown depth. Take the necessary actions to protect flood-prone property," the NWS advises.
Flood watch
At 10 p.m., NWS has announced a flood watch lasting through Thursday morning. Excessive runoff from heavy rain may flood rivers, creeks, streams, and other low-lying and flood-prone locations, according to the agency. Flooding may occur in areas with poor drainage, including urban areas.
"A period of heavy rain combined with snowmelt Wednesday night into Thursday morning may cause street and poor drainage flooding along with rises on area rivers, creeks and streams. Localized flooding also will be favored where heavy rain falls on clogged storm drains," NWS announced.