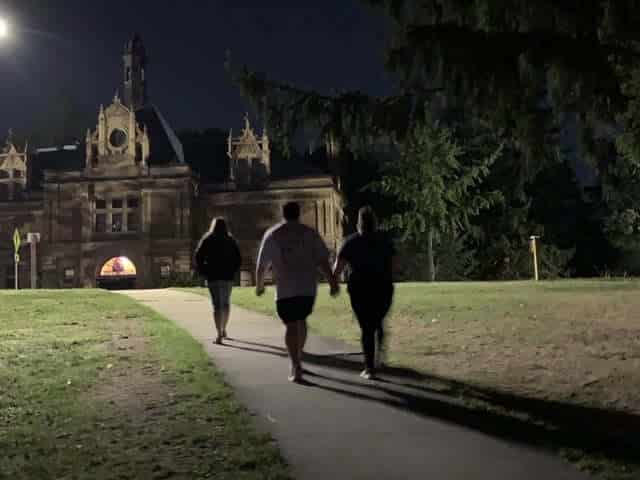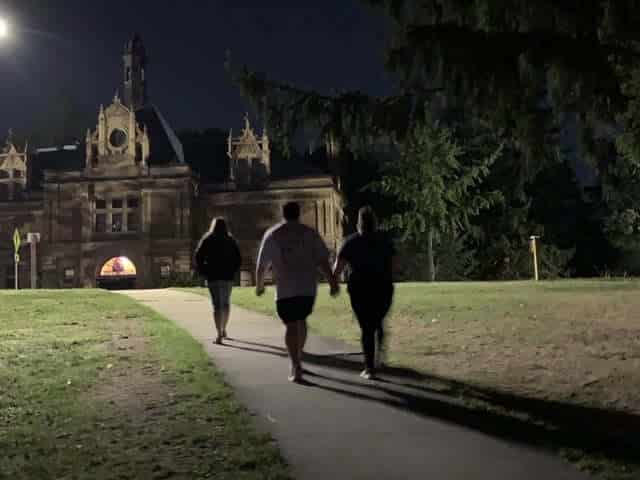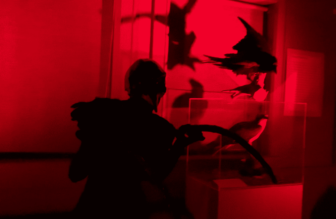 UPDATE: Night at the Haunted Museum will return Oct. 16 and Oct.  17 for a second run.
PROVIDENCE — Roger Williams Park's Museum of Natural History hosts its second Night at the Haunted Museum self-guided, socially distanced tour of natural exhibits, chillingly embellished by Ten 31 Productions tonight, with more nights coming.
The night begins with pre-registered ticket holders (no admission at the door) gathering to be allowed into the museum each night in small, masked groups, after everyone has been scanned for fever, and asked some basic health questions prior to entry. Windows are open throughout the museum to allow outdoor air to circulate, and the self guided tour brings patrons past the darkened exhibits, peppered throughout with members of the Ten 31 Productions performance art troupe, who blend with  the Halloween themed decor – at first.
There are surprises and interesting sights during the event.
After exiting the exhibit, people may notice green and orange lights coming from Polo Pond down the hill from the museum. A quick stroll downhill across the street puts you at the ticket booth for the swan boat rides, with the boats and decorations including lit tunnels and a pirate ship for boaters to enjoy.
Making that trip will require crossing traffic headed toward the Drive-Through Jack-O'Lantern Spectacular. That moves slowly, but take care as you cross.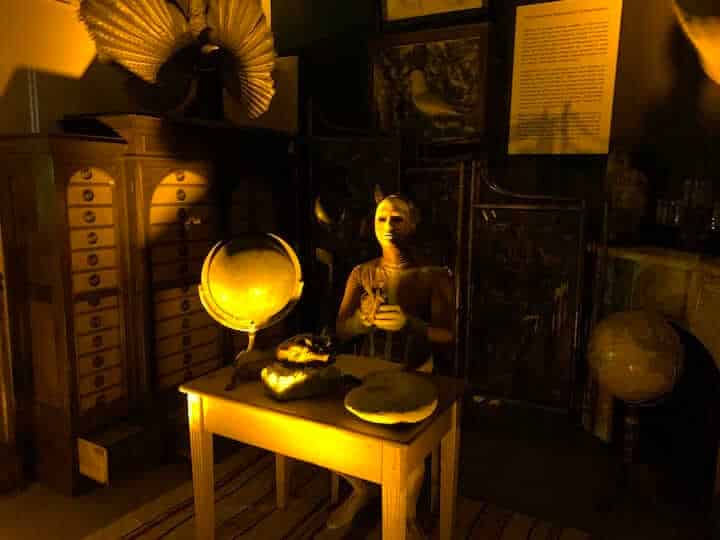 Night at the Haunted Museum
Use of strollers are discouraged due to the marked one-way pathways and needing to be carried/lifted.
Health screening, including a touchless temperature scan, will be conducted prior to entry. Attendees are asked to not attend if feeling ill.
Halloween Swan boat rides
Run through Sunday, Nov. 1, (6 – 11:30 p.m., weather permitting)
Hot Apple Cider and Hot Chocolate are available to enjoy on your ride!
For more information, please contact Cynthia at 508.984.8264 or visit www.RogerWilliamsBoats.com
Drive-through Jack-O-Lantern Spectacular