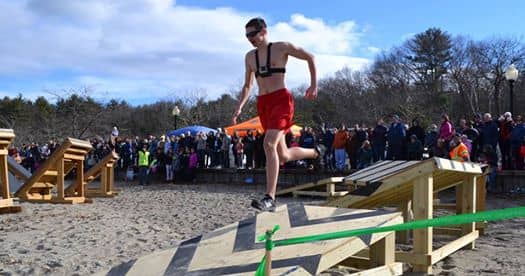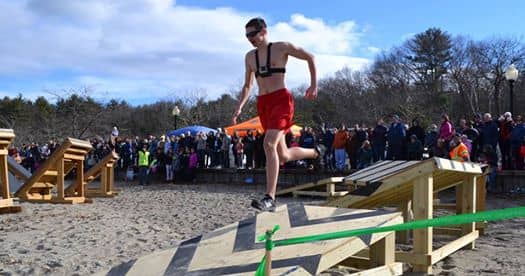 WARWICK, R.I. — Last year, the annual fundraiser, which debuted the Obstaplunge, brought in $10,000, which the organization used to recruit, screen, train and support mentor volunteers to work with young people, said Jo-Ann Schofield, President and CEO of the RI Mentoring Partnership.
"Considering the first year we raised $1,500, that was really, really good," Schofield said.
The organization has a 900-kid waiting list at the moment, and they've set their sights on increasing last year's fundraising total to $15,000.
This is the sixth year of the Clamp Dip, but only the second year for Obstaplunge, the brainchild of Laid Back Fitness owner Ryan McGowan. McGowan started helping to organize the Clam Dip when it began six years ago, Schofield said. McGowan, who had volunteered with RI Mentoring Partnership, approached them and offered to help with the fundraiser, recruiting friends as sponsors, and, last year, suggested an obstacle course option for participants who want to test their agility and endurance before the plunge.
McGowan said he and a bunch of his fellow plunging friends were looking for an event closer to Warwick and finally decided to create their own. At the time, he said, he was a new mentor and really loved the energy at the mentoring partnership.
"I called Jo-Ann and she agreed to be our charity and the rest is history! Last year was the first obstaplunge based on an idea from my business partner since we were already setting up mobile obstacle courses at the time," McGowan said.
The Obstaplunge is a half-mile obstacle course along the shore that precedes a frigid jump into Narragansett Bay. Plungers can sign up for either the traditional plunge or the Obtsaplunge (which is suitable for all ages). You can check out last year's Obstaplunge on Youtube.
The event also boasts a DJ and food trucks.
Online registration is open through at least Dec. 30, Scofield said, and they're also registering dippers and plungers in person the day of the event. Registration begins at 11 a.m., and the dipping and plunging begins at noon. Register online before Dec. 30 if you want to make sure you secure yourself a T-shirt to go with the experience.
Check-In begins at 11 a.m.
Dip and Obstaplunge at Noon
$30: Traditional Frozen Clam Dippers
$40: Obstaplungers
Free: Children 10 and under