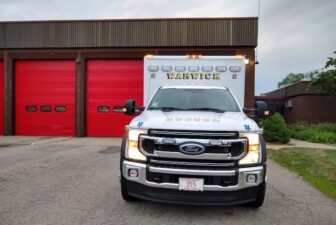 WARWICK, RI — Firefighters got a new WFD rescue truck last week, thanks to a purchase plan by Mayor Frank Picozzi and the Warwick City Council for fire, police, DPW and library vehicles.
Local photog Lincoln Smith paid a visit to the new truck's home at 771 Post Road over the Father's Day weekend.
"Saturday night I spent some time with A Platoon at Station 2.  I brought some old photos of apparatus and pictures I had in the Beacon in the 70'S.  They really enjoyed seeing the pictures and I told them about my dad being Chaplain from 1965 – 1990.  They were very gracious and let me photograph the new rescue.  It went into service on June 16th.  It is a 2021 Horton," Smith said.
The new truck was the result of a working plan with Greenwood Emergency Vehicles in North Attleboro to purchase three rescue trucks during a Friday special meeting in April. That meeting was called off as Picozzi worked with the Council for on a better approach, said Warwick City Council President Steve McAllister.
"We worked together and agreed on a lease purchase plan for not just fire, but also for police, DPW and the library to purchase new vehicles and equipment. The $6 million plus leasing plan was passed in a May council meeting and included in the budget. Through this plan we now have a budget plan to purchase new vehicles instead of buying them as one-offs. We have already purchased a rescue and ordered 2 more, plus we have purchased a number of new police vehicles and we are in the process now of buying new garbage trucks. Both the council and the Mayor thought having a lease purchase agreement included in the budget going forward is the best way to buy new large ticket items and start the process of updating the entire fleet of City vehicles," McAllister said.