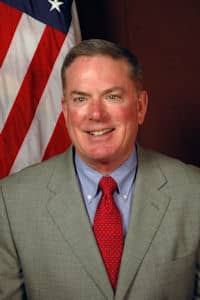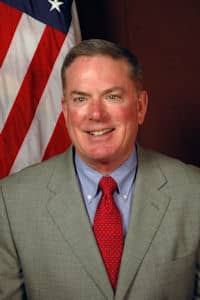 Editor's note: the following is a release from the the Legislative Press and Public Information Bureau.
STATE HOUSE — Rep. Joseph M. McNamara (D-Dist. 19, Warwick, Cranston) has announced that he will pre-file legislation that would ban the online sales of a new synthetic opioid that has been blamed for a number of overdose deaths across the country.
The drug, U-47700, is nearly eight times more powerful than heroin. The deadly opioid is easily purchased online and shipped just about anywhere.
"This drug, known on the street as 'pink,' has been banned in four states now, mostly through temporary executive measures," said Representative McNamara, chairman of the House Committee on Health, Education and Welfare. "Also the U.S. Drug Enforcement Agency proposed a temporary placement of the drug on the Schedule I list of controlled substances onSept. 7. But most states are just starting to hear about it now. Since most of the transactions are done online, law enforcement officials don't know about it until they hear about an overdose death."
The "U" in the drug's name stands for Upjohn, the pharmaceutical company that developed the drug in 1978 as scientists were looking for a synthetic alternative to morphine. Although no approved medical use was ever identified for the substance, it was among a number of compounds that were patented at the time. Since the recipe is readily available from online patent records and old medical journals, the drug started showing up fairly recently on the street.
"It's difficult for the law to keep up with the new kinds of drugs that are being manufactured all the time," explained Representative McNamara. "About eight years ago, synthetic marijuana and bath salts showed up, but we took steps to ban them because of the serious health issues attributed to them. Now other manufactured psychoactive substances, such as U-47700 are showing up. And it looks like it may be even more dangerous than the other synthetic drugs we've seen. It's difficult to keep up with all the new compounds that are being created in labs, but we have to be extra diligent in updating the law and keeping the public safe."
According to the Drug Enforcement Administration, evidence suggests that the pattern of abuse of synthetic opioids, including U-47700, parallels that of heroin and prescription opioid analgesics. Seizures of U-47700 have been encountered in powder form and in counterfeit tablets that mimic pharmaceutical opioids. U-47700 has also been encountered in glassine bags and envelopes and knotted corners of plastic bags, which demonstrates the abuse of this substance as a replacement for heroin or other opioids, either knowingly or unknowingly.
"Based on the documented case reports of overdose fatalities, the abuse of U-47700 leads to the same qualitative public health risks as heroin, fentanyl and other opioid analgesic substances," according to a report from the agency.